Boston Startup Looks To Shake Up Music Industry With 360-Degree Keyboard
Resume
It takes a lot of pizzazz to play in the band of one of the world's biggest pop stars. So keyboard player Brockett Parsons wanted to step up his stage presence after touring with Lady Gaga in 2011.
"When you're around greatness, you try to do things that maybe you wouldn't normally do, and you push yourself," Parsons said.
So he turned to his bandmate Kareem Devlin for advice.
"Kareem's a real visual guy who had very cutting-edge, amazing-looking guitars," Parsons said. "So I said to him, 'Hey man, what can I do with keyboards that would just be different and unique?' "
Parsons said Devlin had a quick response: "Why don't you just make your keyboard a circle? Just make it all around you."
So that's what Parsons did. First, he called an old college buddy who worked in the piano industry in Massachusetts. They gathered a small team. And four months later his circular keyboard debuted on Lady Gaga's "Born This Way Ball" tour.
Now the team is a startup company called PianoArc. And they are trying to revamp the piano — an instrument that dates back to the 18th century -- with the 360-degree keyboard.
PianoArc's instrument is basically three keyboards in one. You stand in the middle and the keyboard surrounds you like an oversized hula hoop — about 5 1/2 feet across. There are 288 keys in all; each of the three sections has 96 keys instead of the traditional 88. And you can use a computer to program any sounds you want.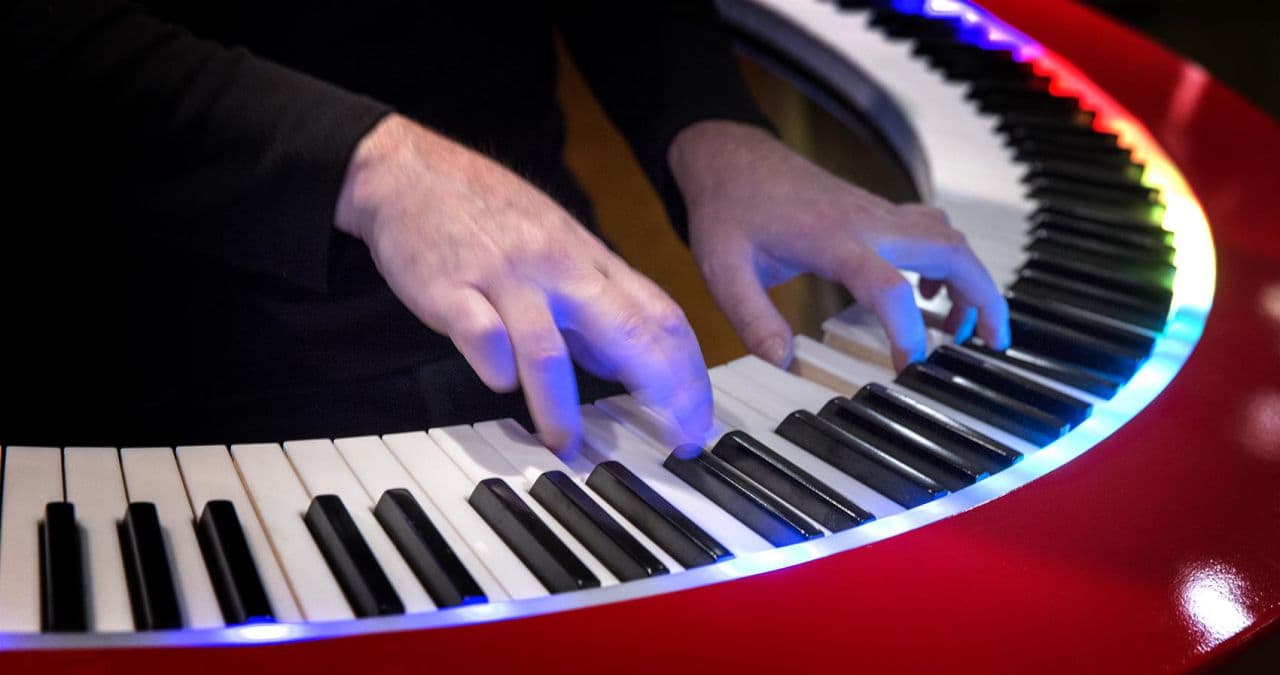 Parsons recently returned to his alma mater, Berklee College of Music, to demonstrate the circular keyboard -- a newer version of the original one he'd taken on tour. That model weighed a thousand pounds and took five people to assemble it. This one was a sleeker, lighter, improved version developed at a Boston tech accelerator. It's bright red, and the keys are lined with colorful LED lights. It can even be broken down to fit inside a car.
Parsons stepped inside the keyboard and began to play. It almost looked like a spacecraft, with his hands on the keys for liftoff. He swiveled from one curved section to the next, summoning different sounds from the piano.
The demonstration left Berklee students like Stefan Freeman eager to try it out.
"It looks incredible, so futuristic," Freeman said. "And I like how you're in the center of it. I don't know how many people are gonna be carrying this thing around, but golly it is fun."
Piano student Danae Greenfield agreed.
"The touch is awesome," she said. "It's really cool you can get so many different sounds, literally a surround sound."
The feel of the circular keyboard struck many of the students.
"I have a couple of different keyboards and to have that and … just turn in a circle, it's awesome," said Xavier Rivers, who often performs with multiple keyboards.
Besides the keyboard's wow factor, many students said the circular design, strangely, felt more natural. Parsons has noticed that too. He realized the circular keyboard was more than a showpiece when he watched a blind musician test it out at a music trade show put on by the National Association of Music Merchants (NAMM).
"When he put his hands there, he smiled … and it was like one of the most touching moments I've ever seen," Parsons said. "He just felt everything was around him and everything was in reach, and it just seemed to make sense."
That's when Parsons realized there was "something deeper than the visual" and the instrument could offer many advantages. The PianoArc team agreed. They felt they were on to something — something marketable.
That's what led them to MassChallenge, a business accelerator program in Boston's Seaport District that helps promising startups launch into the market.
"We have 128 startups sharing our office space," said Roman Kern, the senior director of programs and operations at MassChallenge. "And they can leverage our infrastructure at no cost."
PianoArc's circular keyboard is the first musical instrument developed at MassChallenge. Other products produced there include a synthetic bone adhesive, a robot that inspects railroad tracks and even a wristband that gently shocks you out of bad habits.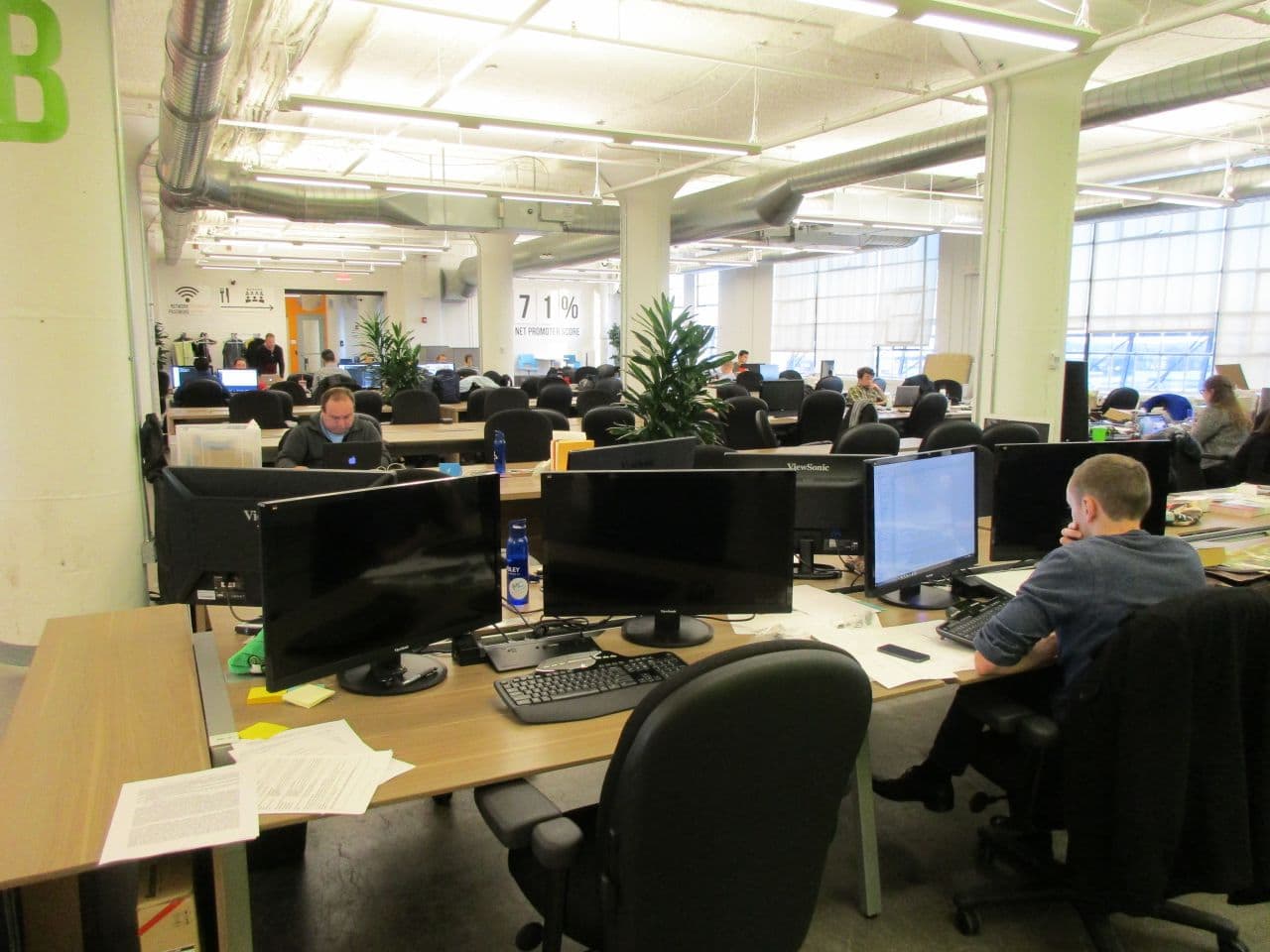 The startups have access to 26,000 square feet of workspace and a large network of mentors. But the main attraction for PianoArc was an area called a "makerspace" — a facility where startups can build prototypes.
"One of the primary reasons we applied to MassChallenge was because we heard about this makerspace," said Chuck Johnson, CEO of PianoArc and the college friend Parsons called to help create the circular keyboard.
Johnson knew there weren't any ready-made parts for a 360-degree keyboard.
"For something circular, everything had to be created from scratch essentially," he said. "That process started the day we got here: how we were gonna make this thing modular, so it could be pre-produced quickly, accurately, by somebody other than a bunch of guys holding power tools on their own."
The makerspace has expensive machines like 3-D printers and a laser cutter. The PianoArc team didn't make everything there but used the shop to construct some parts of the keys. Johnson says the space allowed them to improve the keyboard's design.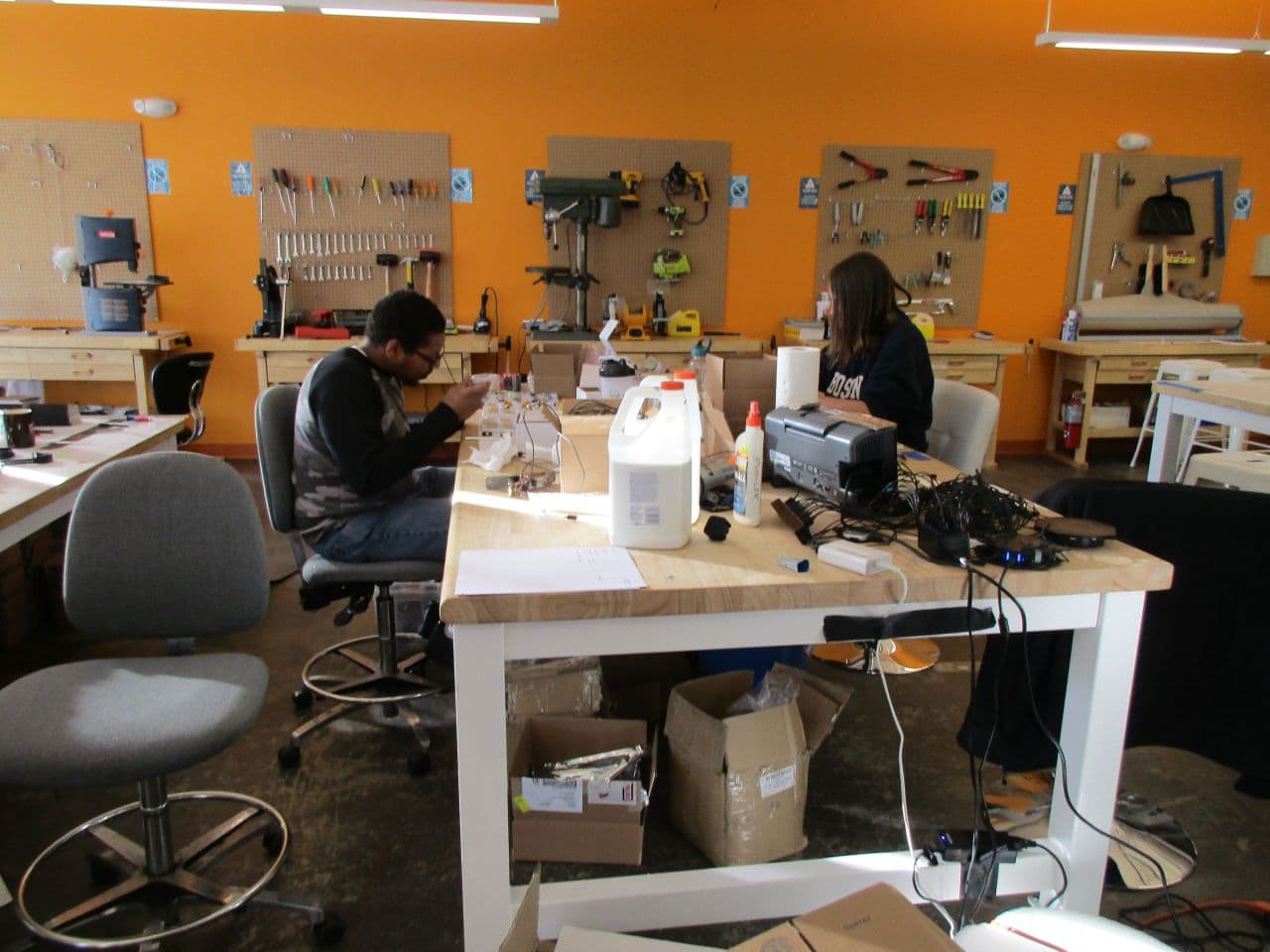 PianoArc graduated from the MassChallenge program at the end of October. They're still doing some work out of the space as they plan their next moves. They feel the time is right to shake up the piano industry.
The circular keyboard doesn't come cheap, though. It costs $45,000 — about what a mid-sized grand piano sells for.
So does PianoArc have a future?
Well, they might need to bring the price down, which Johnson says they hope to do. They'll also need to convince enough keyboard players to use their version of this centuries-old instrument. Later this month, the PianoArc team will head back to the NAMM show in hopes of doing just that.
"Frankly, we'd like to help make the piano cool again," Johnson said. "I mean, the piano has gotten outshone by the guitar, drums and 'American Idol.' The piano could use a little stirring of the pot right now."
Here's a video of Parsons playing PianoArc's first circular piano:
WBUR's Louise Kennedy contributed to this story.
This segment aired on January 7, 2016.