With New Application, Selective Colleges Cast For Low-Income Students
06:56
Play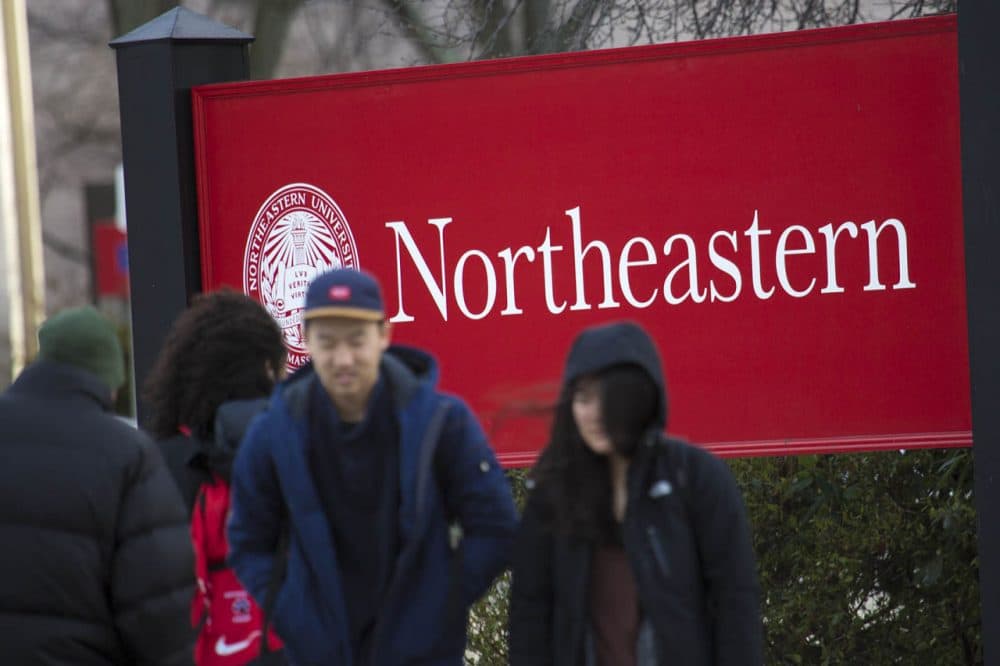 This article is more than 5 years old.
A group of selective colleges and universities is working on a new application it hopes will attract students who might not otherwise apply.
The idea for a new online application was born two years ago. That's when the Common Application used by more than 600 colleges crashed. Admissions staff at those colleges spent days scrambling to retrieve students' lost applications.
Dozens of colleges and universities came up with the new app, and the Coalition for Access, Affordability, and Success, as it's called, now has 90 member schools, including nine in Massachusetts.
The colleges expect the application to be up and running in April -- in time for this year's juniors to use it when they apply to college in the fall.
It comes too late for Janae Veale. The TechBoston Academy senior is done with her college applications. She represents the first generation in her family to go to college, and she found applying stressful.
"I wasn't prepared, and I feel like what would be better is if high school students were starting off in ninth grade preparing for college," Veale said.
Starting off in ninth grade is what the new college application is all about.
"Most times, when I go into a high school where there's not a college-going culture, and I ask students about writing essays for college, and I'll say: 'So you're going to write a reflective essay,' half of them look at me like I've just used a foreign word, right?" said Joy St. John, admissions dean at Wellesley College. "They don't even know what a reflective essay is. Well, it would be a shame to figure out what a reflective essay is in 12th grade."
St. John agrees it would be great to figure that out in ninth grade.
The new application will include a so-called virtual locker where students can keep their work and their schedules and can give college admissions officers access to that locker to get advice. Though the exact form is still being worked out, a source familiar with the application said it will also include a phone app.
But the most ambitious goal of the 90 schools committed to using the application is to recruit more high-achieving low-income students.
As director of college programming at Boston Collegiate Charter School, Max George sees how hard it is to persuade qualified low-income students to apply to highly selective colleges.
"I've had to tell kids: 'Your homework is to go home, and for the next week, every time you look in the mirror, I want you to tell yourself that you deserve to apply to an Ivy League school,' because they don't believe me, sometimes, when I tell them," George said.
All Ivy League schools are set to use the new application. And George hopes that with it, colleges will be able to let more high-achieving low-income applicants know that they can afford to go to college.
"A lot of qualified kids and a lot of parents of qualified kids don't even realize that these most expensive, most prestigious schools in the country could actually be, by far, the most affordable for their family," George said.
"There are scholarships everywhere to get," said Veale, the TechBoston Academy senior. She was able to find scholarships on her own. But she knows many high-achieving low-income students who were not aware that they could find scholarships until it was too late.
"If you don't know about it, then you wait too long, and you don't realize you're waiting too long, and then you end up missing that deadline, and it's like: 'Oh, wow! I could have got that!' " Veale said. "There is a lack of communication. Especially high-achieving students. They are really intelligent, and they are missing these chances, and it stunts them from growing, too."
Veale is waiting to hear where she might get in. She hopes to go to Howard University in Washington, and if she gets in, she hopes Howard will offer the financial aid that would enable her to attend.
All 90 colleges and universities using the new application have committed to meeting students' full financial need.
Because they do not have the large endowments necessary to make such a commitment, historically black colleges, like Howard, are not in on the new application. It's one reason some university leaders are not so sure the application will increase the diversity of students applying to college.
Andrew Flagel, senior vice president for students and enrollment at Brandeis University, points out that higher-income parents have been able to hire college coaches to help their children write essays and take standardized tests. He worries that starting in ninth grade won't address that imbalance.
"Does that, rather than make this all much more accessible and transparent, run the risk on the one side of feeding this frenzy of consultants and individuals working with students even earlier in the game?" Flagel wondered. "Does that instead of leveling the playing field emphasize wealth in the process to an even greater extent?"
Some college guidance counselors are also skeptical that an online application can open up opportunities for low-income students.
"My biggest concern is the assumption that technology is going to be available everywhere," said Vicky Rivera, director of college and career counseling at Boston Green Academy in Brighton. "Kids who might live in rural areas, that might not be a real possibility. How will they even learn about this possibility for themselves?"
Rivera used to look for promising low-income students for Brown University. What she found was that she had to meet the families.
"I think of this one student that I had that was an only child, single mom, from El Paso, and to this day she says: 'Vicky, the only reason I went to Brown was because my mom got to talk to you. You convinced my mom to let her only daughter go to the other side of the country,' " she said.
Those are the kinds of conversations Sean Logan has had with parents. He used to work in admissions at Williams College. Now, he's dean of college counseling at Phillips Academy in Andover. He hopes the new application will improve colleges' performance in attracting high-achieving low-income students.
"There hasn't been much movement on, how do we best help kids from the lowest income brackets apply to college and have more awareness of college?" Logan said. "So ... my hope is that this application, although it's not going to solve that problem, I hope that it can be one tool."
Logan explained that the country's talent pool is increasingly going to be coming from low-income students.
"The majority of kids who are going to be coming through the process, who are going to be graduating from high school, are going to be coming from the bottom half of income in the U.S.," Logan said.
But studies show only 14 percent of students at the most selective colleges come from the bottom half of American families in income.
This segment aired on January 26, 2016.