City Hopes Verizon Fios Will Boost Local Businesses
Resume
Verizon's Fios service is finally coming to Boston.
Mayor Marty Walsh announced Tuesday that Verizon will spend more than $300 million to bring its advanced fiber optic network to all corners of the city.
The high speed Internet and cable television service has long been available in many other Massachusetts communities. By connecting Boston, Verizon will now close a major gap in its service in the region.
The company plans to install Fios across the city over the next six years — which will mean faster Internet speeds for Boston residents. It will also mean competition for Comcast, the city's major Internet service provider.
Mayor Walsh said competition will give residents more choice and access. He also said he wants to make sure the service reaches all neighborhoods.
"Our innovation economy is in every community in the city," Walsh said Tuesday. "So it's really making sure that everyone in the city benefits from the technology community, not just a few."
The network will begin rolling out this summer, first in Roxbury's Dudley Square, Dorchester and West Roxbury. Next, the service will be built out in Hyde Park, Mattapan, Jamaica Plain and the rest of Roxbury. Other Boston neighborhoods will follow after that. Residents can influence the build out of the service within their neighborhood by voting online, according to Verizon.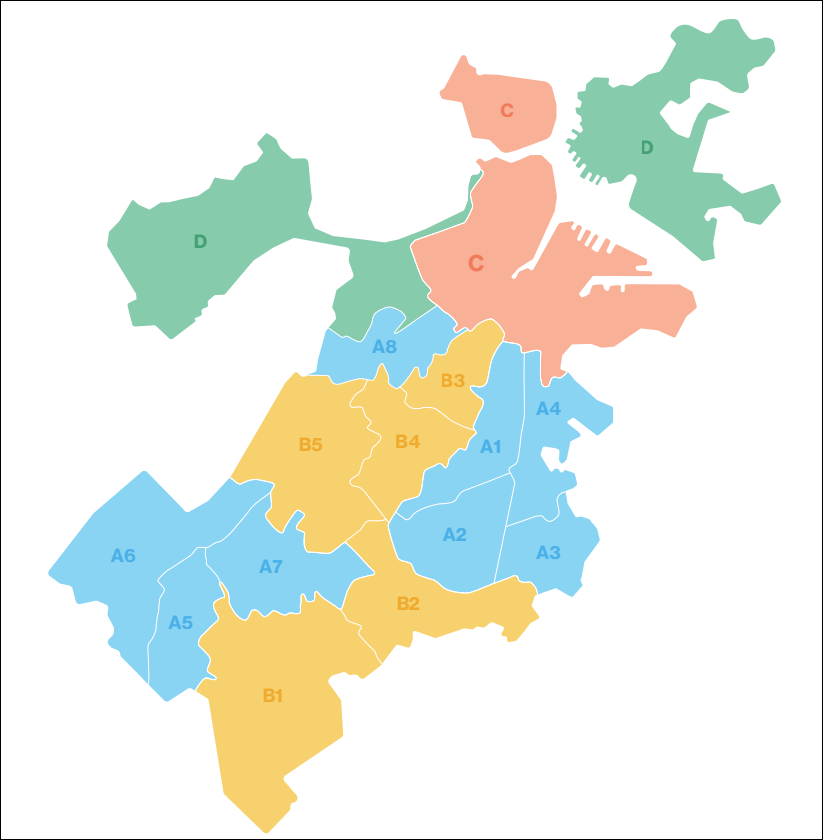 The Walsh administration said the service will give local businesses a boost — especially the city's tech businesses which rely on high speed Internet.
The city's chief information officer, Jascha Franklin-Hodge, said the Verizon initiative is a major step in supporting the city's innovators and entrepreneurs by "making sure they have the technology that they need to get those ideas off the ground so that they can open shop where they are in their communities."
Verizon's executive vice president, Bob Mudge, said the city's tech sector and growing population made it an attractive market. After previous failed attempts to bring Fios to Boston, Mudge said he's glad the company was finally able to work out a deal with the city.
"It's clear this is a city that we look at and see it as really based on innovation," Mudge said. "So we see business growth, we see innovation, and we think there's an opportunity here to help both small and large business."
Some small business owners agree and say the service will help them run their businesses better. Karl Stier, who runs the website development company Watershed Media in West Roxbury, said faster Internet will allow businesses to fill orders, process inventory and conduct other transactions more quickly.
"We've got probably about four computers networked in our house, but we're hitting the Internet on a second-by-second basis," Stier said. "As a small business, you're trying to squeeze so much more out of everyday and it doesn't sound like a lot, but if we've got faster access then we're going to be able to be more productive and hopefully more profitable."
But some observers are skeptical. Susan Crawford, a Harvard Law School professor and director at the Berkman Center for Internet and Society, said it's unclear whether Fios will actually result in lower prices and better service because of the increased competition with Comcast.
"It will take a lot of acts and enforcement activity by the Walsh administration to ensure that landlords allow Verizon to show up to ensure that two companies actually compete with each other, but kudos to them for taking this first step," Crawford said. "The [Michael] Bloomberg administration took a very similar step a few years ago and it hasn't led to complete coverage in New York City of competing high speed Internet access services. It may be that Boston will be able to do a better job."
The city said it has agreed to expedite the permitting process to ease the implementation of Fios in Boston. It will also begin the cable licensing process to allow Verizon to offer its Fios television service in Boston.
In addition to Fios, Verizon plans to install wireless equipment to city streetlights and utility poles to improve its mobile phone service. The company will also experiment with sensors and traffic signal control technology along Massachusetts Avenue, to increase road safety as part of Boston's Vision Zero Campaign to prevent traffic accidents and fatalities. And Verizon has given the city $100,000 to pilot a mobile hotspot lending program for low-income residents through the Boston Public Library.
This segment aired on April 13, 2016.