Interfaith Gathering At Boston's Largest Mosque Seeks To 'Build Bridges' After Election
Resume
Massachusetts U.S. Sen. Elizabeth Warren and Boston Mayor Marty Walsh joined a crowd of more than 2,000 people at Boston's largest mosque on Sunday night for a rousing conversation about diversity and solidarity as President-elect Donald Trump prepares to take over the White House.
Christians, Muslims and Jews filled the Islamic Society of Boston Cultural Center in Roxbury for the event billed as an "interfaith call for dignity." It was sponsored by the Greater Boston Interfaith Organization.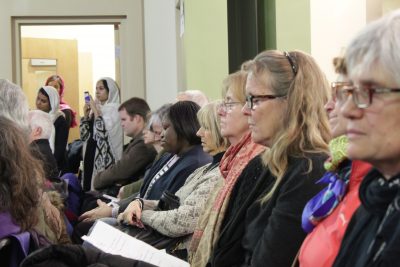 Over the course of his campaign, Trump stoked anti-Muslim sentiments, specifically by calling for a ban on Muslims entering the U.S. and supporting the idea of a national Muslim registry.
Tahirah Dean, 24, is an immigration attorney and worships at the Islamic Society. Dean said, overall, Boston is a welcoming place, and one where she's found support.
"I brought a lot of my non-Muslim friends here tonight, because they wanted to do something," she explained. "They know how difficult this time is for us. For a lot of my friends, I'm their only Muslim friend and this was a really fabulous way for them not only to show support for me, but for this entire community."
The standing-room-only crowd listened as faith leaders called for an end to intolerance, asking elected officials to take a stance in the local community and in Washington.
Sen. Warren addressed an uptick in hate crimes and the fear of an uncertain future following Trump's election. She emphasized the importance of listening.
"I believe that truly to build bridges in our country, in our communities, whether it's political debates or it's other ways that we come together, that we start by listening and seeking understanding," she said.
There was a diverse group of speakers, including a young man whose parents brought him to the U.S. illegally from Peru; a young member of the Black Lives Matter movement; and sitting among them on stage, Peter Brook, a member of the Fourth Presbyterian Church of Boston, who voted for Trump.
Brook said the day after the election, he noticed a difference in his own church community.
"That day I went to my regular Wednesday night Bible study at church," he said. "Everyone was out of sorts, there were tears shed, and there was this unsettling uncertainty about our future and where we're going. It hung over the group. This really bothered me. I'm a Trump voter."
Like all of the other speakers, Brook said he's committed to building bridges with people of different politics and different faiths.
And, to resounding applause, Mayor Walsh extended that commitment, asking for leaders across the country to do their part.
"If every elected official in America visited a mosque between now and the inauguration in January, we would be able to have a better conversation about diversity in our country," Walsh said.
The personal stories and the pledges from politicians left many feeling hopeful, even those who experienced harassment around the presidential election.
"I was going on Route 1," explained Asma Ali, who lives in Sharon. "And there were three people calling me names and asking me to take my hijab out. And some guy in the truck, calling me names and asking me to go back to my country, but I've lived here for 34 years."
But after seeing so many familiar faces — and so many strangers — coming together in her place of worship, Ali said she feels safer.
"To see all different faith, and all clapping hands together, talking to each other, [about] what's going on, it's going to be OK."
This segment aired on December 12, 2016.