How Legalized Marijuana Is Playing Out In The State That Started It All
Resume
Marijuana is now legal in Massachusetts.
As of 12:01 Thursday morning, adults over the age of 21 can possess up to an ounce of marijuana on their person, and have another 9 ounces for personal use kept locked at home. Adults can also now grow up to six marijuana plants, a maximum of 12 per household.
While it's still illegal to buy marijuana, and retail shops are at least a year away from opening, legalization will likely have an impact on the the way of life here in Massachusetts.
Unlike Massachusetts, Colorado has had a much longer experience with some form of legalized marijuana. The drug was decriminalized 41 years ago, and in 2000, voters amended the state constitution to allow patients with a doctor's note to possess up to 2 ounces of medical marijuana, or grow six plants for their personal use.
By the time recreational marijuana was available for sale in retail stores to adults in 2014, the novelty had somewhat worn off.
"It hasn't really changed life here. And we've been living with legal cannabis for four years, and these legal sales for three years," said Ricardo Baca, editor of The Cannabist section of The Denver Post.
Baca said the first day of legalized sales was fascinating.
"Suddenly these shops are open," he said. "And for the first time, people were able to walk into a shop with little more than an ID proving they are of age, and they were able to buy legal cannabis for the first time in the modern world, so that was kind of thrilling. At the same time, nothing really changed. A lot of people's worst fears didn't come to fruition then, and a majority of those have not come to fruition since then."
Baca says people were very concerned about Colorado's image, especially as camera crews from around the world descended on the state when the first legal sales were made. But he says marijuana consumers largely followed the rules.
"The laws and the rules were carefully communicated to people. People were educated," Baca said. "You know, there's always been so much misinformation about, not only this substance, but people who use it regularly. If you're calling them stoners or potheads or cannabis aficionados, and they behaved responsibly on Jan. 1 and, for the most part, they continue to behave responsibly around this newly legal substance."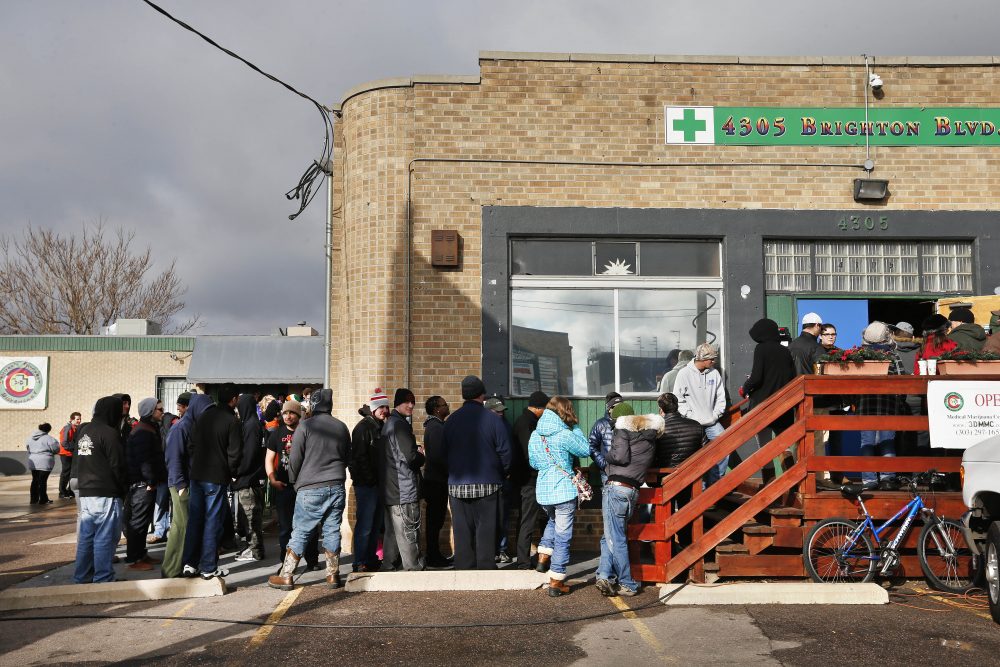 Officials in Colorado point to tight regulations for the successful roll-out of legalized marijuana.
Suzanne Jones is mayor of Boulder, where 75 percent of voters approved recreational marijuana when it was on the ballot in 2012.
"We have a thriving marijuana sector ... which has been integrated into our community," Jones said. "I'd say all told, we have about 90 businesses when you include the grows, the infused products, manufacturers and the retail stores."
Jones says taxes on marijuana sales have brought in more than $8 million since legalization. And she says another boost has been marijuana tourists coming from other states to sample what's forbidden back home.
"I will say, though, that I'm glad some other states have legalized recreational marijuana," Jones added. "It will be good to spread that around and not have it be such a novelty. I'm not sure that we need more people moving to Colorado for marijuana."
Colorado continues to ease marijuana restrictions. Last month, when Massachusetts and three other states voted to legalize recreational marijuana, the citizens of Denver voted to allow bars and restaurants to permit the consumption of marijuana in a designated area.
That's not legal in Massachusetts -- yet.
This segment aired on December 15, 2016.