Mass. Supporters Celebrate First Day Of Legal Marijuana
Play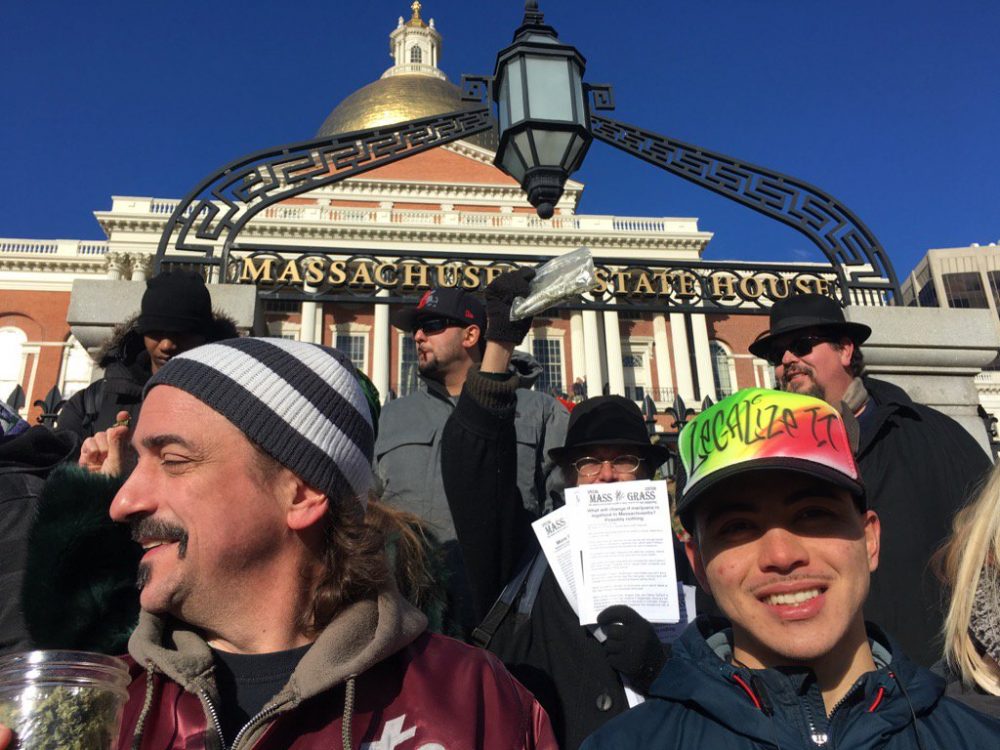 This article is more than 6 years old.
It would have been illegal two days ago. But marijuana enthusiasts in Massachusetts can now lawfully possess and show their pot.
That's just what some supporters of the new recreational marijuana law did in front of the State House on Thursday afternoon, as the first part of the law took effect.
As the temperature dipped well below freezing, and a stiff wind made it feel even colder, a couple dozen hardy marijuana advocates celebrated the new law. They held their marijuana buds and joints high in the air, many posing for pictures with the State House dome glistening in the background.
"I'm very, very proud, and I think it's going to be a great moment in history," said Ellen Brown of Marstons Mills, as she stood on the State House steps with some marijuana buds called Blue Dream in her outstretched palm.
"Recreational marijuana is the way of the future," she said. "It's a growing industry and I'm proud that Massachusetts is going to be here and we're going to be able to set the standard and show other states how it can be done in a way that everybody's going to be able to grow and thrive and that small business is going to be able to come from it, and we're going to be the standard. Just like Colorado. We're going to show them how it's done on the East Coast."
While it's now legal for adults to possess marijuana under Massachusetts law, it's still prohibited under federal law. But that doesn't concern Keith Saunders of Scituate.
"Well, it's illegal under federal law in Colorado, Washington, Oregon, Alaska and now California and Massachusetts, Maine in a few weeks, so there's just too much of it," Saunders said. "They don't have the resources, and so really what we did on a state-by-state basis is really bring it to the people."
While the rally was supposed to last much of the afternoon, participants went their separate ways after about a half an hour, in part due to the frigid temperatures, and possibly to consume cannabis somewhere else, since using it in public is still illegal.
Inside the State House, Gov. Charlie Baker, who opposed the passage of Question 4, reluctantly accepted the new reality.
"It's legal," he said. "I just hope everybody pays attention to the rules. Many elements of this law are staged and aren't expected to go into effect or become legal for at least a year. And I think it's appropriate and necessary for people to respect that process and to make sure that they continue to follow the law as it is here in Massachusetts as this moves forward."
The governor says he believes there are things he and the Legislature can do to improve the public safety and public health aspects of the law, but added it needs to be recognized that voters voted for legalized marijuana.
Like Baker, Boston Mayor Marty Walsh also opposed legalization. He too is hoping some changes are made.
In the meantime, marijuana users, like those who gathered at the State House Thursday, will savor their new freedoms for as long as they can.
This article was originally published on December 16, 2016.
This segment aired on December 16, 2016.