This article is more than 13 years old.
Rock and Roll has always symbolized, to some degree, rebellion against convention, conformity and adulthood. Could that be changing?
A crop of successful Boston rockers who rose to fame in the 90s are suddenly parents, and now find themselves trying to balance tour dates with play dates. WBUR's Andrea Shea has more on today's parents who are still rocking out.
TEXT OF STORY
PIECE OPENS WITH THE MUSIC OF BUFFALO TOM
SHEA: Buffalo Tom, a Boston band, flourished in the post-Nirvana 90s. The trio just released 'Three Easy Pieces,' its first CD in 9 years, and the 40-something musicians are back on the road.
SOUND OF DRUMS AND SOUNDCHECK
SHEA: On this night the band gets ready for a show at the Paradise rock club...but that isn't drummer Tom Maginnis. It's guitarist Bill Janovitz's 3 year-old son, Will.
SOUND FROM CLUB, BILL JANOVITZ TALKING: 'You want to tell Andrea what you were just doing? What were you doing? Playing the drums. (Will) Playing the drums. (Janovitz laughs)'
SHEA: Will is Janovitz's second child. He also has an 8 year-old daughter, Lucy. They live in a well-appointed home in Lexington where Janovitz spends a fair bit of time in the basement.
SOUND OF JANOVITZ WALKING DOWN SOME STAIRS, THEN JANOVITZ: 'So this is the rock studio lair down here.'
SHEA: Janovitz heads into his office where he records and practices...when he can.
SOUND OF GUITAR THEN PHONE RINGS. JANOVITZ : 'Hello?'
SHEA: It's his wife Laura calling to remind him she'll be picking up Will.
JANOVITZ: 'See that's what happens. I start to play and the cell phone rings.'
SHEA: Janovitz remembers life as a rocker before children. Sleeping until ten in the morning. Writing. Wandering around Harvard Square. Writing some more.
JANOVITZ: Now (laughs) It's like alright I'm taking Lucy to the movies like today I've gotta go pick up Will at day care and and trying to struggle with how many more dates can we do with the band we've got a record out so it's all of that stuff like any other parent has to deal with certain things but my just happens to be slightly different.
SHEA: For example, Janovitz's play dates are with rocker Tanya Donelly, who played with the Throwing Muses and Belly in the 90s. Donelly now has two kids...8 and 18 months. As her toddler naps in her Arlington home she describes a baby boom in the Boston rock community. It came after Kim Gordon and Thurston Moore of Sonic Youth had their daughter in '94.
DONELLY: You know there were a few babies here and there and then it was like a deluge, everyone was pregnant (laughing) and I think it does sort of say, 'oh, can we do this is this something we can do now? It has an affect when somebody that you don't expect to breed breeds.
SHEA: Donelly still records and tours. She brings her kids along to Europe and around the U.S. where she says she's observed a ripple effect.
DONELLY: It seems to me that musicians leave behind their kids less, that they bring them along on tour and to shows and it's more an environment that's acceptable for kids to be in.
SHEA: Donelly's daughters love the Ramones and the Shins, and she just contributed a song to a new compilation for kids, 'The Rock 'n' Roll Coochicoo Review.' While Donelly admits 'maturity' and 'adulthood' were dirty words when she was a young punk, the idea of bands like the Shins...or Wilco...selling onesies at concerts to fans who are also now parents represents a shift.
DONELLY: I think the shift is that it's now sort of edgy to have onsies at your show (laughs)
JENNIFER ROBBINS: People are proving that you can be a responsible parent and keep your eyebrow ring (laughs) that you don't need to sacrifice everything about your identity and yourself in order to be a good parent.
SHEA: Jennifer Robbins is the host and producer of the up-and-coming web show 'Parenting with Rockers.' She plans to talk to Bill Janovitz, Tanya Donelly, Kristin Hersh, Jack White, David Grohl, Jeff Tweedy and many others about being rocker moms and dads. Robbins is a parent herself and says this cross-over is part of a trend.
ROBBINS: Onsies at rock shows are a new thing, and I think it really ties into what I see as a larger movement of alternative parenting. There are a lot of people voicing their opinions and their frailties, and realizing that you don't have to be perfect to be a parent and you can hang on to the things you like and your kids might like them too.
DAN HIRSH: Parents like to put things on their kids that kind of identify them as being we're still cool or we're still hip.
SHEA: Dan Hirsh programs music events for the Museum of Fine Arts and other alternative venues around Boston, where audiences increasingly include parents with babies slung on their chests. He says selling kid's gear at rock shows is savvy.
HIRSH: I think it's a function of bands that having kids being more sensitive to the fact that their audience is also having kids and the audience is growing up with them and if you want to keep your fans happy and coming to the shows you have to provide things that are relevant to their lives, and that could mean onesies and it also makes sense economically I mean, bands make a lot of money on tour from merchandise.
SHEA: That said Hirsch believes it's actually a very punk thing to do.
HIRSCH: To out punk the punks and do something that acknowledges growing up and childhood it's almost a rebellious thing to do if you're someone who's associated with counterculture.
SHEA: But Bill Janovitz says while this all seems new and subversive, to him it isn't. He remembers seeing families at Grateful Dead shows in the 80s.
JANOVITZ: Not just hippie families living in a VW bus but like a guy driving up in his BMW with his family and today I mean Dan Zanes is playing Rock and Roll for kids, go play something other than rock and roll if you really want to be rebellious.
SHEA: In fact, Janovitz say his mom gave him his first electric guitar. Now that he's a parent himself he sympathizes with Buffalo Tom fans who struggle to find babysitters so they can come to the shows. At home it would appear Janovitz has another rocker on his hands. His son Will has a thing for a Rascal Flatts song.
SOUND OF WILL SINGING "LIFE IS A HIGHWAY:" 'That's life is a highway. 'I want to ride it. All night long. Gonna be another rocker. What about a little 'Cat Scratch Fever?' Cat Scratch Fever. (laughing) Yea'
SHEA: Janovitz wonders if maybe Will has had a little too much Ted Nugent. But the toddler rocker now knows the lyrics to songs from Buffalo Tom's new CD.
SHEA: For WBUR I'm Andrea Shea.
HOST BACK TAG: Bill Janovitz and his band play Friday night at "Hot Stove, Cool Music," a charity event at Fenway Park. Buffalo Tom's new CD is called 'Three Easy Pieces.'
This program aired on August 24, 2007. The audio for this program is not available.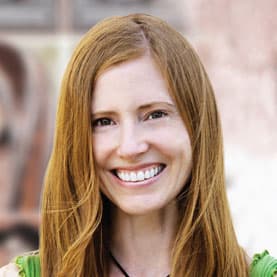 Andrea Shea Senior Arts Reporter
Andrea Shea is WBUR's arts reporter.