Obsessed With The Bard: Tina Packer Is No Gertrude
03:13
Play
Shakespeare & Company's sprawling 30-acre campus is idyllic: a fountain, rolling hills, fresh air. But inside one of the theaters here a nasty family conflict brews during a rehearsal of "Hamlet."
On stage, Hamlet grills his mother Gertrude. "Madam, how like thee this play?" "The lady doth protest too much me thinks," she responds. "But she'll keep her word," he says.
Tina Packer is playing Gertrude. Her real-life son, Jason Asprey, is in the title role. "By wit's disease, but, which sir, such answer as I can make, you shall command, or, rather, as you say, my mother: therefore no more, but o the matter: my mother, you say!"
It's just one of many instances of Hamlet going at Gertrude throughout the tragic play.
"It's a great opportunity to explore the mother/son relationship," Packer says, laughing heartily.
Packer is also exploring the director/actor relationship, from a different perspective. "When I was rehearsing it," she says, "I kept thinking, well, when do I take over the action, you know? And I realized I never take over the action."
Packer is used to being in charge, as artistic director of Shakespeare & Company. She founded it in the Berkshires three decades ago. But now Packer is stepping down to go back to acting. It was actually her first career, in her twenties, in England.
"I wouldn't say I was famous famous but, you know I did one of the those Mobile Masterpiece Theatre pieces. And I did "Doctor Who," which is what everybody remembers me for in this country now," she laughs.
"You know at the time I did it I was trying to pretend I wasn't doing it, you know, because I was a classical actress."
A frustrated classical actress, she admits, with the Royal Shakespeare Company. "I couldn't have the effect on theatre I wanted to have as an actor," she says. "Because actors don't have any power."
At the time she was obsessed with Shakespeare, but she wanted to approach his texts her own way. This ran against the genteel delivery style most teachers and directors embraced.
"Annunciating, pushing the vowels to the front of the mouth — especially for the women," Packer says. "It's all nonsense; Shakespeare's dirty as hell and full of life and full of vivacity."
So Packer abandoned her career as an actor in England, raised some money in the U.S., and founded her own company in the Berkshires. She was one of the first women to direct Shakespeare professionally. Packer says it's a natural fit.
"Because we are good at multi-tasking, you're following 10 themes and there's a lot of people on stage and you've got to arrange them," she says. "It's like having a giant family."
Running this company is also like nurturing a family — a family of 150 core members — and Packer is the mom. From fundraising to cleaning toilets to cooling family feuds, she does it all. And has from the beginning, according to Tony Simotes.
"As people grew and changed and went to different places, it was really Tina's heart and soul that kept maintaining, in a sense, the mothership," Simotes said.
Simotes came to the Berkshires as an actor with Tina 30 years ago. He says it changed his life. They gathered a band of professional players and practically squatted in buildings just down the road from here, at Edith Wharton's estate, also known as The Mount. It was a creative commune, Simotes says. But like a real family, it wasn't all love and roses.
"The struggle of being in, being out, being loved, being not so loved," Simotes says. "You know, the growing up we had to do — struggling through marriages and affairs and divorces and children, all the joys of being part of a large group. Through it all Tina has been that heart that continues to beat loud enough that when you're in trouble it's like the boom boom, boom boom."
Simotes is taking over as artistic director. He admits it will be tough during the recession. Packer will advise and help with fundraising. She also guides people beyond the Berkshires. Steve Maler runs the Commonwealth Shakespeare Company. He stages free Shakespeare on Boston Common each summer and needed advice in 2006 when his company produced "The Taming of the Shrew," one of the Bard's bawdiest plays.
"We were getting, typical I guess of Boston, some raised eyebrows about the production and so I called Tina and she laughed and said, 'Of course that's the way you have to do it,' " he remembers. " 'You can't do it any other way!' So we got the blessing of the Grand Dame of Shakespeare to say we were doing OK."
Elisabeth Aspenlieder came to Lenox from Toronto to study acting with Packer 14 years ago. "She's my mentor, she's my friend, she's my confidant, she's my inspiration," Aspenlieder said. "I thought I was coming for the summer, now it's 2009."
Aspenlieder said Packer's approach to teaching and directing are true to Shakespeare's spirit, and to his cast of characters. "They're all brilliantly flawed, and so are we as humans," she said. "Tina just finds those cracks and flaws and she fills them, and it's a beautiful thing to watch and that's why she's so good at what she does."
And now Tina Packer comes full-circle because, finally, she says she's ready.
"It's an incredible adventure, it's not this indulgence that everyone thinks it is," Packer said. "It's incredibly hard work and, in order for the audience to get it, you have to get it, so you have to be deeply connected to it."
This fall in Boston, Tina Packer will try to connect with one of American theater's most notorious roles — almost an 'anti-mother' of American theater — Martha in Edward Albee's "Who's Afraid of Virginia Woolf?" She says the very prospect is terrifying.
The Shakespeare & Company's production of Hamlet opens Saturday night and runs through August 28.
This program aired on June 26, 2009.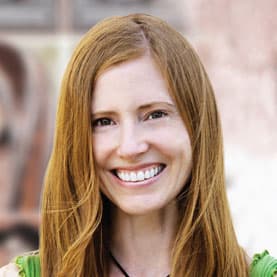 Andrea Shea Senior Arts Reporter
Andrea Shea is WBUR's arts reporter.