Overtime: Reflecting On Sports In 2009
01:18
Play
This article is more than 11 years old.
Another year has slipped away — the Red
Wings, Blackhawks, Blue Jays play
As they have played, in times like these,
in rinks and ballparks, and in trees.
Some things have changed, no doubt of that,
For some who once wore Tiger's hat
Have traded in their old chapeaus,
They're wearing someone else's clothes,
And shaving with a different blade,
For Tiger much too often played
Way out of bounds, and he got caught,
He knows now silence can't be bought.
But as a new year looms ahead,
Though much has changed, it can be said,
Some things have stayed as they have been.
In football, still, it's lose or win,
A struggle to maintain your wits
When someone with a helmet hits
The only head you've ever had,
A bouncing brain is always bad.
And has the league addressed the pain
Of former players gone insane?
They've promised studies still to come,
Until with promises we're numb.
Among the other constant themes
That sink a poor fan's loopy dreams
Of level playing fields galore
We see the richest grabbing more,
The Yankees, still the Yankees, spend
Like businessmen, who can depend
Upon the power of the purse,
While lesser spenders all get worse.
In every sport that logic's clear.
I'm all for soccer, but I fear
That no league anywhere can say
That all the lesser teams can play
On equal terms with Man. United.
Barcelona's not excited
By the bottom-dwelling clubs
Filled out with rejects, clowns and scrubs.
So as the New Year ambles in,
May you endeavor just to grin
And bear that which is less than fair
Or manage, somehow, not to swear
As teams you've bet on lose again
And, in that darkness, think of when
You first learned how to catch or throw
Or skate, or kick, or jump, although
It may have been a long while back,
If you can summon up the knack
Of seeing yourself as just a kid
Remembering all the stuff you did
On fields, on rinks, in ballyards, too,
Then that is just what you should do.
For you, for us, it was the same:
On our best days, it's still a game.
This program aired on December 30, 2009.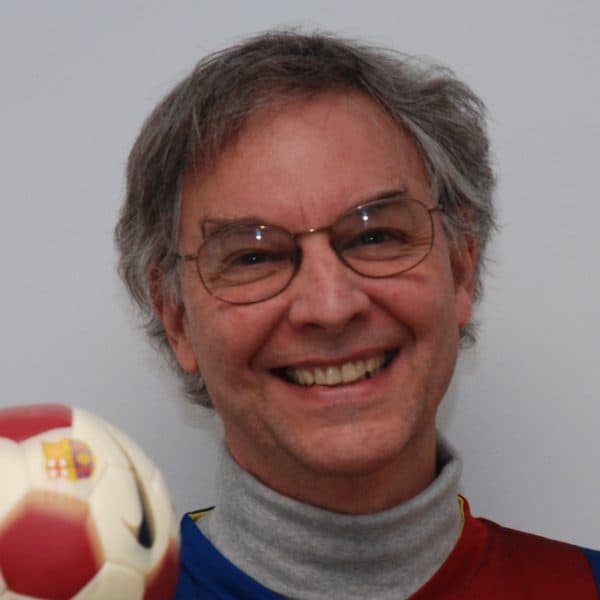 Bill Littlefield Host, Only A Game
Bill Littlefield was the host of Only A Game from 1993 until 2018.