Big Top Cinema: Circus 'Pit Band' Scores Film
This article is more than 11 years old.
Ladies and gentlemen, step right up!
If circus clowns, circus freaks or circus music are your thing, you might want to make room in your schedule this weekend. The Big Top is heading to the big screen at the Brattle Theatre in Cambridge.
Sure, Pee-Wee Herman will be there, larger than life. And the Tim Burton vehicle known as "Big Fish." But be warned: Some of the films in the Brattle's first-ever circus-themed repertory series are less than playful. One, in fact, is revolting, creepy and completely demented.
That's part of the fun though, right?
Peter Bufano sure thinks so. The "Big Top Cinema" series was his idea.
Bufano approached the folks at Brattle with the novel concept a few months ago, and according to the theater's Web site, they "jumped at the chance."
That's probably because Bufano has some serious circus cred.
First, he plays the accordion. Second, he's a graduate of the Ringling Bros. and Barnum & Bailey Clown College in Bridgeport, Conn. Yes, he was a professional, floppy-shoed clown. And third, Bufano is the founder of the all-star circus "pit band" known as Cirkestra.
Cirkestra is a five-piece band made up of musicians who all did time playing live music in "the pit" for traveling circuses, including Ringling, The Big Apple Circus and Cirkus Smirkus.
Bufano played with Ringling, but left the circus life in 2007 to "run away with the real world," as he puts it. Now Bufano teaches film scoring at Berklee College of Music and heads up Cirkestra.
The circus band played at the Gardner Museum earlier this month and will also perform a new, original film score at the Brattle's "Big Top Cinema" series.
Bufano wrote it for "The Unknown," a rare and twisted silent film by one of Hollywood's darkest directors, Tod Browning, whose work included "Freaks," "Dracula" and "The Devil Doll."
The picture was made in 1927 and stars a 21-year-old Joan Crawford in the role of Nanon, a scantily clad carnival girl. Lon Chaney, a regular Browning collaborator, plays Alonzo — and here comes the weirdness — an armless knife thrower who's in love with Nanon. She's the circus owner's daughter, and, get this, she's deathly afraid of men's arms.
And so it goes, descending into grisly, murderous, thrilling circus horror. You get the picture.
Bufano relished writing the score for "Unknown." He has a taste for the bizarre. But in an e-mail, he said writing the music for Alonzo's character was a particular challenge.
According to Bufano, the music played with a silent movie exerts a significant influence on the audience's opinion of any character, Alonzo included. "In the beginning you kind of want to love him as an underdog," Bufano explained. "He has no arms and he's charming and talented and the circus owner beats him up."
But looks can be deceiving, and pin-pointing the right moment to alert the audience to Alonzo's questionable interior was tricky, Bufano said.
Bufano's personal connection to Alonzo didn't help, either. His sister, artist and dancer Lisa Bufano — who was profiled on WBUR — is also an amputee. "I automatically was very sympathetic to this (Alonzo's) character," Bufano admitted.
So the composer had to work hard to create an appropriate soundtrack that didn't give away too much information about Alonzo's true nature, but also didn't evoke too much sympathy.
Bufano admits he recently tripped while walking that fine line. It happened when he was performing the piece on tour recently in Olympia, Wash. "I was playing all of this dark, evil stuff around 12 minutes into the film," he said, but it didn't work. It gave too much away too soon.
For the Brattle performance, Bufano re-wrote the beginning to allow the audience to like Alonzo just a little bit longer.
As for the music itself, Bufano said he concocted a few different themes — everything from a "love theme" to a "circus theme" to a "violence theme" — which he said, "makes the fights, murders and accidents have more drama. It's the loudest thing!"
This weekend's performance of the score to "The Unknown" will be a moment of truth for the revised composition. And the event itself reflects a bunch of aspects important to Bufano's life: film scoring, performing, his passion for the Big Top, his sister.
On that note, the composer said, "eventually I'd like to do a score for a silent animated film made by my sister about her life. She's a good animator."
But Peter Bufano hasn't told his sister Lisa about his plans...at least not yet.
This program aired on March 19, 2010. The audio for this program is not available.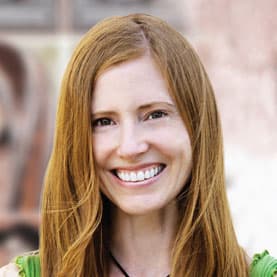 Andrea Shea Senior Arts Reporter
Andrea Shea is WBUR's arts reporter.