A Mural Of Many Colors Is One High School's Lingua Franca
06:40
Play
This article is more than 11 years old.
[soundslide]http://www.wbur.org/files/soundslides/2010/wbur_0319_english-high-mural[/soundslide]
The new headmaster of The English High School had big plans for an academic turnaround. He also wanted to brighten the place up. So he invited the public muralist for the city of Boston — and got more than he expected.
People who have never been to English High think of it as one of the worst schools in Boston. Its reputation is widespread, its problems well-reported. And for many who have never been here, it's as remote as the third world. Yet the place holds many pleasant surprises.
A school period ends, and suddenly there comes a five-floor stream of students in all shades of black and brown — from Ghana, Haiti, Jamaica, Ethiopia, Somalia, Kenya, Tanzania, Senegal, the Dominican Republic, Guinea, West Africa, Puerto Rico, El Salvador, Colombia, South Korea.
They walk under the flags of 76 nations that hang from the rafters, dressed in hijabs, hip-hop and uniforms of Junior ROTC, and they're all carrying backpacks by The North Face and Dickies, the universal brands.
This is America's oldest public high school, and these are some of the newest Americans.
"This is the Nation of World," says Heidi Schork, laughing, standing on a ladder and speckled with paint. She is the long-running leader of the mural crew for the city of Boston.
"Sometimes I feel like I'm going to an orphanage or a refuge camp or the border," she says. "This is a place that is truly the future."
With animated intensity, she's directing brush-wielding students in white Tyvek overalls, channeling the spirit of her idol, the Mexican Diego Rivera, the great public muralist of early mid-century.
WBUR Interactive: Panorama
[asset]2010/wbur_0319_english-high-mural/[/asset]
Heidi Schork's colorful mural, not yet complete, hugs the walls of Boston's English High School cafeteria. (Andrew Phelps/WBUR)Woody Italien, from Haiti, is one of the students who became a painter.
"As you can see in the wall, there's many faces, many races," Woody tells me. "This could really be the generation of you know, like, tomorrow."
Schork began her mural with a portrait of a two-dimensional Central American girl, seeming to lean against the real-life snack machine. Schork takes a digital snapshot of her subjects, turns it into high-contrast graphics, Shepard Fairey-style and then makes that the model for reproducing on the wall. That first bold-color portrait caused a sensation.
"And I came in the next morning, I was bombarded," she recalls. "'Miss! How can I be part of this? I want to do it.' "
Soon the Dominican girl at the snack machine was joined by a Somali girl in a hijab, a Haitian boy in a kafiyeh, a whole line-up of students in a mural that wraps around the loudspeaker, the telephone and even the window through which the lunch ladies pass out milk and juice — through the two-dimensional arms and legs of the basketball team.
"When you look at the art, it represents every student we have in this building," says Sito Narcisse, the new headmaster here.
Narcisse comes with a great reputation to a school that has had a bad one. In MCAS test scores, Boston English falls in the bottom ranks of state high schools. Only 52 percent of its students graduate within four years. Narcisse says Boston English has the highest population of English-language learners in the district.
Thirty percent of the students can't speak English well enough to do ordinary schoolwork. They require English Language Learning, ELL, and the task of getting them proficient enough in English to be able to pass MCAS tests in English, math and science by the end of their sophomore year seems daunting indeed.
And yet among the students represented by the mural are shining examples of promise.
"I love all the pictures on the wall," says Aisha Barry, a junior dressed in colorful veils comes from Senegal; she speaks five languages — French, Arabic, Wolof, Fulani, English, and she is learning Spanish.
Heidi Schork says Aisha is aiming for Wellesley College, insha'Allah — "God willing."
One of the most active muralists is a 17-year-old Ethiopian boy, Natania Solomon.
"It is good, it is like history," Natania says.
And that history will one day reflect the story of Natania and his long odyssey from Adis Abababa, with his father and brother, in search of a better life and a better education.
This is America's oldest public high school, and these are some of the newest Americans.
"First time when I come here ... I don't understand, like, that much," he says. "First year, it was hard."
But it was only hard to his stoical thinking and that of Natania's fellow Africans here. While going to high school, he works 30 hours a week, while others work 40. He came with his father, who drives a cab to get by.
Natania, who wants to be an architectural engineer, sees Boston English — and what many of us would see as daily hardships — with eyes that have experienced life in Ethiopia.
"If you want to learn something new, you can learn, there is a good teacher here, so you have a lot of opportunities. So it is a good school."
Bright, bold, and embracing, Schork's public mural, like the people of the mural itself, speaks of aspiration and promise too easily overlooked by those who have never been to Boston English. For people still working to learn English, their public art, and the hope in that wall, are the lingua franca.
This program aired on March 19, 2010.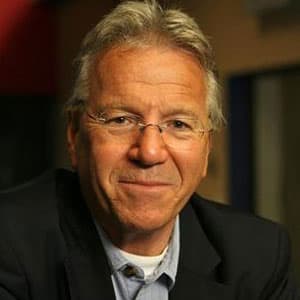 David Boeri Senior Reporter
Now retired, David Boeri was a senior reporter at WBUR.