U.S. Soccer Brings Stars Small And, Well, Medium To World Cup
This article is more than 10 years old.
Several hours before the U.S. men's soccer team would host the Czech Republic's team at Rentschler Field in East Hartford on Tuesday night, the parking lot outside the stadium was rocking.
Shenanigans had been declared, and two U.S. fans named Jill and Julie were prepared. On their way to the parking lot, they'd stopped for supplies: paper towels, Pepto-Bismol and Advil because, they said, between the alcohol and heat they knew somebody wouldn't make it into the stadium.
The game would set a house record for soccer with an official attendance of 36,218, so probably even those chanting "Let's get drunker!" did make it in. The reward for their efforts? In the 17th minute, they saw midfielder Maurice Edu put the U.S. in the lead, 1-0.
Among those waving flags even after that celebration had concluded were two guys named Eldon and Jasmin. It was the Bosnian flag they were waving, since they were from Bosnia, but they were fans of the game itself.
"We just love soccer," they said. "It's an amazing sport. I don't know, it just brings energy to us."
So did Eldon and Jasmin have a rooting interest?
"Oh, definitely," they admitted. "We live here. We are U.S. fans. This is our team. That's who we're rooting for."
Unhappily for the U.S. team and their fans, over the next 73 minutes, the Czech team outscored their hosts, 4-2.
But that circumstance failed to discourage Tyler Fisk, who had driven down to the game from Conway, Mass.
"It's not just the soccer," Fisk said. "It's supporting America, you know? It's being here all the time. This is my third game."
If Tyler Fisk is in Philadelphia for Saturday's game against Turkey, he will see the team that will actually represent the U.S. in South Africa when World Cup play begins for them in two weeks.
Building The Team
When Tuesday night's game began, the U.S. roster stood at 30. Coach Bob Bradley had announced that he would not cut his squad to the requisite 23 until after the match. Sports Illustrated soccer writer Grant Wahl put that circumstance in perspective.
"You've got seven guys who are going to get cut after this first game," Grant explained. "And there's been enough injury questions about certain positions that they felt like bringing in 30 players was what they needed to do to see where the guys were, but that also makes it a lot more tense in camp, because these guys know that their dream of getting to a World Cup, for several of them, it's not going to happen."
The imperative to cut seven players was one reason Coach Bradley left nearly all his stars out of the lineup on Tuesday night. National team stalwarts Landon Donovan, Tim Howard and Clint Dempsey never appeared in the game. Michael Bradley and celebrated striker Jozy Altidore were, likewise, spectators.
But Tuesday was an active night for Herculez Gomez, who had been out of the national team picture for several years before catching Bradley's eye by scoring 10 goals for Puebla in Mexico's Primero Division.
When he came into camp, Gomez — who is a non-Herculean 5' 10", 165 lbs. — figured he was the 30th man on a 30-man squad. Though he knocked in the team's second goal against the Czech Republic, when the game was over, he wondered if anything had changed.
"Well, I said I had 29 players in front of me, and my number today was 30," Gomez said. "So that put it in perspective for me."
A Final Cut
Asked if he thought he'd played well enough to make the cut, Gomez could only shrug and hope for the best.
"I just did my best, and it's out of my hands now." Gomez said.
In a news conference following the game, Bradley would only say that he and his assistants would order in some food, watch DVD's of the game and discuss a number of players. Regarding Gomez, the coach was giving away very little.
"Herculez played his way into the camp with his performance at Puebla, based upon goals, coming in as a sub and scoring," Bradley said. "Here's a guy who was out of the picture, and he'll be discussed further tonight."
Just over 12 hours after those unenlightening observations, Coach Bradley stood beside ESPN's Bob Lee as the latter announced the 23rd member of the 23-man squad that will face Turkey and then head for South Africa: Herculez Gomez.
So though the game against the Czech Republic on Tuesday didn't count in the sense that it was a "friendly," it certainly mattered to Gomez, who made the team, and to national team veteran Brian Ching, who, to the surprise of many observers, did not.
It mattered to the fans, some of whom had come to Connecticut from as far away as Florida and South Dakota to wish their team well at the World Cup.
The U.S. Team, In Position
The U.S. team's 23-man roster also mattered a great deal to Sunil Gulati, the president of the United States Soccer Federation, who used the opportunity to once more bang the drum on behalf the game he's been championing for decades.
"We're not the same as England or Germany or Brazil," Gulati cautioned. "That's gonna take more time, if we ever get there. The country won't shut down if the U.S. wins or loses a game. That's not gonna happen in my lifetime."
Still, Gulati said, U.S. soccer is growing. "If you look at it, I'm gonna go out on a limb, I think we'll break some ratings records this summer," Gulati predicted.
"If you look at it, I'm gonna go out on a limb, I think we'll break some ratings records this summer."
-- Sunil Gulati, president, U.S. Soccer Federation
Mr. Gulati may be proven right, especially if the U.S. team can finish first or second in Group C and advance to the knockout stage of the tournament. Wahl has some theories about who'll have to excel in order for that to happen.
"From an attacking perspective, Landon Donovan and Clint Dempsey have to be those guys, those creative forces for the U.S., because there just aren't that many of them on the field," Wahl said.
Defense will have to be on its game, too.
"And they're not the only ones, though, because defensively the U.S. is gonna face a lot of pressure from England and other big name teams, potentially, so Tim Howard in goal is going to have to come up big," Wahl said.
Those three are stars in their respective leagues in the U.S. and the U.K.
But for anyone who was paying attention to a game that didn't count on Tuesday night, a game in which a guy who was a couple of strides short of long shot to make the team until very recently, it's impossible not to wonder if perhaps South Africa will provide a stage upon which one Herculez Gomez might shine.
This program aired on May 29, 2010. The audio for this program is not available.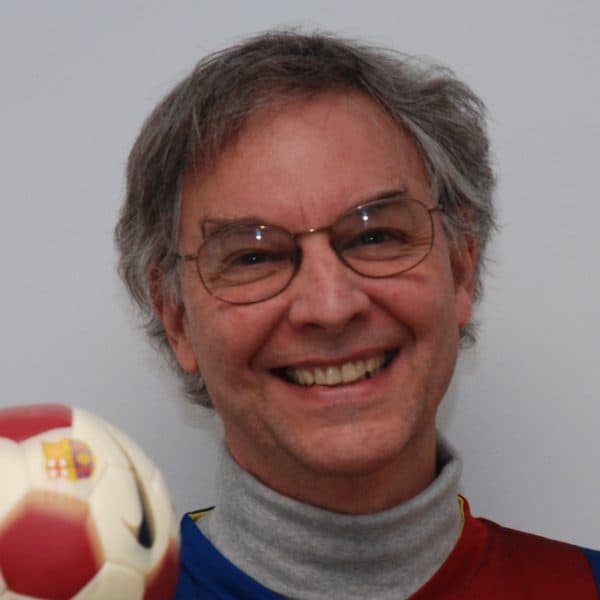 Bill Littlefield Host, Only A Game
Bill Littlefield was the host of Only A Game from 1993 until 2018.