The Two Sides Of Candidate Baker: Charles And 'Charlie'
09:17
Play
This article is more than 11 years old.
The first, second and third things that don't come to mind when watching and hearing Republican candidate for governor Charlie Baker is the line:
I'm a sailor peg, and I lost my leg.
Climbing up the topsails, I lost my leg.
Baker is absolutely crazy about the punk band the Dropkick Murphys.
"It's not unusual for me to get down to a Dropkick Murphys concert and literally to be completely soaked from the top of my shirt all the way down to my shoes in sweat," he says.
It's a bracing thought for a button-down candidate that Irish punk thumps in the soul of Charles Duane Baker the Fourth. It's almost as hidden as the "Duane" or the "Fourth" or the "Charles," for that matter, which you'll never learn from his website, his brochure or his campaign.
The last Charlie we had on Beacon Hill was former House Speaker Charlie Flaherty, often described as "Good Time Charlie." But this one acts and speaks more like a Charles than a Charlie.
"If I learned anything during my time at Harvard Pilgrim it's that you can't let the budget manage you, you have to manage the budget," Baker tells a crowd at one campaign stop. "Plan for the worst, budget accordingly, take the pain early and get it behind you."
"He always examines and pokes and prods and asks the best questions of anyone in the room. And, he not only asks the questions. He was willing to find the answers."

Virginia Buckingham, chief of staff, Weld administration
Stern stuff and what you'd expect to hear from a doctor named Charles, not a guy named Charlie. From Marblehead to Monterey, Sandwich to Salisbury, he's been writing the same prescription.
"Here's the box, folks," he says. "No new taxes, no cuts in local aid. We have to clean up our own act. And that's the box we're going to play in."
His politics and personality were shaped by a struggle between his mother and father, to hear Baker tell the story — and he tells it to audiences at least once a day.
"I'm the product of what I call a mixed marriage. My Mom's a Democrat and my Dad's a Republican."
Dad and the Republicans won out after Baker graduated from Harvard in 1979.
"Reagan sounded a lot more like I was thinking than Carter did," Baker says.
Baker was working for a libertarian-minded think tank when, in 1990, the young whiz kid was recruited by new Gov. William Weld. At the time, the state faced 9 percent unemployment, a huge budget deficit and a crash in the housing market.
"He likes to think around corners is how I perceive him," says Virginia Buckingham, who was Weld's chief of staff. "He never takes the obvious answer at first blush. He always examines and pokes and prods and asks the best questions of anyone in the room. And, he not only asks the questions. He was willing to find the answers."
By all accounts Baker is a brainiac. For Weld, he took on the thankless job of consolidating and closing state hospitals. He did it with compassion, Buckingham says, who calls Baker "Bill Weld with a heart."
Baker ran the Department of Health and Human Services for Weld and then Administration and Finance for Gov. Paul Cellucci. They never raised taxes. The economy turned around. Jobs came back. Baker went on to become the CEO of Harvard Pilgrim Health Care, where he won credit for pulling it out of receivership and into prosperity.
And here you can feel the drive of a campaign outline: "Now he's back to fix the state" goes the narrative that made Republicans giddy when Baker announced he was running.
Crank up the volume.
I'm shipping up to Boston, whoa-oh-oh!
But so far it's not turned out like it did for the Dropkick Murphys.
A year after Baker jumped into the race at 6-6, the tall drink of water is sucking on a short straw.
"Charlie is a Republican in a Democratic state but he should be doing better than he is in the polls," says Todd Domke, who is among a number of disappointed Republican consultants. Another told me Baker should be up by 15 points instead of down by six, according to one recent poll.
"He really should be the frontrunner," Domke says, "given the weaknesses of Deval Patrick and the fact so many voters have lost faith."
That lost faith is apparent among the carny games and rides at the Barnstable County Fair. When Baker introduces himself to Melissa, who has no job, she stops eating her French-fried sweet potatoes to ask, "Why do you want to be governor of Massachusetts?"
"Mostly because I think we've lost our edge on employment and economic opportunity," he says. "We're a very expensive state."
Promising to create jobs would be more direct. Instead Baker talks about figuring out a regulatory model to make us more competitive. He's in Charles mode again. And here is the disconnect that has made for a campaign that has gained little traction. Baker talks in abstractions when he needs to engage emotions. After he leaves, I ask Melissa who she's thinking of voting for.
"I'm thinking of, oh God, what's his name — Cahill. I'm thinking about him," she says. "Cause Deval Patrick has disappointed the heck out of me."
It comes as no surprise that Baker restores old cars. He loves looking under the hood, especially when it comes to ideas. Which is to say that Baker is a public policy intellectual, perhaps the biggest policy wonk running for governor since — and Republicans won't like this — Michael Dukakis.
"But I don't think that being a policy wonk or being a guy who's interested in ideas fundamentally means I'm not interested in people," Baker says.
On the trail, he's earnest, genial and unpretentious. And as a Republican candidate trying to win independents and Reagan Democrats, you couldn't have a more user-friendly name than Charlie — except for Ronnie. But winning them over as a policy wonk may be the toughest sell of all.
"We know the importance of being earnest," Domke says, "but the important thing to a lot of people is not just to come across as an Eagle Scout and being sincere about wanting to change policies, but also someone who can move us emotionally, a leader who can raise your hopes and raise your expectations. But people do need to feel conviction if they're going to feel connection."
The first thing he'll do as governor, he tells one audience, is put a moratorium on new regulations, in order, he later adds, to "re-platform the state for the future." Go put that on a bumper sticker.
At an Elks Club in Weymouth he takes this question: "Tell me what can I expect from you after you get elected?"
"A year ago, for me to walk up to somebody I don't know and sit down and just start talking to them, that was hard for me to do."

Republican candidate Charles Baker
"The first two years are going to be broccoli," Baker says. "No cake and ice cream. It's going to be all about broccoli."
That's not what Reagan would have said.
"He would have said it's all about cake and ice cream, I suppose," Baker says.
The only time he's run for office before, besides running for class marshal at Harvard in his senior year — he lost — was running for selectman of Swampscott — he won.
"You know at 6-6, what they say is that you can't teach height," I tell him.
"You can't teach height," he replies. "My basketball career at Harvard could be described as not that tall, but really slow."
Some would claim you can't teach the touch in politics, either. For Baker, it doesn't come naturally.
"A year ago, for me to walk up to somebody I don't know and sit down and just start talking to them, that was hard for me to do," Baker says. "I'm not somebody who is naturally just an outgoing, 'Hey how are you,' type."
Buckingham says it's still early, and when voters get to know Baker, they'll like him.
"He's a wonderful guy, a great guy, a guy you'd want to have a beer with, have dinner with" she says. "And then, you know, when he veers off into his discussion of how to reform Medicaid you'd have to reel him back in to say, 'Hey can we stick with something more interesting?' "
Baker's best day of the week that I spent with him was the Puerto Rican Festival Parade in Boston. He happened to be walking behind a float with Edwin Pabon, his orchestra and the Salsa Mix Dancers. They took the crowd by storm. And the salsa music fired up the candidate like a couple of hot peppers. Latinos and Democrats, these are the people Baker needs to engage, say GOP consultants. And here was Charlie, running the route, high-fiving, fist-bumping and shaking hands. He danced with a woman who didn't know who he is. Maybe next time, the campaign will print brochures in Spanish, too.
"Hi, Charlie, how you doing, man?" someone says. "Are you going in for the president or what?"
"I'm running for governor," Baker says.
"That's a good thing for you, man. Good luck, man."
They may not know him yet, and he may be close in the polls to Patrick anyway, but having the personality of a Charlie may yet get him to the top.
More Baker Discussion:
This program aired on August 4, 2010.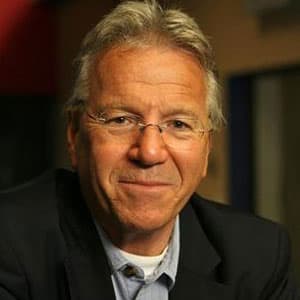 David Boeri Senior Reporter
Now retired, David Boeri was a senior reporter at WBUR.