Freshmen Lawmakers Adjust To Life On Beacon Hill
02:02
Play
This article is more than 10 years old.
On Wednesday, 199 legislators took the oath of office at the State House, as the Legislature kicked off its new session. Among them, 38 new representatives and eight new senators, one of the largest freshmen classes in recent memory.
Angelo Scaccia is no freshman. The "Dean of the House" with snow white hair, he has represented Readville and Hyde Park since 1973. He's seen a lot of lawmakers come and a lot of lawmakers go, and he has a simple piece of advice for the newbies.
"Well, God gave us two ears, and one mouth. And if they use those in the same proportion, I think they'll do very well up here," Scaccia said. "It's a listening activity, when you start out."
And as they start out, the new representatives and senators said they are up for the challenges ahead, as many learn their way around the building for the first time.
"... Just coming in here, and feeling the awe, and knowing that I don't know everybody that's here. ... I'm actually looking forward to all those challenges."

State Rep. Mike Finn
State Rep. Mike Finn is the new representative from the 6th Hampden District in West Springfield, a small section of Springfield and five wards in Chicopee. I found Finn in "the bullpen," a temporary office set up in a basement hearing room. The Democrat shares it with his aide and about 18 other freshmen representatives and their aides, as well.
The remainder of the freshmen representatives and their aides are in an identical hearing room right next door. There are no windows. Not a lot of elbow room. And zero privacy. Despite the cramped quarters, Finn is taking it in stride.
"You know, just coming in here, and feeling the awe, and knowing that I don't know everybody that's here, I mean there's certainly a lot to learn as a freshman — I'm actually looking forward to all those challenges," Finn said.
The challenges in these first few days for new legislators are simple ones. Just ask the new senator from Lowell, Eileen Donaghue.
"You know, I managed to find the parking garage and then stepped out of the car saying, 'Gee, I wonder how I get into the building?' But I made it!" Donaghue said.
Six of the freshmen senators won't have problems like that. They moved across the hall, after serving in the House of Representatives. But still, former representative and now Melrose state Sen. Katherine Clark said there are differences.
"It's a smaller body, and I think that it will take a while to get used to the culture there. So we're looking forward to getting to work, and being as helpful as we can to our fellow colleagues and really just listening and learning for the next few months," Clark said.
All of the freshmen I spoke with are eager to get down to work. On the House side, the dynamics are changed slightly, with Republicans seeing their ranks doubled. While still far outnumbered by the Democrats, freshmen members of the Republican Party, such as Shaunna O'Connell of Taunton, hope to make a difference, "By being consistent. By being here on a regular basis, by being passionate and by working really hard," she said.
"You know, everyone wants our economy to succeed, everyone wants to create jobs. So I think we can all find a common ground here. There are a lot of freshmen, on the Democrat and Republican side. I think we're going to work very well together."
That hopeful spirit of bipartisanship brings us back to Scaccia. The veteran Democrat welcomes the new blood, including those from the other party.
"Other than my friends who lost the election that were Democrats, I'm somewhat happy to see them have 30-some odd members. I wish they had 50 members. Because it keeps each other in control," he said. "And we're going to be better off that they have 32 Republicans in the House."
And on their first full day Thursday, they will be standing together in the House chamber to watch Gov. Deval Patrick take the oath of office for his second term.
This program aired on January 6, 2011.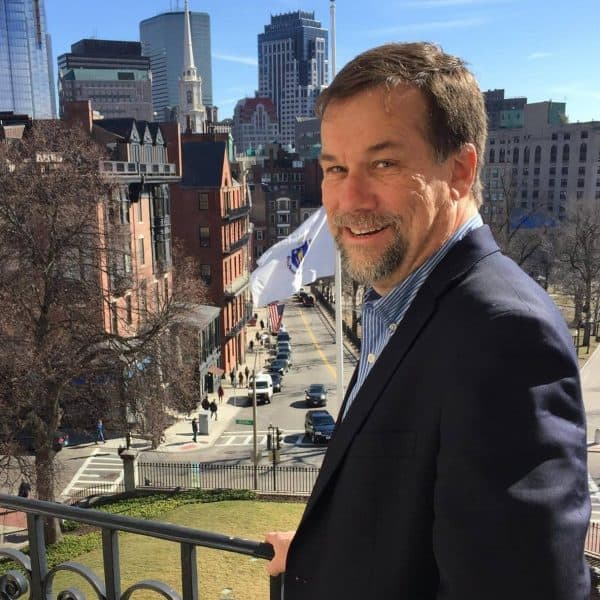 Steve Brown Senior Reporter/Anchor
Steve Brown is a veteran broadcast journalist who serves as WBUR's senior State House reporter.