2nd Dorchester Shooting Victim To Be Laid To Rest
04:40
Play
Boston Police are still searching for suspects in the quadruple shooting in Dorchester 12 days ago.
Four young women, all 22 years old, were attacked as they sat in a car on Harlem Street; three of them died from their wounds.
Funeral services for Sharrice Perkins were held earlier this week. On Saturday, Kristen Lartey will be laid to rest.
A Motivated Young Woman
"There were many facets to Kristen Lartey," said Karen Ricketts, a pastor at the Family Life Fellowship Church in Hyde Park. She knew Lartey all of her life.
"I actually was friends with Kristen's mom before Kristen was born. I knew Kristen when she was in her mom's womb, so we go back a long way," she said. "And she... grew beautifully."
This past June, four years after graduating from Boston's John D. O'Bryant School of Math & Science, Lartey graduated from St. John's University in New York.
Lartey was back in Boston looking for a job in advertising or marketing. In the meantime, she and some high school friends were drawing up a business plan to start a nail design business.
Ricketts is still trying to come to grips with losing Lartey.
"I believe in anything that she did. She would have succeeded," Ricketts said. "She was just very focused. I think Kristen knew what she wanted and she was going to go after it and get it. And it was going to be meaningful. It was going to be filled with lots of purpose, and she was going to make a difference."
Lartey also contributed to a New York-based online magazine, Vibe Vixen. She wrote about fashion, culture, beauty — literally a potpourri of a young woman's life. Her last article, posted six days before she died, was autobiographical:
I'm a 22-year-old heterosexual female living in the United States of America and I've never had a boyfriend. Now, I know what you're thinking, and I promise, there's nothing wrong with me. I'm smart, have a great personality, and I'm attractive. And no, I do not hate men.
"That's the Kristen I knew, yeah she was, she's different," said Jay Molyneux, a youth minister and keyboardist at Lartey's church.
Focused, Despite An Early Loss
"Her parents are both pastors, so she's the classic church kid," he said, "in church Sunday, Sunday service, Friday youth, Wednesday Bible study. She did the choir, she's involved with the youth, she did the step team.
"She was definitely unique. Usually you hear that the pastor's kids are the bad ones, but she was definitely a good pastor's kid, definitely."
Both of Lartey's parents are immigrants. Her mother, Sonja Bishop, was 14 years old whens she came to the U.S. from Barbados. Bishop was valedictorian at Jeremiah Burke School in 1979, won a scholarship to Harvard, graduating with the Class of 1983. She was in Africa on a Rockefeller Fellowship when she met the man who would become her husband, Agabus Lartey, of Ghana. Agabus Lartey is the founding pastor of the Family Life Fellowship Church in Hyde Park. Kristen's mother died of Cancer two years ago.
"I know her mom, if she were here, was and still would be very proud of her," Ricketts said. Lartey's mother died of cancer two years ago.
Ricketts says despite that loss, Lartey stayed focused.
"In my heart, I believe that her resolve was that she was going to, all of her mom's dreams for her were going to happen," Ricketts said. "If there was one thing she was going to do, she was going to make her mom and her dad proud. And keep it moving, you know, even through that pain. And I think she was doing that."
Church members celebrate Lartey's life. Ireta Ashby's face lights up when she talks about the 22-year-old.
"There was this aura about her that, you have to like here," Ashby said. "She's one of those people that, she's likable.
Ashby's having a hard time making sense of the loss.
"At this point I really don't believe that she's gone," she said. "A life taken so soon didn't get to really live her life. Just got out of college about to go off in the working world, didn't get a chance to do that. Didn't get a chance to marry and have kids. It's just one of those sad, innocent life taken."
Lartey will be laid to rest Saturday. Services for the third young woman killed in the shooting, Genevieve Marie Phillip, will be Tuesday. Phillip is survived by a 5-year-old daughter.
This program aired on August 24, 2012.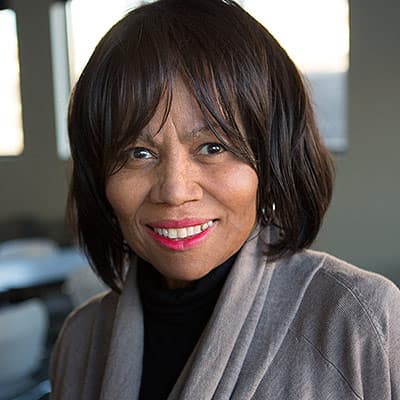 Delores Handy Reporter
Delores Handy was formerly a host and reporter at WBUR.