Debate On Overhauling Boston Schools' Assignment System Continues
08:24
Play
This article is more than 8 years old.
The intense conversation continues about proposed student assignment plans for the Boston Public Schools.
An external advisory committee has met almost 100 times since it was appointed earlier this year. Since September, it has held dozens of community meetings throughout the city to discuss 12 or so new zoning proposals.
The committee holds a meeting to update the community on Tuesday night. It had been expected to narrow down the choices and make a recommendation to the BPS superintendent this month, but that timeline has now been extended until the middle of December. The plan must then be acted on by the school committee and the mayor.
Tough School Choices
It was a school night and dozens of parents, some with children in tow, turned out for a recent community meeting at the Mildred Avenue K-8 School in Mattapan. They were there to consider new school assignment proposals from the external advisory committee.
Natalie Jones said she was in for a rude awakening when she decided to enroll her 5-year-old daughter, Beloved, in kindergarten. The process involved visits to more than 10 schools.
"It felt like I was in a different school system at each school, because the differences were so wide," Jones said. "Some schools had gyms and no gym teacher. Some schools had computers that were very, very old or very, very new, like state-of-the-art computers. Some schools had beautiful grounds and some just had nothing.
"They kept emphasizing choice but I really felt that I had a very limited choice," she continued. "I went to the community meetings, they were emphasizing choice, choice. I said once you go into schools your choice is actually very limited. I wanted quality. I felt if we had quality the choice issue would work itself out."
Jones lives in Mattapan but ended up enrolling Beloved in Dorchester.
Teresa Valerio was also at the meeting in Mattapan. She recently moved with her two children from Revere to Hyde Park. Her older son is in the sixth grade.
"The reason I moved here is because he wants to go to [Boston] Latin School and he wants to take the test," Valerio said.
She tried to get both boys close to home in Hyde Park but, "they have a waiting list of a hundred-something kids."
So one of Valerio's son attends school in Mattapan, the other in Dorchester.
"Different schools, different times," she said. "My little one's bus stop is 20 minutes from my house. Of course he's 8 and he can't walk, so I'm paying someone to take him to school every day, to pick him up."
She said it's a logistical nightmare.
"I have to get my son up at 5 a.m. I drop him off at his bus stop at 6:30. And then my little one I have to drop him off at the lady's house that's taking him to school every day, so it's been tough for me."
It hasn't been as tough for Cathy Aho, of Roslindale. Her two children, a second grader and a fourth grader, attend school in Roslindale, though at different schools.
"We're fortunate," Aho said. "And it's very difficult for people who don't win the lottery, and we know a lot of them have moved out of the city.
"I feel bad for those people who are in a neighborhood who either don't like their neighborhood school or who don't get into a school that's right next door to them. But I worry about equity, too. You look at some portions of the city, there's no equity there. They're very imbalanced."
Discrepancies Across The School System
White students are more likely to have high-quality schools close to their homes. Asians too. Less so for Hispanics. The greatest inequity is for black students.
"Black and Hispanic students on average travel farther to go to school than do white and Asian students," said Tim Reardon, of the Metropolitan Area Planning Council, which represents cities and towns in the Boston area. He was presenting the findings of the council's analysis of the current school assignment process to the external advisory committee.
"Black students who are attending a low-quality school are traveling more than a mile and a half just to get there each day, and half of blacks students who are attending a low-quality school are actually going outside their walk zone," he said.
Added the council's executive director, Marc Draisen: "I was taken aback by the level of problems in the current system."
Draisen says the council's analysis indicates that the proposals might not improve access to quality schools. Here's his advice going forward: "I think that the city needs to be extraordinarily cautious that the difficulties we see currently are not either left the same or unintentionally worsened by the action that it's taking."
Barbara Fields, who remembers past efforts to overhaul student assignment, is somewhat skeptical of this new process so far. She's with the Black Educator's Alliance of Massachusetts.
"Now what we hear, as we heard in 2009, as we heard in 2004, were commitments that if you vote in the student assignment plan it would get us equality," Fields said. "We're here to tell you that has not gotten us equality for all schools and it will not this time."
Fields says the focus should be on eliminating the achievement gap between students of different races. That, she says, would address the issue of quality.
'The Future Of The City'
There are 27 people on the external advisory committee charged with addressing quality and equity in student assignments. They represent a broad cross-section of Boston residents. Many are parents of current and former Boston public school students.
Vernee Wilkinson, of Roslindale, falls in the latter category. Her child was in kindergarten in the BPS system last year.
"We did the lottery for the first year and she was placed into a seat and the school was our 10th choice," Wilkinson said. "We gave that school a try for a year."
But that school was several communities away, a very long bus ride for a 4-year-old. They tried the lottery again this year, came closer to getting their first-choice school, but by then she and her husband had decided to place their daughter in an independent school. Still, Wilkinson is on the external committee because she supports the effort to improve Boston's student assignments.
"It's not just about my one child and her experience and her education," she said. "This is in so many ways about the future of the city. We have so many wonderful resources at our fingertips, but we have this really broken education system.
"But I don't have a plan of choice right now — I don't think anybody has a plan of choice right now. I think it'll be the best comprehensive plan. I don't think there'll just be one plan that hits in on the head. It won't be one plan that will change and fix everything overnight, either. It will be a plan that will have to come in stages and series of improvements for the system overall."
From the dozen or so proposals it has received, the external advisory committee has identified what are called "four broad concepts." The community can find out about them at an open meeting of the advisory committee Tuesday night. It has been given an extra month to prepare its recommendations for the Boston Public Schools superintendent and School Committee in December. The school committee could vote on a proposal in mid-January, and the goal is to have a new assignment plan in place for the 2014 school year.
This program aired on November 13, 2012.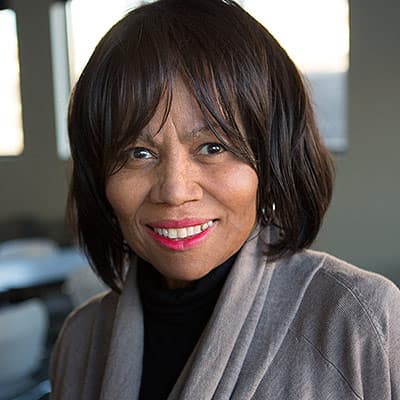 Delores Handy Reporter
Delores Handy was formerly a host and reporter at WBUR.