Don't Call Barry McGee A Street Artist
This article is more than 8 years old.
BOSTON — San Francisco artist Barry McGee has shown in museums and galleries for years, but he's also widely known for his earlier work — on the streets.
You can still find remnants of McGee's signature graffiti tags and paintings on tunnel walls and buildings around the world — even here in Boston. Now, a vast, 20-year survey of his work opens Saturday at the Institute of Contemporary Art. (Read our review here.)
Standing in the gallery earlier this week as thousands of pieces were being installed, McGee called out to a member of his team, "I have the vinyl over here! Yeah, have you seen it?" Then he turned to me, smiling, and said, "OK, I'm ready." (He also commented on the look of my recorder, saying it seemed very "authoritative.")
When asked about said vinyl McGee quietly explained how he wants the exhibition to feel inclusive.
"This is going to be like a community show situation over here," he said referring to the large room we were in, meaning, "less museum feeling, more of like a show in a park and recs building."
Among the old surfboards, skateboards and bright-colored op art surrounding us, the west coast artist is also highlighting images from the Boston chapter of his history — photographs of graffiti his friends made here in the 1990s.
"I couldn't do anything any better than what they would bring to the table," McGee mused sincerely. "I love that, just bringing the energy of something that hasn't been seen in Boston for a while and presenting it in a museum format."
McGee met the Boston graffiti writers when they were students together at the San Francisco Art Institute. He  recalls visiting them here and hitting the streets and T lines.
"I remember being in those tunnels — running around in those — with some friends. And I remember rooftops in Cambridge," he said.
Caleb Neelon remembers that McGee period, too. He's a local public artist and author of "The History of American Graffiti."
"He did a lot of stuff in my neighborhood in Cambridgeport, and it totally changed my world to see some of that firsthand and up close," Neelon said.
In his Cambridge home he pulled open file draws to show me a trove of photographs from those years. Back then Neelon wrote for a graffiti zine and said McGee was something of a cult figure for graffiti writers, himself included. Neelon especially admires the composition of McGee's tags, which are basically unique signatures. The artist's street name was "Twist."
"All the little details of it, the little star, the little quote mark, the one little opportune drip," Neelon described. "I know where there's one where he did a tag in wet cement that's still around. Well, I'll even drop the location: It's on Brookline Street in Cambridge if anybody wants to walk both sides with their head down."
McGee made unsanctioned — a.k.a. illegal — tags here in the '80s and '90s, but at the same time the skilled draftsman, painter and installation artist had exhibitions at a Newbury street gallery and the Rose Art Museum.
Neelon credits McGee with leading the ascendance of graffiti as a respected art form in the U.S., even though he suspects saying so would make the artist cringe.
"There's always that, you know, funny indoor/outdoor tension with graffiti and moving into galleries or whatever — it's a pretty old question," Neelon told me, "but what Barry did better than really anybody else was bring both realms into the other. He brought a lot of fine art techniques into the street, and he brought a lot of good street chaos and grit and energy and unpredictability into galleries."
Fact is, back at the ICA McGee actually does cringe at this sort of talk.
"I don't know about that," the artist said. "I don't want to do that; I'm not trying to do that, I guess."
The 46-year-old said that while standing in a space filled with installations he created out of stuff he found on the streets. A 15-foot-tall tower of television sets blares a gritty soundtrack while streaming footage from surveillance cameras and people writing graffiti. McGee created the sculpture in the early 2000s, but these days he calls it "annoying."
It's kind of hard to tell if the soft-spoken artist is being serious, modest or coy. He swipes his angled bangs away from his eyes and paces a bit as we talk about his attraction to graffiti. McGee is definitely a provocateur, but a mild-mannered one. He's also anti-establishment and anti-consumerism.
"If I live in an urban center — in a city — with constant advertising, I feel like I have every right to partake also. I don't feel like it should be limited to corporations that can buy ad space. I just always assume that anything written on the wall was the authentic thing to me. The real voice."
McGee grew up in South San Francisco where his Irish American father worked on cars and his Chinese-American mother was a secretary. A lot of the artist's work is both an homage to and critique of the city's Mission District. Some of his iconic illustrations feature characters you might find there: down-trodden male faces tinged with anguish cover a grouping of empty, clear-glass booze bottles McGee bought from homeless people in the neighborhood.
And graffiti is a common thread throughout the show. That said McGee adamantly stated he does not want to be called a "street artist."
"It got wildly popular and there was a flood of horrible street art books that came out," he explained, adding, "It all happened too fast, and people just saw an opportunity to make money, and worked on the street for a week and then jumped into the gallery and started making what is called street art, I guess. It's horrible, those terms, when they happen. Artist is fine, you know?"
And McGee distances himself from his old graffiti tag, "Twist."
"I don't really identify with any of it that much anymore, as an adult."
"A part of that is being a middle-aged man, which he admits all the time in a very self-deprecating, comical way," said ICA senior curator Jenelle Porter. She coordinated McGee's mid-career survey, which was organized by the University of California, Berkeley Art Museum and Pacific Rim Archive.
"And of course there's a lot of truth to it, too," Porter continued, then asked, "I mean, what? You're going to go out in the middle of the night when your 12-year-old daughter is at home and make graffiti? It's not interesting to him. That's the kind of stuff that's really fun to do when you're young."
Now that he's a parent and older, McGee's work can sell for $15,000 to $300,000 — although he told me, "it's not flying off the gallery walls."
Porter is a huge fan of McGee's "lines." She compares them to those drawn by another bay area artist, R. Crumb.
The curator also acknowledges the recurring argument of "graffiti art vs. gallery art," and sympathizes with McGee's reluctance to be categorized.
"For ages artists have wanted to very much not be one thing or the other. They absolutely want to straddle. They don't want to be labeled — I mean, I get it," she admitted with a little laugh.
And for that, McGee is grateful.
Then the artist asked me an interesting question that says a lot about how he sees the world and his work:
Are you into the magic of art? Just the magic of like, how did that happen? And if you're standing in front of something and just don't understand it, but you're drawn to it? I think it's one of the last things that still has a magic to it. It just appears.
As it happens some new graffiti has just appeared in this town. You can see it on the back wall of the House of Blues in Boston, overlooking the Mass Pike. It's connected to McGee's ICA exhibition, but the artist didn't do it himself because he said it's officially sanctioned.
McGee's career survey at the ICA opens Saturday and runs through Sept. 2.
For more on the artist, check out Twenty People Offer Fond Memories About Barry McGee.
This program aired on April 5, 2013. The audio for this program is not available.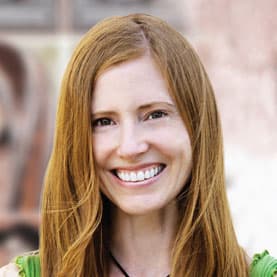 Andrea Shea Senior Arts Reporter
Andrea Shea is WBUR's arts reporter.