Manhunt Prompts Lockdown Of Boston's Deserted Streets
This article is more than 8 years old.
Update at 11 p.m.: Follow our live updates of the now-captured second Boston Marathon bombings suspect.
BOSTON — Picture how almost everything is shut down on a snow day, but without the snow. No buses, no taxis, no subways.
Vehicular traffic was allowed, although there were a few roadblocks, particularly on Cambridge Street near City Hall Plaza. That also happens to be near the FBI's Boston headquarters. That's how it was Friday as law enforcement personnel conducted an intensive manhunt looking for the suspect-at-large in connection to the Boston Marathon bombings.
There were very few people on the street. Around 9 a.m. at Park Street Station — usually an incredibly busy time — there were just a few individuals, most of them homeless people who are familiar faces at that intersection. They were just sitting around on the benches and planters. That struck me because when you take away the crowds, you can really see those folks who live on the streets.
A block away at Downtown Crossing, it was another ghost town. At 9 a.m., Edwin Torres stood in front of Lambert's fruit stand set up along the facade of the building that used to be Filene's. By that time of day, most of the apples and oranges, bananas and pears along with more exotic varieties of fruits would be gone, but not today. Torres took it in stride.
"It's kind of boring without all these customers, we're used to having all our customers and all that. But with all those things that are going on I don't know. I hope they catch the guy," Torres said.
Further down Summer Street, a couple hundred stranded passengers who had hoped to get out of town on Amtrak were stuck on the sidewalk with no place to go. At first they were shooed off the South Station platforms. Then they were told to get out of the South Station Terminal and go out on the sidewalk. Finally, they were told to go across Atlantic Avenue and wait there. While waiting on the sidewalk, a bomb sniffing dog accompanied by an Amtrak police officer checked out every bag, backpack and suitcase.
Josh Spahr and his wife Nan of Braintree were hoping to get to Philly for the weekend to visit friends. A relative dropped them off around 5:30 to catch a 7 o'clock train. Instead they were stuck on the sidewalk, and were getting quite frustrated.
"No officials have told us anything at all," said Josh Spahr. "It would have been nice to have an indicator — like a timeframe at least — as some point as to when the trains are running. I mean we're detached, I mean aside from her smartphone, we don't know what's going on as far as news. I just feel like this was very badly coordinated."
Most businesses in the downtown area were closed. Associates at several stores from one chain pharmacy were told to stay inside and lock the doors.
Benny D'Ambrosio manages the barber shop on Bowdoin Street right next to the state house. He decided to open up around midday, but due to a lack of foot traffic, business was bleak.
"Friday's probably one of our busiest days. So we would do maybe 20 haircuts apiece for three barbers," D'Ambrosio said. "Yeah, it's really one of our busiest days because of the weekend and people getting out of work. They want to get their haircut before the weekends."
---
This article was originally published on April 19, 2013.
This program aired on April 19, 2013. The audio for this program is not available.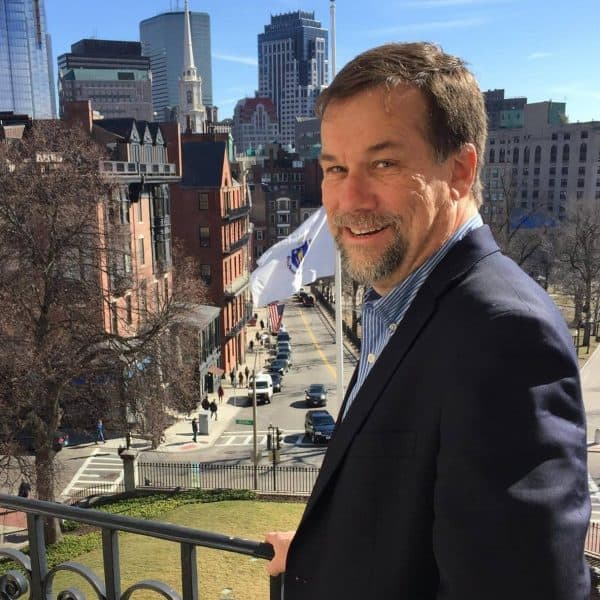 Steve Brown Senior Reporter/Anchor
Steve Brown is a veteran broadcast journalist who serves as WBUR's senior State House reporter.