South Boston Woman Kidnapped, Fatally Stabbed
03:44
Play
This article is more than 7 years old.
The first sign that something was amiss came at 8:40 a.m. Tuesday: a report of a black Jeep burning on Logan Way in South Boston. It was registered to an Amy Lord.
At 11 a.m., investigators were notified that the 24-year-old Lord had been reported missing after she failed to arrive for an appointment.
At 4:21 p.m., a man riding his bike through the Stony Brook Reservation in Boston's Hyde Park neighborhood spotted a body in a wooded area.
"We believe that Ms. Lord was abducted in South Boston, taken to Stony Brook where she was fatally stabbed," Suffolk County District Attorney Dan Conley said Wednesday at a press conference.
Lord, a native of Wilbraham, was a 2011 graduate of Bentley University. She was living in a South Boston apartment while working at a digital media startup in the South End.
Boston Police Superintendent-in-Chief Dan Linskey says there's video surveillance of her from Tuesday morning.
"It's our belief that the victim was in her vehicle with a potential suspect between the hours of 6 a.m. and 6:47 a.m. at various banks in the city of Boston," Linskey said. "The areas in question are the East Boston Savings Bank around 501 South Hampton St., the Metro Credit Union at 1071 Massachusetts Ave., Bank of America at 555 Columbia Rd., Sovereign Bank at 585 Columbia Rd. and Citizens Bank at 217 Adams St."
Authorities released a photo showing Lord at one of those banks on Columbia Road. They are asking for the public's help.
"She was wearing very distinctive clothing," Linksey said. "We're asking individuals if they were out and about in the area at that time if they might have seen the victim getting out of her vehicle and might have seen something that would be helpful and beneficial to our detectives."
In Lord's South Boston neighborhood, 21-year-old Taryn Mancuso says there has been a rash of violent incidents recently, including robberies and break-ins. Mancuso says Lord's death is scary.
"That's not shocking, though, they wanted her money and then they got rid of her," Mancuso said. "It's sad."
According to police, Lord is one of three women attacked in fewer than 24 hours in that neighborhood. In the first attack at 5 a.m., a woman was punched in the face. An hour later, at 6:00 a.m., Lord was captured on video at the the first ATM.
Less than 24 hours later, just after midnight Wednesday, a third woman says she fought off a man wielding a knife. In that incident a suspect was arrested. Edwin Alemany, 28, was charged with assault with intent to murder. He has not been charged in Lord's death.
This program aired on July 25, 2013.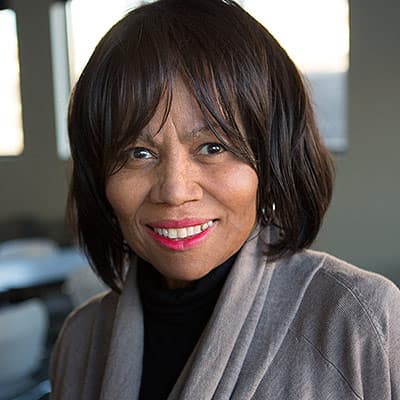 Delores Handy Reporter
Delores Handy was formerly a host and reporter at WBUR.