Amid Boston's Recent Attacks On Women, Some Turn To Self-Defense Classes
06:03
Play
This article is more than 8 years old.
This summer has seen a spate of attacks on women in Boston. In June, two young women were attacked around Mission Hill. Both managed to fight off their knife-wielding assailant. In July, in South Boston, three young women were attacked and beaten within a 19-hour period. One of them, Amy Lord, was kidnapped and killed.
When confronted by violence, how do women fight back? One program teaches self-defense through empowerment.
The Madison Park Development Corp. in Roxbury is offering an intensive self-defense course. Monique Blocker works for the housing development as a "VIP" — a violence intervention/prevention youth leader — and brought the classes to Roxbury.
"I know there were some Mission Hill attacks on women not too long ago, and that's what really motivated me to get this in my neighborhood for young girls and women," Blocker said.
The classes are part of Girls' LEAP, an acronym for "lifetime empowerment and awareness program." It was founded 16 years ago as a community response to a wave of sexual assaults against women and girls in Cambridge.
"A group of women came together to find out what they could do, what kind of resources were there," Katjana Ballantyne, executive director of Girls' LEAP, explained. "What they found is there were actually no resources available for teens under the age of 18. So, for them, that was a call to action, 'We need to do something here.' "
Girls' LEAP classes are now taught in the Cambridge Public Schools. The program has also expanded, through community partners, into other communities, including Boston, where it says those at highest risk for sexual assault are girls aged 10 to 14. Ballantyne said the curriculum is tailored with that in mind.
"A very gender-specific curriculum to empower girls to make them feel that they are worthy, that they can achieve anything," she said. "We have teen mentors who form the teaching team of five or six and then deliver programming to about 15 to 20 girls at a community center or an afterschool center in the public schools."
A Girls' LEAP class I visited in Roxbury was led by Christina Ingemi, a Massachusetts AmeriCorps member, along with three other Boston-area college students.
The sessions are transformative, with the "aha" moments coming almost immediately.
Shaniah Baker, 16, got it right away. Baker is from Brooklyn, N.Y., and is spending the summer in Boston with her grandmother, Norma Harris, who lives in the Madison Park Village development.
Shaniah said there is always a level of fear when she's outside at certain hours, whether she's at home in Brooklyn or visiting in Boston.
"It's kind of hard for teenagers to walk around here when it's dark, especially like in the summer," Harris added. "Kids just want to hang out. A lot of times, they're unable to do that, especially if there's a concert or something, like a football game. It's not that safe. It is kind of scary to walk around at night."
Harris didn't just drop her granddaughter off for the self-defense classes. She herself took part, saying she learned skills that could have made a difference in her own life years ago.
"In my younger days, I had things to happen to me, and I didn't know what to do," Harris shared. "I wish that back then they had classes like this. Things did happen, and sometimes it's hard to forget. But now I am strong, and I can defend myself, but I can't wait to come back tomorrow to learn more, and the next day after that."
The class includes exercises using new skills, such as "the wrist breakaway" — how to get away when someone grabs you. It also reinforces life lessons, like walk with confidence.
Then there's the strong reminder of the power of your own voice -- a loud "no" is a clear sign to anyone nearby that you could be in danger.
Another focus is on helping girls distinguish between real threats to their safety and conflicts that they can resolve.
The goal of Girls' LEAP is to keep young women safe by teaching them to become "agents in their own safety."
Related:
This program aired on August 19, 2013.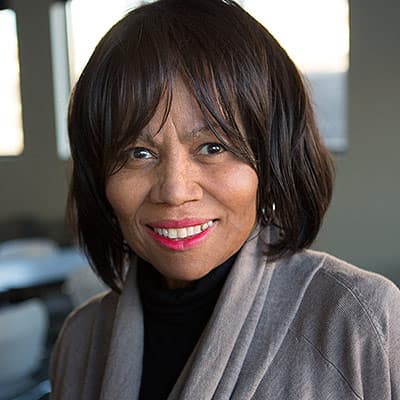 Delores Handy Reporter
Delores Handy was formerly a host and reporter at WBUR.