6 Things To Keep In Mind For Patrick's State Of The State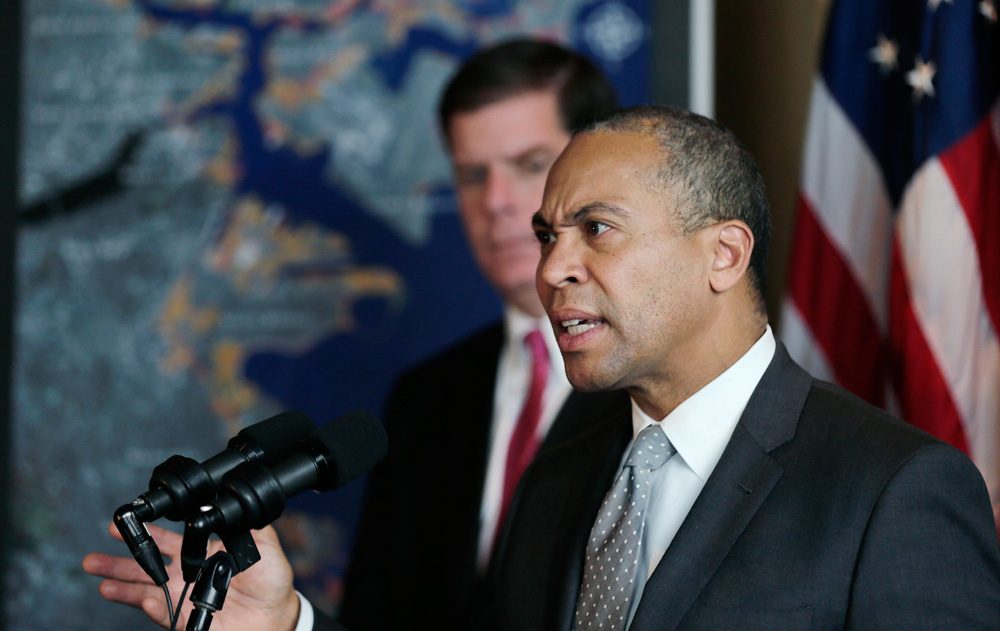 This article is more than 6 years old.
Gov. Deval Patrick delivers his State of the Commonwealth address tonight. WBUR's coverage online and on-air begins at 7 p.m. Here are six things to keep in mind ahead of it.
The Guv's Final Go-Around
This is the governor's final such speech in front of the Legislature, as Patrick, who was elected in 2006 and re-elected in 2010, is not seeking a third term. How will that affect his framing of his eight-year tenure? And how will it affect his ability to shape policy in his final months?
As The Boston Globe notes, a discussion of Patrick's legacy is likely to play a role in the nascent race to elect the next governor.
Budget Preview, Er, Recap
The address typically offers a governor the chance to preview spending priorities for the coming year. Patrick delayed this year's speech due to a snowstorm, so he's already released his budget. So tonight expect him to make the arguments in support of his spending choices.
Patrick's $36.4 billion spending blueprint would increase spending 4.9 percent over current levels, including a $100 million hike in local education aid and $141 million more for transportation. It would also increase funding for the under-fire Department of Children and Families (more on DCF below).
The plan includes $97 million in additional taxes — all items he's unsuccessfully sought before, like applying the Massachusetts sales tax to candy and soda. The budget also relies on a $175 million withdrawal from the state's rainy day fund.
No Big Tax-And-Spend Plan, Like 2013
Patrick's proposal this year differs from the far more ambitious tax-and-spend plan he first outlined in last year's State of the State. Patrick had wanted to raise nearly $2 billion to fund education and transportation initiatives. He was rebuffed by lawmakers, though, who overrode his veto and enacted their smaller plan.
"I don't think we can come back year after year asking for significant tax increases," Patrick said while releasing this year's budget proposal.
Patrick's Public Standing
The governor entered his final year in office with 53 percent job approval, while 39 percent of voters disapprove of his job performance, a WBUR poll found last week.
Though the poll, conducted for WBUR by MassINC, had Patrick with a positive approval rating and strong favorability, his numbers have slipped in recent months. A survey in October, for instance, had Patrick with 64 percent approval/26 percent disapproval among Massachusetts voters.
State Government Controversies
The governor's poll numbers seem to have been dragged down by three recent controversies associated with state government. Voters in the WBUR poll were split (38 percent approval/37 percent disapproval) on Patrick's handling of: the state drug lab crisis; issues with DCF after a 5-year-old boy under the department's supervision was discovered to be missing; and problems with the state's revamped health insurance website.
Just yesterday, Patrick called a morning news conference to discuss his administration's steps to try to reform DCF and his selection of the Child Welfare League of America to conduct an independent review of the state agency.
What Is The State Of The State?
A number of issues are up for debate. Despite federal budget cuts, the state labor department touted last year's jobs growth as the best since 2000. But the state unemployment rate ended 2013 higher than it began the year, and it's now higher than the national level. (The jobs figures and jobless rate are based on separate surveys — and both are subject to revision.)
What else? The high school graduation rate improved for the seventh straight year, state officials announced yesterday. Homelessness, though, is at a record high.
What do you think the state of the state is right now? Leave your thoughts in the comments.