Lofty Goals To Rebrand Fitchburg Art Museum
05:51
Play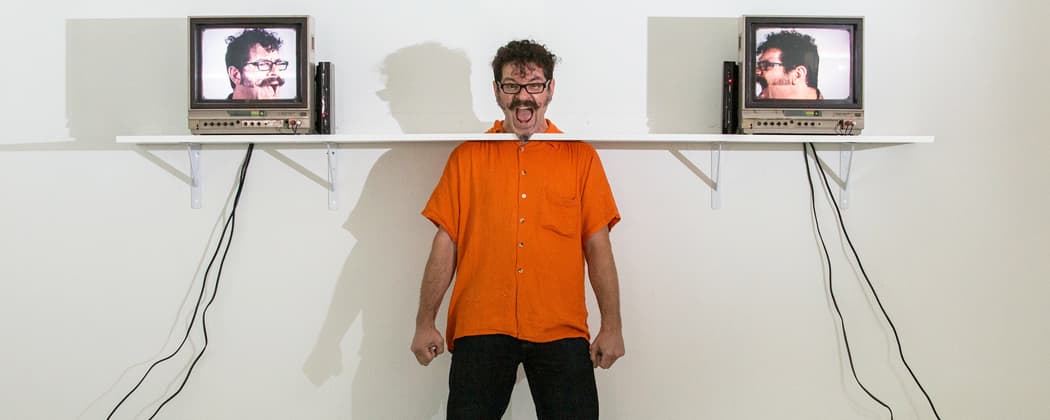 This article is more than 7 years old.
The, let's say, oft-forgotten Fitchburg Art Museum (FAM) is in the middle of a transformation. It started a little over a year ago when Nick Capasso took the helm. Capasso was senior curator at the higher-profile deCordova Sculpture Park & Museum in Lincoln for 22 years. Now in his new role at Fitchburg, the career art champion is taking on a formidable mission: rebrand and revamp a sleepy, historic institution in an ethnically diverse, economically challenged city with the lofty goal of making it the best community museum in the country.
As Capasso took me on the tour of the museum's main building he let out a short, good-humored laugh and said he's well aware of the hurdles in this community.
"But it's good to have lofty goals," he said. "You know we do want to be the best community museum in America — whatever that means."
When you paint a picture of Fitchburg's economy it's not pretty. For 100 years before the 1960s it was a flourishing industrial "Gateway" city, akin to Holyoke, Fall River and Lowell. These days the per capita income in Fitchburg is about $23,000 a year. Unemployment hovers around 10 percent.
"We have not come to this with a bunch of received wisdom that we're going to impose on this city," Capasso continued. "We're going to do what works here."
For instance Capasso says about two out of five Fitchburg residents speak Spanish at home.
"We've got 40 percent of the city we can't even talk to!" he said. "Going forward, every time we change an exhibition or put up a special exhibition, all the signs and labels are bilingual."
Outside, the museum's hours are posted on an exterior brick wall in Spanish, too. There's signage that reads, "F-A-M is for Everyone." While still maintaining what Capasso calls a "stellar" collection of over 4,000 African art and photography pieces, Capasso and his tiny staff are bent on proving that the museum has more than impressive objects on display for the community.
He and his new associate curator, Mary Tinti, are planning a fall exhibition of contemporary Latino artists working in the New England region. They've enlisted Mario Quiroz, a Cambridge-based Salvadoran photographer, to take portraits of Fitchburg's Latino families. He's already started the project in a gallery that's been converted into a portrait studio. Many of the subjects had never set foot in the museum, but later this year Capasso says their pictures will hang on the gallery walls.
"So when the community comes to the museum they will see that they're already here," Capasso said.
"My heart was pounding," Mary Lou Montalvo recalled, "because I said, 'Wow, we are going to be in a museum.' "
Montalvo and her family were photographed in the upstairs gallery-turned-studio. The black-and-white portrait was taken on her daughter's 18th birthday. She's director of empowerment services at the Cleghorn Neighborhood Center, a nonprofit that provides support for abused women, homeless people and low-income kids. Montalvo appreciates the museum opening its doors to — as she put it — "the common people."
"That's how I see myself," Montalvo explained, adding she's not alone in her thinking. "Culturally, we think that museums are for wealthy people."
The images of Fitchburg families will help change that, Montalvo said, while capturing the city's diversity.
"You know not all the Latinos who speak Spanish are from the same place," Montalvo said. "You can see Dominicans, Puerto Ricans, Uruguayans, Peruvians. It's an amazing opportunity to open the doors for everybody."
Capasso told me he struck a deal with the photographer so the family photographs will become part of the FAM's permanent collection.
"We're trying to get away from the model of the museum as the temple of the fine arts," he said, adding he sees the FAM as a creative engine for the city. "When your focus becomes the community rather than the museum going audience it opens up a lot of territory for a different role that a museum can play in a place."
The FAM's founder, Eleanor Norcross, had the same idea. She was a successful Boston School painter and daughter of a local attorney-politician. Before she died in 1923 Norcross bequeathed her home and art collection to benefit the millworkers' children. (Capasso added that her little spot in art history is that she was the first American artist to have a solo exhibition at the Louvre in Paris.)
Today, Capasso has his sights set on attracting another population. To that end he's devoting the FAM's rotating exhibition program to New England's contemporary artists.
"It's a population of artists that feels underserved by the museum community," Capasso explained, speaking from experience. He knows the creative community well from his last job at the deCordova. "They've watched over the last decades museum after museum being more reluctant to show local and regional artists."
To make a statement Capasso says the first show is by Fitchburg-based installationist Jeffrey Warmouth. It opened just this past weekend.
"Yes, we desperately need another venue for local and regional contemporary artists," Warmouth confirmed. "There are certain venues that have set their sights on a national and international scene, rather than showcasing and giving back to the region."
Warmouth — known as "Jeffu" – is his own often silly subject of a 20-year, mid-career retrospective in the FAM's contemporary wing. It features 10 videos and more than 40 framed pieces occupying five galleries. Jeffu's signature work here is called "No more funny stuff, Four-Way Cymbal Monkey."
"And there are four variations of myself," the artist explained, "each playing cymbals endlessly."
Warmouth was based around Boston, but now lives in Fitchburg. He teaches at the state university here, which is actively partnering with the museum too. Students from the communication program designed the catalog, marketing, branding and interactive educational tools for the exhibition's learning lounge. Capasso said they got about $30,000 worth of high-quality work in exchange for giving the students an authentic, hands-on design experience.
Warmouth is pleased with their work, and said he's been fighting to put Fitchburg on the map for years. There's always been a fringe of people trying to harness the city's creative potential, he explained, including Mayor Lisa Wong. She called it a matter of fostering civic pride for the future.
"And that goes hand in hand with quality of life," she said. "It goes hand and hand with public safety initiatives, it goes hand in hand with a quality education, and frankly it goes hand in hand with the skill sets that the kids need to succeed in the 21st century. So we're really excited that the art museum has been an anchor here for so long — but we're also really excited to see this new focus on the regionalism and taking innate talent and spreading it to the world."
Wong acknowledged the jobs or money created by a creative economy kick is not the only answer for Fitchburg. But she, Capasso and a lot of other people have high hope and more grand plans. One item on their punch list: convert the abandoned B.F. Brown Middle School next to the museum, along with with two other buildings, into affordable live-work space for artists.
Looking out the window at the boarded-up brick structure, Capasso clearly sees potential, and he pointed to the new outdoor sculptures he installed over the summer. After years of orchestrating the sculpture park at the deCordova, Capasso joked, "you can take the boy out of the sculpture park..." Then he laughed again.