New Berklee Recording Explores Tension And Talents Between Mentors And Mentees
05:49
Play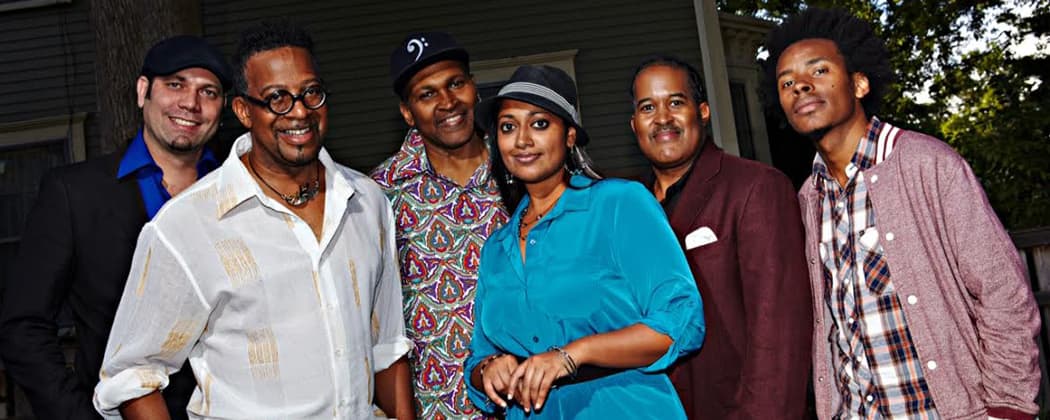 This article is more than 7 years old.
As you can imagine, a lot of recordings come out of Boston's Berklee College of Music, but a new project stands out for a few reasons. One, it features 30 faculty, students and alumni of all ages. Two, it took seven years to complete. Also, "Playing With Other Peoples' Heads," by Bill Banfield's Jazz Urbane, explores the complex relationship between mentors and mentees through collaboration in jazz.
"Artists are always talking about what's the next thing," Banfield, a Berklee professor and composer, told me at his home in Jamaica Plain. "And that's OK. It means building bridges to the past, but trying to move the art forward."
That's how Banfield explains the concept behind his multi-generational group, Jazz Urbane. Its evolution began at Darryl's music club in 2006. He recalled how students and teachers would show up there on Monday nights to meld older, standard jazz sounds with newer, more diverse ones. Banfield decided he wanted to channel all that energy into a recording that would celebrate an age-old relationship: the one between musical mentors and their mentees.
"You always have mentors and heroes," he explained. "Artists get together and they mentor each other across the same generational lines — but also across generational lines."
Banfield himself has mentored about 25 musicians over the past 20 years, he says, "and I speak to them regularly. Like, 'What are you doing man? What are you doing lady? What's up with that?' "
One of Banfield's mentees moved here from India to study music at Berklee. Vocalist Annette Philip, now 32, is on faculty with her mentor.
"He gives me advice about career options, and talks to me about what my future goals are, what my trajectory is, how I could evolve further," Philip said. "It's a beautiful relationship. I learn a lot. And we disagree a lot! Which is great, I'm all about debate and discussion and dissent, and I think it leads to a more vibrant outcome."
So then what exactly do the mentor and mentee disagree about?
"Bill likes certain keys," Philip said, laughing, "and I'm much more of an alto. And you know he believes that certain songs and certain compositions live in a specific sonic space. And that's fine. I respect that. But I also feel that I, as an instrument, also live in a specific sonic space."
The 50-something Banfield says he butted heads — in fruitful ways — with the other young musicians for the recording, including Grace Kelly, Esperanza Spalding and Christian Scott.
"You know a lot of these artists, some of them are 30 years my junior! And that's a struggle," he said.
According to Banfield, that age difference creates a certain kind of tension. He believes each generation picks its own music for inspiration and embraces its own aesthetic values.
"So when you start talking about a 20-year difference, therein lies a problem — not a problem," Banfield corrected, "but a challenge. Because Stevie Wonder is my reference, or Earth, Wind & Fire, but a young artist today listens to D'Angelo. Or John Legend. Or Adele."
But that "rub," as Banfield calls it, creates a rich, textured sound, he said. You can really hear it on the tune "Swinehouse Blues."
Mature masters showed up for the collaboration, too, including Stan Strickland and one of Banfield's mentors, musician and producer George Duke.
"People might recognize George Duke, and his eclectic way of pulling jazz and popular music and humor together — which is not a bad thing in music — as with Frank Zappa. He was Frank Zappa's keyboardist in the '70s for many years," Banfield said.
Duke worked with a slew of legends including Miles Davis and Stanley Clarke. Banfield says as producer Duke shaped the new CD's sound in his LA recording studio. Grammy-winning percussionist Terri Lyne Carrington has worked with Duke, too, and counts him among her many mentors.
"Wayne Shorter, Herbie Hancock, McCoy Tyner and Max Roach," she listed off. "By the time I met George I was already a professional musician, and he was almost like a big brother. Which — the lines get blurred, you know — big brother, mentor, friend. I was very close to him."
Like Banfield, Carrington teaches at Berklee, where she's also an alum. For her, mentoring goes beyond the lesson plan.
"It's just a big part of what's been happening all along, for sure in jazz, because there's so much history and so much that you have to learn outside of a classroom," she said.
Carrington section also has her own mentor-mentee collaboration for female jazz musicians called the Mosaic Project.
And she says working with younger, aspiring musicians helps her stay fresh. You can hear Carrington's drums on the recording too.
But in the final stages of production Banfield couldn't reach Duke, his mentor. He says he kept calling to ask, "George, where are you? What do you think about the video?" But there was no answer, Banfield said.
"And then my attorney called. He had heard about it before it was announced. He said, 'Bill. I'm so sorry. I have to tell you that George passed.' It was devastating to everybody, so this record particularly is certainly in celebration and honor of George Duke and his work," Banfield said.
George Duke died last August. He was 67. He plays the keyboard with pianist Jesse Taitt on "Playing With Other People's Heads."