I Hear You, Samuel Beckett. Whattup, Henry James?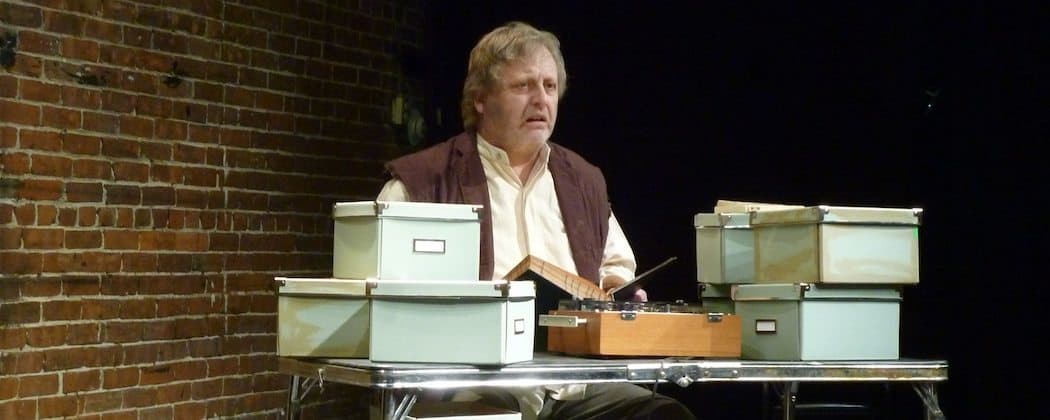 This article is more than 7 years old.
BOSTON – How much Krapp can one person take?
Writing a companion piece to Samuel Beckett's "Krapp's Last Tape" might seem like a fool's errand. The one-man rage against the universe makes Dostoevsky's "Notes from Underground" look like a Mr. Rogers pep talk. It's usually paired with another Beckett work or that of one of his fellow travelers in theater of the absurd. So when the Fort Point Theatre Channel said that it had launched a national search for "a woman-centric play as a counterpoint," there was reason to be concerned.
The Lyric Stage Company of Boston, meanwhile, is engaged in a different kind of meeting with a classic, a novel that had been turned into a play — Henry James's "Washington Square," with the theatrical alias of "The Heiress." Victoria Stewart updated it into "Rich Girl," making the dastardly father a dastardly mother and moving the action into the present.
While neither local playwright Skylar Fox's "The Archives," the Fort Point woman-centric winner, nor "Rich Girl" is a great play, they both accomplish what I think they set out to do — have a lively dialogue with literary classics. (We haven't seen it yet, but Apollinaire Theatre Company is doing Aaron Posner's, "Stupid [expletive] Bird," a mashup of Anton Chekhov's "The Seagull," now at the Huntington Theatre Company.)
First, at Fort Point, comes the classic itself — Steven Barkhimer in "Krapp's Last Tape." (FPTC is performing it at the Factory Theatre through April 12.) Barkhimer, a terrific comedian (a terrific actor in general) would seem to be the perfect antidote to Beckett productions that aren't funny enough. And funny he certainly is as "Krapp," the 69-year-old curmudgeon listening to a tape he made 30 years earlier.
He had expectations back then that his life would amount to something, that love or lust would be a constant in his life. His disheveled appearance and grotty surroundings tell a different story — of a life wasted, loneliness, living through tape recordings of previous years
Or were the aspirations of "that stupid bastard," as he calls himself today, the grand mistake in the first place? Isn't this, on some level, how all lives are lived, with more than a few regrets? Doesn't all life end like his?
Here's some biographical background of the play with one of my favorite Krapps, John Hurt:
The problem with this production, though, is that it's a bit too funny. Barkhimer's flatulence, constant groaning and general clownishness don't capture the harrowing nature of "Krapp." His tragedy lacks poetry, universality. There's much to admire about the boldness of Barkhimer's performance, but it doesn't touch the soul.
Perhaps because this "Krapp" doesn't capture Beckett's poetry, the prosaic nature of "The Archives," featuring three women, doesn't seem like a comedown. It imaginatively accesses Barkhimer's tape of the younger Krapp because, fast forward to the present, a young woman — nicknamed Banana — brings the tape to a library because her mother wants it digitized before the tape is ruined.
Her mother, with whom she doesn't have the greatest relationship in the world, found the tape at a yard sale but can't bring herself to destroy it. It would be like destroying a life. But Banana — Anna, really — has to find her own way in the world. She's 21, full of irony, eager to get on with her life, and doesn't quite know what to make of the whole idea of these reel to reel tapes. ("Reel to Reel" is the umbrella title of the two short plays.)
But the librarian knows what to make of them. They portray a life worth living, vaguely reminiscent of her own, no matter how sad. She remembers her head being in the lap of a boy the way the younger Krapp remembered looking down at a young woman.
Well, existential it isn't, but it does give a kind of Proustian glow to Krapp's tape. Sally Nutt does an affecting job as the librarian, as does Allison Smith as Anna. The mother keeps popping up in such annoying ways that I don't know that Karin Trachtenberg could do much with her.
The history of theater is so full of young men's fraught relationships with their fathers that it's fun to see women getting into the act, even if "The Archives," like "August: Osage County," was written by a man. Anna is at war with her mother in The Archives" though we're never sure why. It's obvious, maybe too obvious, in "Rich Girl."
"Washington Square" dealt with a plain-Jane woman whose father treats her like a doormat and thinks that the young man wooing her is after her money. He's right. "Rich Girl" (at the Lyric Stage Company of Boston through April 26) makes the two antagonists a mother and daughter, with the former a Suze Orman-type CNBC host, spouting witty platitudes about money and self-worth.
That's about as far as Victoria Stewart gets from the original and the play suffers from too-clever approximations between James's characters and hers, between his time and our consumer culture. The mother and daughter, in particular, seem strained — the mother too much an ogre, the daughter too socially inept. Not that such people don't exist, but their manner of approaching each other doesn't ring true. The dialogue of all four characters is forced, despite the occasional sharp one-liner.
Still, it's not an unenjoyable play or production. Stewart does keep us guessing whether she'll end the play on the same vengeful note as James does or allow them, finally, a life of their own. Courtney O'Connor directs a good cast, led by Sasha Castroverde who carries herself beautifully as a woman who doesn't know how to carry herself at all.
Here's the Lyric's introduction of the cast:
The most interesting dialogue is between Stewart and Henry James. Catherine becomes more clear-eyed and independent as "Washington Square" progresses, but at a cost. Will Claudine in "Rich Girl" pay the same price? My lips are sealed.