How Art Is Helping Heal Boston A Year After The Bombings
Resume
As the anniversary of the Boston Marathon bombing approaches, people are experiencing a range of emotions. Concerts, exhibits and other arts events are taking place around the Boston area to help communities reflect, and hopefully heal.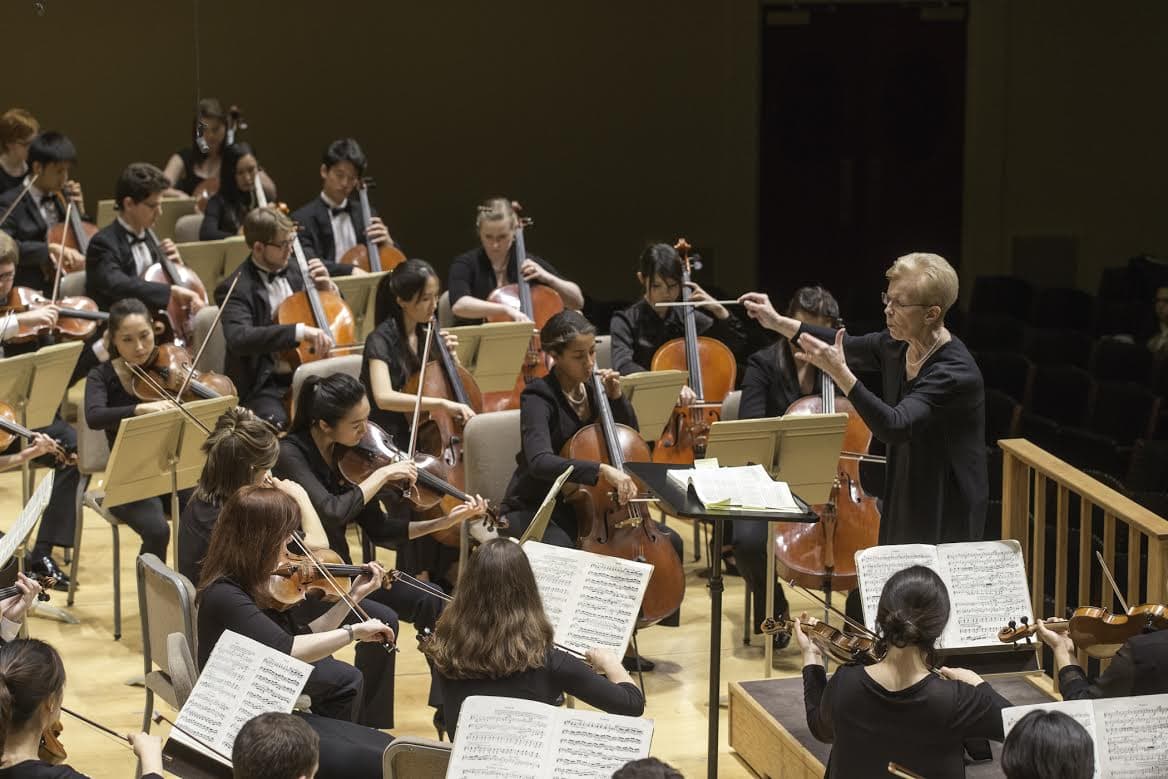 Boston University lost one of its own last April. A concert Monday night at Symphony Hall featuring the BU Symphony Orchestra and Chorus seemed like a fitting way for the community to remember student Lu Lingzi.
"She was definitely very passionate in music, she loved Chopin," said Ha Nah Song, who taught Lu piano at BU. In a memorial service last year, the teacher played Chopin in honor of her fallen student.
This year's spring concert, a performance of Berlioz's "Grande Messe des Mortes, Op. 5" was dedicated to Lu. Berlioz wrote it to remember soldiers who died in the French Revolution of 1830.
[sidebar]
#BostonBetter
Two dozen Boston-area institutions are partnering through an effort called #BostonBetter to offer a variety of arts-focused programs around the anniversary of the Boston Marathon bombings.
"How do we help the city feel better, heal, get better?" says program curator Rainey Tisdale. "But also, how do we use this tragedy as an opportunity to talk about rising to our best selves?"
Some of the lectures, art-making events and pocket exhibitions are happening in the city center, but for people who aren't feeling prepared to go downtown, Tisdale says, there are other options along the marathon route and around the metro-Boston area. See the calendar here.
Complete Boston Marathon Coverage[/sidebar]
"Through this concert we can both remember the past tragedy, but also we can be influenced by the hope through the music," Ha Nah Song mused. "And music is definitely a tool for the healing process. And it's very penetrating. It can even say even more than our words."
Vivien Marcow-Speiser agrees. A licensed therapist and professor at Lesley University, Marcow-Speiser also directs the school's Institute for Arts and Health.
"All of these forms — including the arts and including the public events — are ritual ways that a society moves through, and enacts, and comes to terms with changes and loss," she said.
Marcow-Speiser specializes in collective traumatic events like the bombing. This weekend, she's leading an arts in health care conference at Lesley, where a piece of dramatic theater titled "Under Pressure" will explore lingering questions one year after the bombing.
The therapist is attuned to how the media is representing the anniversary and has observed a heightened level of emotion. Marcow-Speiser firmly believes the arts can help ease our anxiety.
"So what can't be said in words can be said in paint, can be said in performance," she explained. "And because people express and understand expression in different kinds of ways, we need different kinds of forms so that people can really get it in their own way."
Boston University sophomore and fine arts major Taylor Mortell has been responding visually.
"When the marathon tragedy occurred, art was kind of a natural place for me to turn to sort through how to process it," she said.
In the wake of the chaos, the then 19-year-old created a series of roving, public art-making workshops called "Still Running: An Art Marathon for Boston." Some of the hundreds of paintings that came out of those workshops will hang in an exhibition at City Hall later this month. Other works are being given to first responders, hospitals and police stations.
"I think of it as a visual language," Mortell said of making art. "You can express things in an image maybe in a way you can't find the words to describe."
Mortell started using art as therapy when she was 15. She says it helped her process thoughts and emotions as she recovered from a serious concussion. At a ceremony this week, Mortell presented one of the marathon paintings to Boston Police Superintendent-in-Chief William Gross. It's called "Boston Hope Lives On" and it was painted by local artist, student and Iraq War veteran Evan Gildersleeve.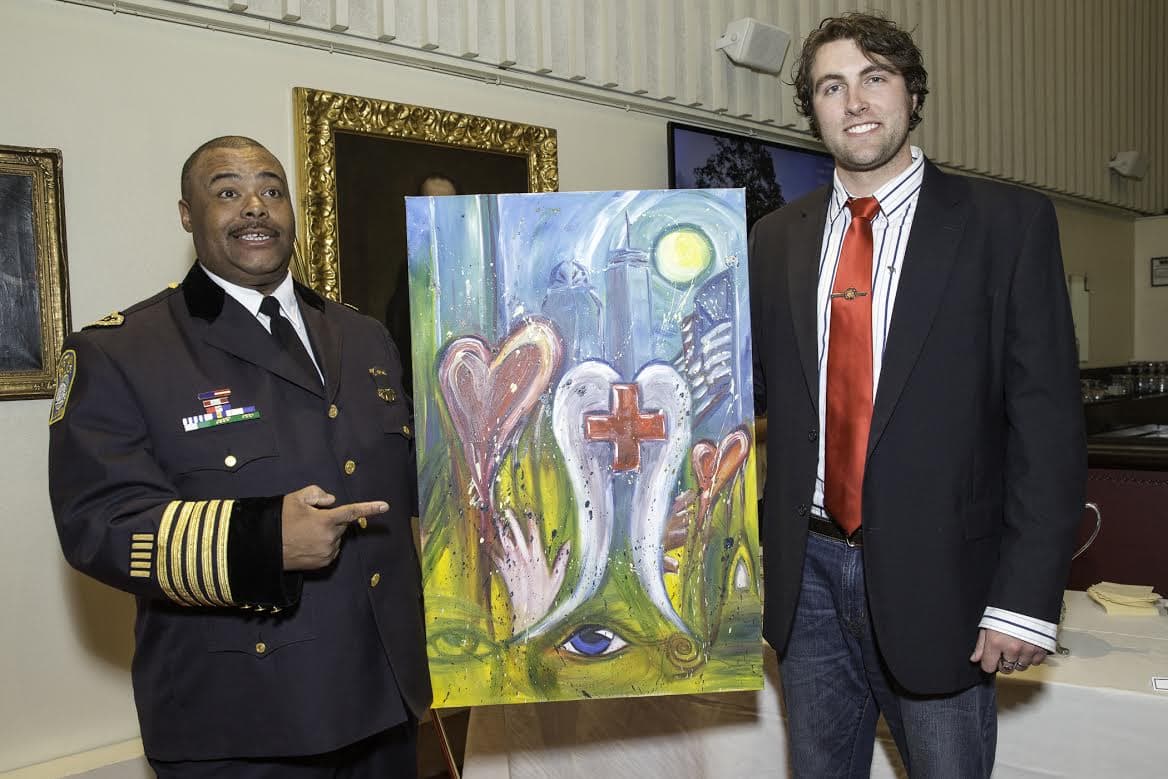 Gildersleave donated it to the Art Marathon and remembers painting it on the day of the bombings.
"It was kind of a release, getting out the emotions that were built up inside, because I use art to de-stress," he said.
And, Gildersleeve says, he's been using art that way since he returned from Iraq after being diagnosed with post-traumatic stress disorder. Now, as a psychology student at UMass Boston, he's doing research on art and healing therapies.
"Seeing the effect that they have on the neuroplasticity of the brain, and the arborization of the neurons. I haven't gotten all the results in, I'm still working on it, but it seems like by using a creative process it can actually rebuild damage created by trauma or addiction," he explained.
After receiving his painting, Gross shared his thoughts about the symbolism of the wings in the work.
"Everybody seemed like an angel that day as they came down to help other people who they didn't even know and help bring them to safety," Gross mused. "I hope I summarized that well. That's what get from it."
"The thing is, art is open to interpretation," Gildersleeve replied.
"Well that's my interpretation," Gross responded, smiling. "And we're proud of that. And one day that will be displayed at Boston Police headquarters."
Other artists are using the marathon anniversary to raise questions and provoke debate.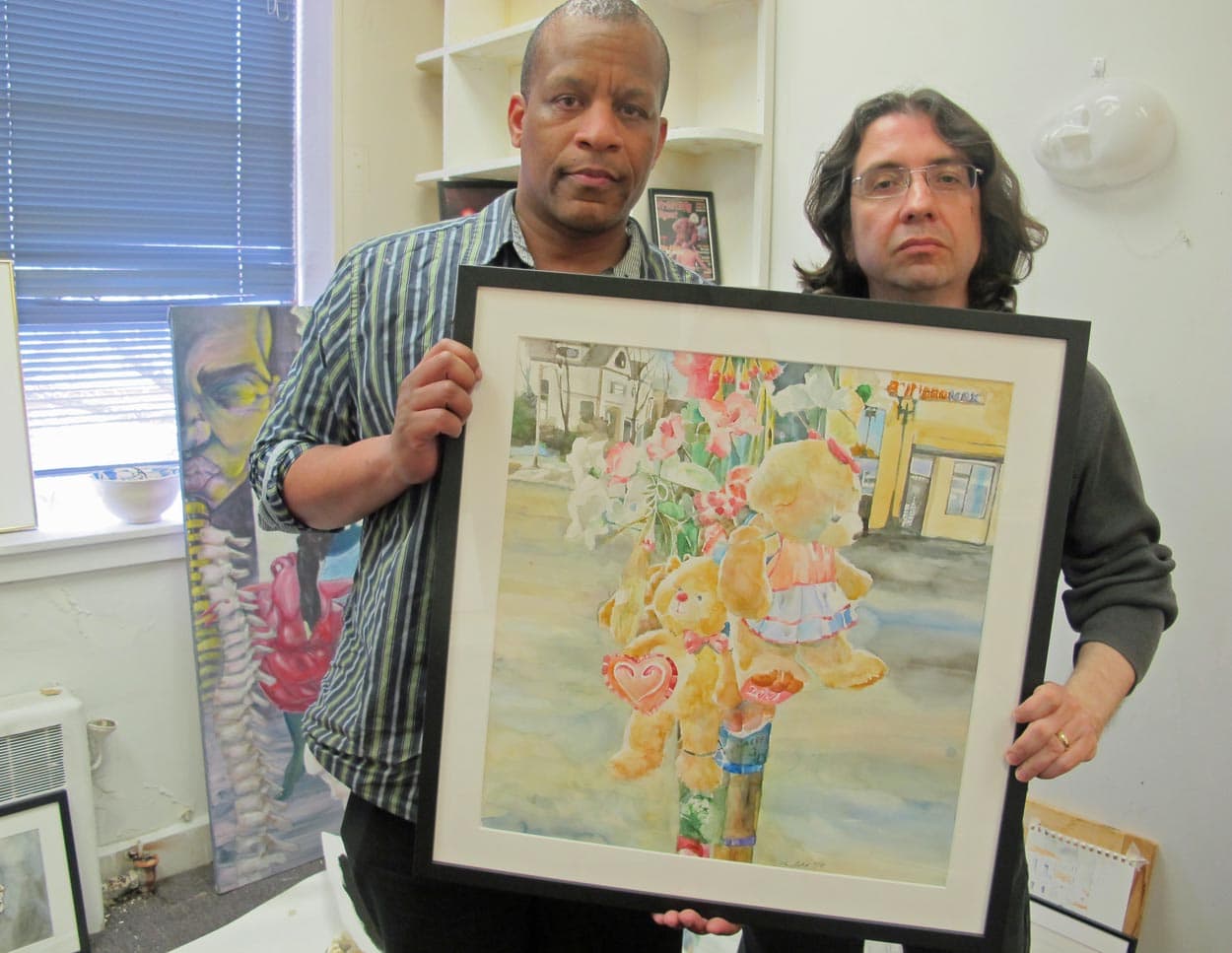 "You know, in what universe is Boston strong, if you look at the entire city?" said artist Jason Pramas, one of the organizers raising that question in a provocatively titled art show called, "Boston Strong?"
Pramas and his partners are pointing to a disparity of coverage for victims of ongoing violence in neighborhoods such as Mattapan, Dorchester and Roxbury.
Another artist, Shea Justice, has been making paintings of people in violence-afflicted areas and the memorials left behind.
"I would like it to feel like it's Boston Strong and that we're a part of it, but there's still a part of me that says, where is that passion when someone in a neighborhood that I grew up with, or someone who looks like me, dies?" he asked.
While the artists say their show is not about the bombing, it does open on the anniversary at the Community Church of Boston, just one block from the finish line in Copley Square. Pramas acknowledges that people will take offense to an art show questioning the ubiquitous slogan.
"If people want to get upset, we understand, but I think that if they engage in dialogue with us and with other folks around the city that are having this discussion, they're going to see that we have nothing but respect for the Boston Marathon victims," Pramas explained.
And, they say, their job as artists is to spark conversations.