Susan Misner And Her Dancers Whip Oberon Into 'Shape'
This article is more than 9 years old.
CAMBRIDGE, Mass. — If you thought Lyndon Johnson at the American Repertory Theater was a stretch for Bryan Cranston after Walter White then you ought to see Susan Misner stretch from "The Americans" to "The Shape She Makes" at A.R.T.'s Oberon (through April 27).
And I do mean stretch. As good as she is as Sandra Beeman on "The Americans" she is in another universe dancing up an inner storm in the world premiere of "The Shape She Makes," a lovely dance-theater piece she also co-created and choreographed. She plays the single mother of an 11-year-old girl, though we also see her as a wide-eyed young lover who grows increasingly bitter after her husband can't control his drinking and leaves her and the daughter.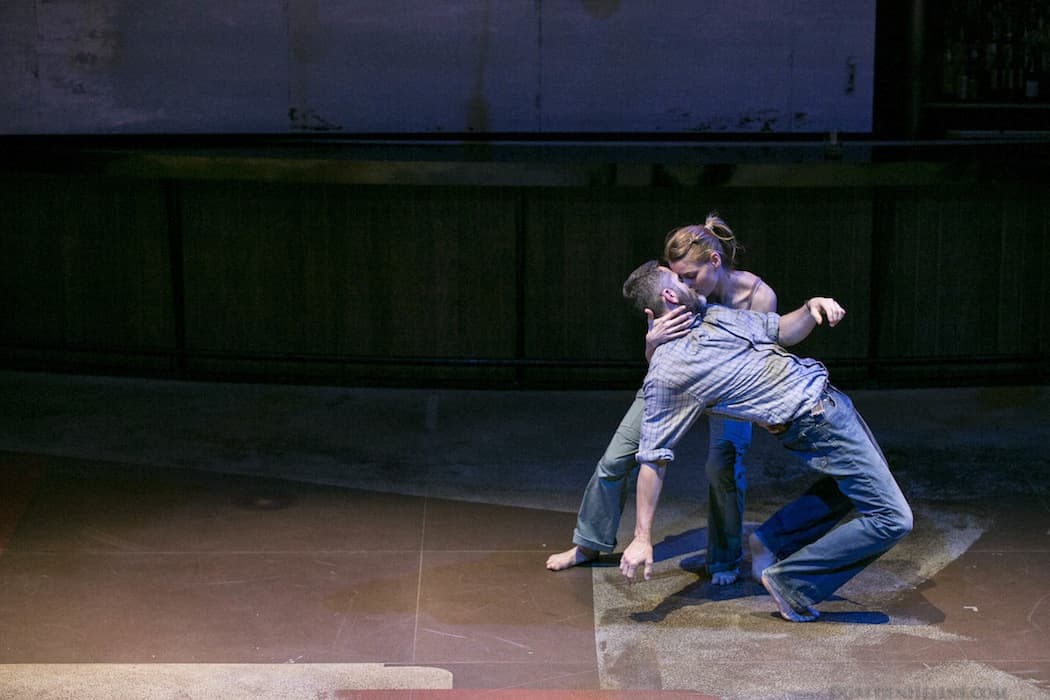 It's as much, however, the story of the daughter whom we see beaten down by the coldness of her parents' disappointments in life. Can she get past her mother's stand-offishness, her father's desertion?
The subject matter isn't the most earth-shaking, right? But the conception of it (co-created by Jonathan Bernstein, who is also the writer and director) is a wonderfully sensual, empathetic work of art.
This isn't the usual Oberon setup with the action coming at you from every corner of the space. Rather, the audience sits on three sides of the performance in the center, though if you look around you might spot some plants in the audience who make their way into the action, which at first seems disconnected.
A teacher is interviewed by a Ricky Gervais-like superintendent (a very entertaining Benjamin Howes). A beautiful but icy woman (Misner) tends bar. Students look bored. But then suddenly they'll burst into sharp-edged dance, shrugging sleekly across the floor to propulsive, percussive trip-hoppy music by Julia Kent and Son Lux.
Here's a sample:
It's as if they're stretching, yearning for something outside their grasp, as if to highlight what the central characters are all looking for, as in the photo below, with the ropes forming a dinner table, but also a barrier that keeps each of them from making contact with the other.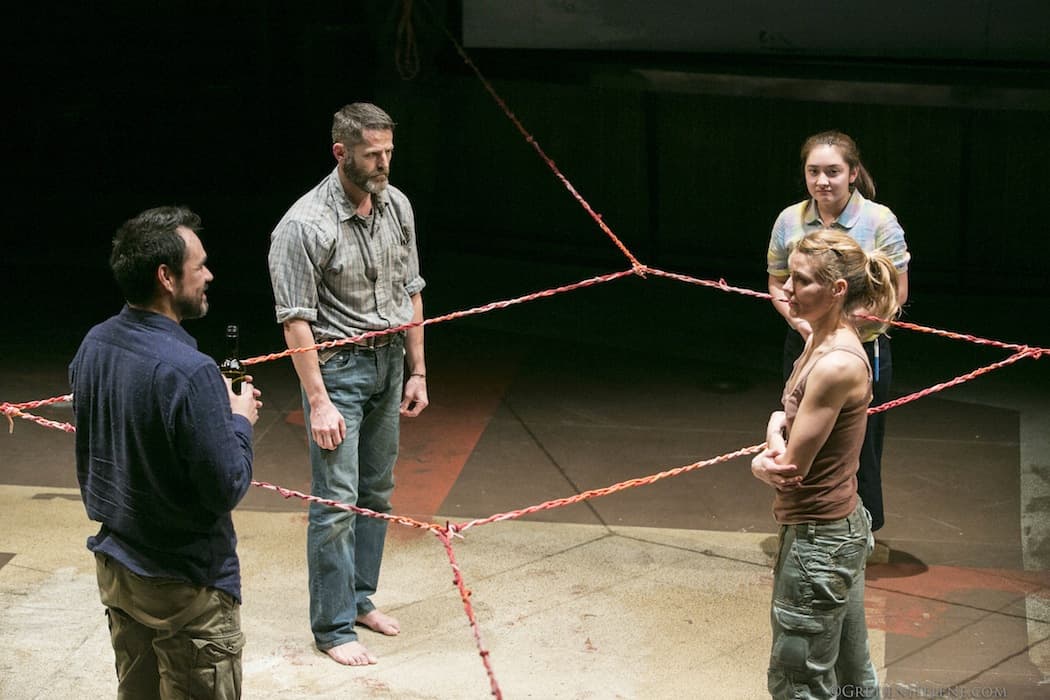 "The Shape" also refers to how people shape each other. The teacher talks about how all actions result in molecular change, even in a chair as we sit in it. She's obviously also talking about the changes we make in others, not usually for the good in this story. It's one of the better moments in the script, which would not be terribly notable without the movement.
But what movement. Annie-B Parson (ArtsEmerson's "Man in a Case") and Misner have both underscored how movement can be as important to theater as writing this season. Misner's athletic dancing is stunning for its shameless libidinousness. Her choreography and what the rest of the troupe does with it is a pleasure to behold.
In the end, hope is held out that we can re-shape ourselves and cast off the thoughtlessness and selfishness of others. I wish the play had said it in dance, rather than words. It's when people are in motion that "The Shape She Makes" makes its points in such heart-rending fashion.