Slain MIT Cop Collier Recalled As A 'Hero'
Play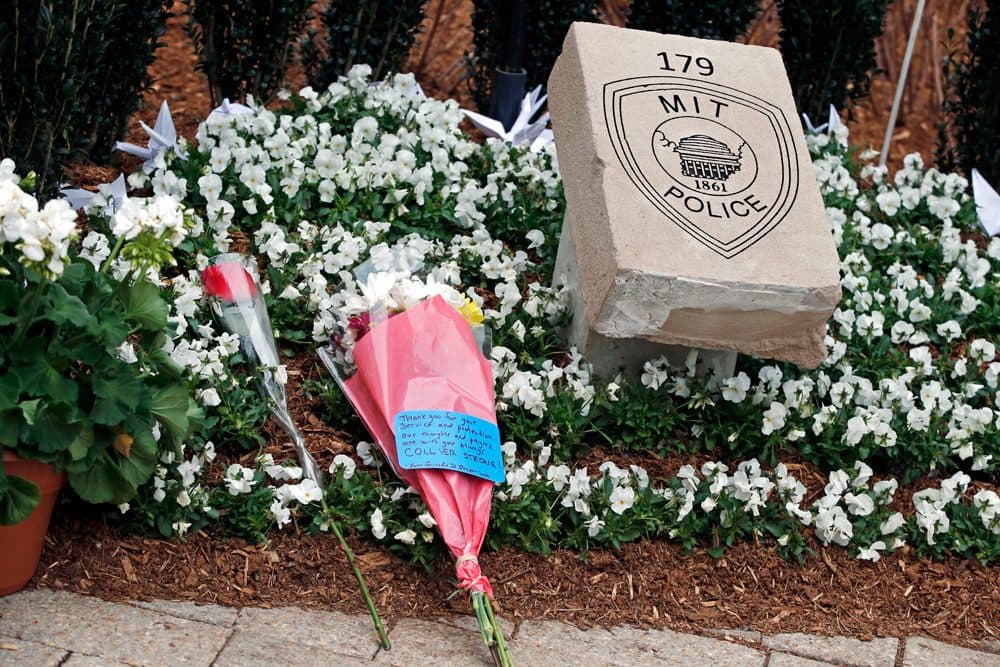 This article is more than 8 years old.
Sean Collier, the MIT police officer allegedly killed by the Boston Marathon bombing suspects, was remembered Friday morning — a year after his death.
At a service on MIT's North Quad — near where Collier was fatally shot, and where MIT will place a permanent memorial to him — MIT Police Chief John DiFava called Collier a "hero."
"To all of Sean's family, please know you will always have a place in our hearts and be members of our family," DiFava said. "And to Sean, we would like to say thank you for all the smiles and the laughs and the lessons learned." He held back tears during his remarks.

Israel Ruiz, MIT's executive vice president and treasurer, recalled being in the 26-year-old's cruiser during last year's February blizzard. They were stopped at a red light. Collier rolled down his window to give directions to a lost tourist holding a wet map. To Ruiz's frustration, Collier took the time, through several green and red lights, to give the tourist the directions he needed.
"Only two months later, Officer Collier had the same instinct to help when asked by strangers," Ruiz said. "Only this time, right there, the worst evil was on the other side of the window."
The memorial service was held under a large tent. To the right of the stage, five of the quad's blooming cherry trees had been enclosed under the canopy.
First responders made up about a fourth of the large audience under the tent. When they walked in, the rest of the crowd gave them a long standing ovation.
Graduate student Sara Ferry said Collier was always learning.
"If you were his friend, he wanted to tour your lab and know all about your research," Ferry said.
Workers from various MIT departments — some who knew Collier, others who did not — said they wanted to be there to honor his sacrifice.
Team Collier Strong, a group of 25 friends and family members, will run this year's marathon to raise money for a scholarship fund named for Collier.
With additional reporting by The Associated Press
This article was originally published on April 18, 2014.