Meb Keflezighi Runs To 'Overcome Autobiography'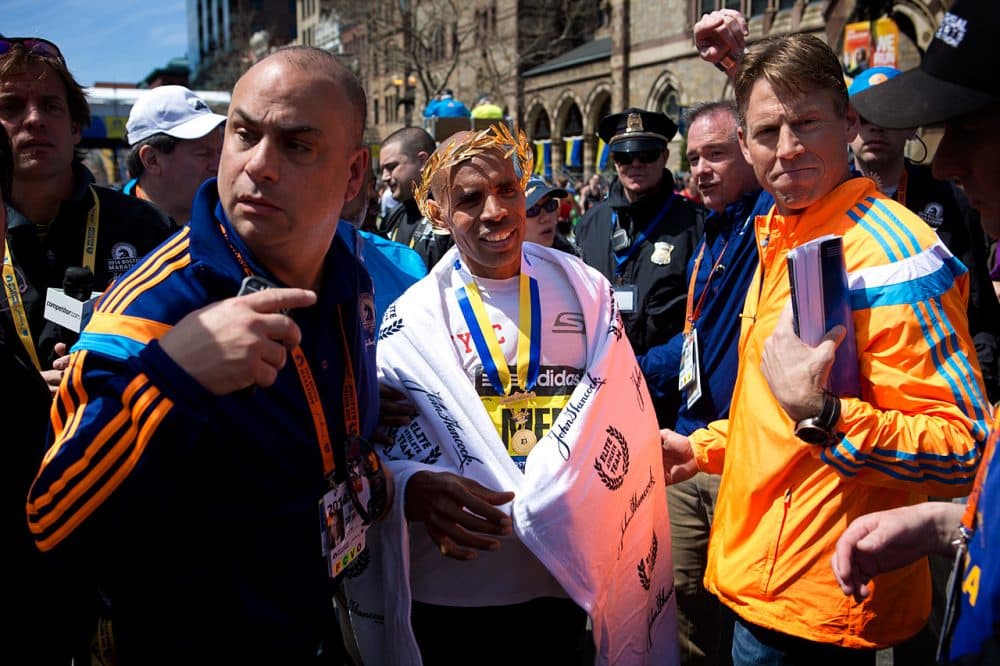 This article is more than 8 years old.
Meb Keflezighi made history Monday when he won the 118th running of the Boston Marathon. When he crossed the finish line on Boylston Street, right in front of where the first bomb exploded last marathon Monday, he became the first American man to win the open race since Greg Meyer did it in 1983. But you could say that his entire life has been about making history.
Keflezighi's father fled war torn Eritrea when Meb was 5. Eventually the family reunited and made it to California. He grew up in San Diego, was a high school track star and later ran for UCLA. He also became a U.S. citizen.
"I've been very fortunate," he said after his win on Monday, "to come from Eritrea, to come as a refugee and adapt to the United States lifestyle. The United States gave me hope, not just myself but my siblings."
He called what he did Monday, what he has been doing all his life his "run to overcome autobiography, that's what we are doing today, to run to overcome from last year."
Last year, Keflezighi was sitting in the grandstand at the Boston Marathon finish line. He left to do a TV interview on the race and five minutes later the first bomb exploded. He made a promise then to come back and run the 2014 race. On Monday, he ran with the names of the three people killed in the bombing — Martin Richard, Krystle Campbell and Lu Lingzi — written on his bib number, which also had printed on it not a number but simply "Meb."
The first time I saw Meb run was the 2004 Olympic Marathon in Athens. The conditions were brutally hot and the American team had prepared for the race like they were NASA astronauts. It paid off. Keflezighi finished second, good for the silver medal. It was the first Olympic Marathon medal for an American man since Frank Shorter won the silver in Montreal in 1976. Two years later, Meb ran Boston for the first time and finished third.
In 2009, Meb won the New York Marathon and three years after that I was in Houston when he won the U.S. Olympic Trials Marathon. After that race I met Meb's father Russom, who had walked 100 miles to the Sudanese border many years earlier, working his way to Italy. That's where the family of 11 children eventually got back together before coming to the U.S.
Keflezighi is a world class runner. That's obvious. But he's also a great racer. That's evident from his performance in Athens and two years ago in London when he just missed another Olympic medal in the marathon, finishing fourth. I think that's one of the reasons why he won Monday. Although the Boston Marathon course can produce fast times, the point here is to win the race, to have that laurel wreath placed atop your head. Boston is the marathon that comes closest to the Olympic Marathon in that respect. It's about winning.
That's what he did yesterday. He simply won.
After the post-race press conference, reporters lined up to embrace him. I've never seen that before. It makes sense, though, because he had just completed a 26.2-mile embrace of the city of Boston.