18.8 Percent Pay Raise In Tentative Boston Firefighter Deal
03:52
Play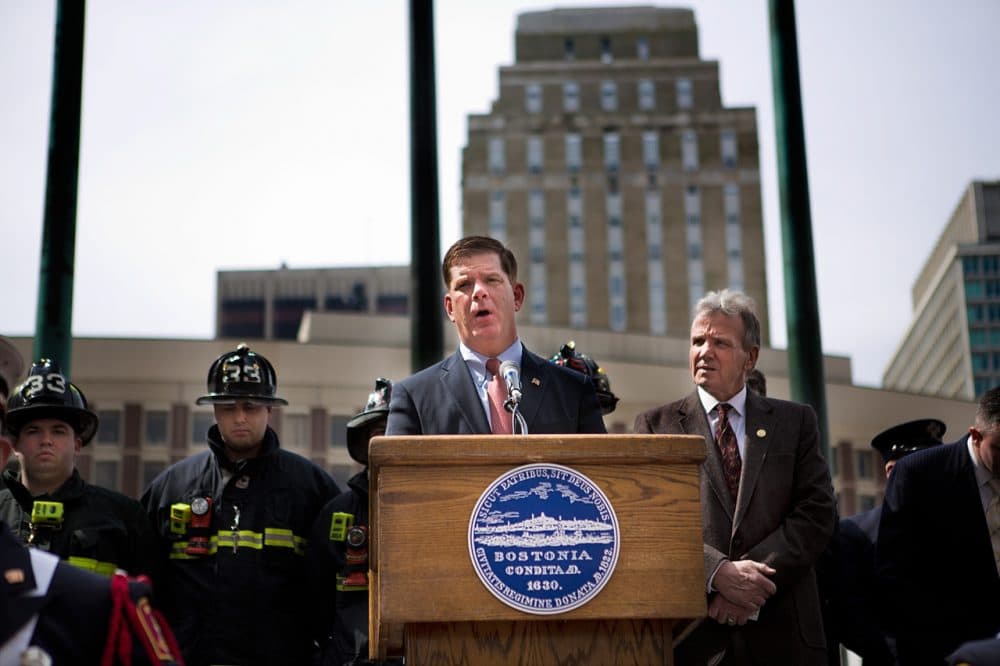 This article is more than 7 years old.
After almost three years without a contract, Boston firefighters would get an 18.8 percent pay raise over six years under the terms of a closely scrutinized deal that has emerged as a key test of Mayor Marty Walsh's young administration.
Before Walsh took office in January, he was a labor leader. During the mayoral campaign, Walsh told voters that his past work would make him an effective negotiator with city unions, but some critics wondered if Walsh would be tough enough at the bargaining table.
Outlined Thursday, the tentative deal, retroactive to 2011, would cost the city $92.4 million.
The Negotiations
Richard Paris, president of Boston Firefighters Local 718, says the negotiations with Walsh got tense from time to time.
"Marty, excuse me, Mr. Mayor and I had some, ah, you know, you know — he grew up in Dorchester and I grew up in Hyde Park, so we were both streetfighters," Paris said. "So, yeah, we had our street fights in the room."
But Paris, whose union strongly supported Walsh's mayoral bid, emphasizes that a once-tense relationship between the city and the firefighters has improved under the new administration.
"When that new team came in, it was good," he said. "There was a breath of fresh air at the table. Yeah, we had our disagreements at the table. That's what negotiation is about. But when we got up from the table, we left it at the table and went out and had a cup of coffee and shook hands."
Walsh campaigned on the idea that he could talk to labor and get a fair deal. His chief of operations, Joe Rull, declares victory.
"We've been told over and over and over again, he will not be able to do that. I think we just proved them wrong," Rull said.
The Outcome
Under former Mayor Thomas Menino, negotiations for the last major police contract fell apart. And an arbitrator stepped in, giving the union a 25.4 percent raise over six years.
"The city of Boston has not fared well at all in arbitration decisions with public safety unions," said Sam Tyler, president of the business-backed Boston Municipal Research Bureau.
"There are some incremental reforms in the contract that move it forward. But there's also some, in my mind, setbacks and opportunities lost in this contract."

Sam Tyler, Boston Municipal Research Bureau
Tyler says Walsh gets points for avoiding costly and unpredictable arbitration. And he says the firefighters contract is a reasonably good one, measured against recent history. However, for a city under mounting budget pressure, Tyler adds, the deal is hardly a game changer.
"There are some incremental reforms in the contract that move it forward," he said. "But there's also some, in my mind, setbacks [and] opportunities lost in this contract."
Tyler says the city didn't do much to address long-term pension liabilities. And growing police and fire contracts, he warns, will gradually squeeze out libraries, parks and other priorities.
But Paul Curran, the city's director of labor relations, suggests the pursuit of sweeping reform is a bit unrealistic in the back-and-forth of contract negotiations.
"The great is the enemy of the good sometimes. This is a good contract," Curran said.
Negotiations Interrupted By Tragedy
The city and the firefighters union were close to a deal in late March when tragedy struck.
A nine-alarm blaze tore through a Back Bay brownstone and killed two firefighters. The deaths of Lt. Edward Walsh and Firefighter Michael Kennedy brought a wave of public sympathy. And there were whispers that the tragedy could lead to a richer contract. But union chief Paris says he did not use the deaths as leverage.
"A lot of people thought, oh, you're going to get 30 percent now. No, no, it was just another day for us," Paris said. "And we'd do it again tonight and tomorrow, anytime we have to."
Paris says he's confident rank-and-file firefighters will approve the contract in a vote next Thursday. If they do, the pact will go to the Boston City Council for ratification.
But that probably won't mean the end of questions around Walsh and labor. He's still got plenty of contracts to negotiate.
This article was originally published on April 25, 2014.
This segment aired on April 25, 2014.