Mirror, Mirror, On The Wall, The Gold Dust Orphans Are Having A Ball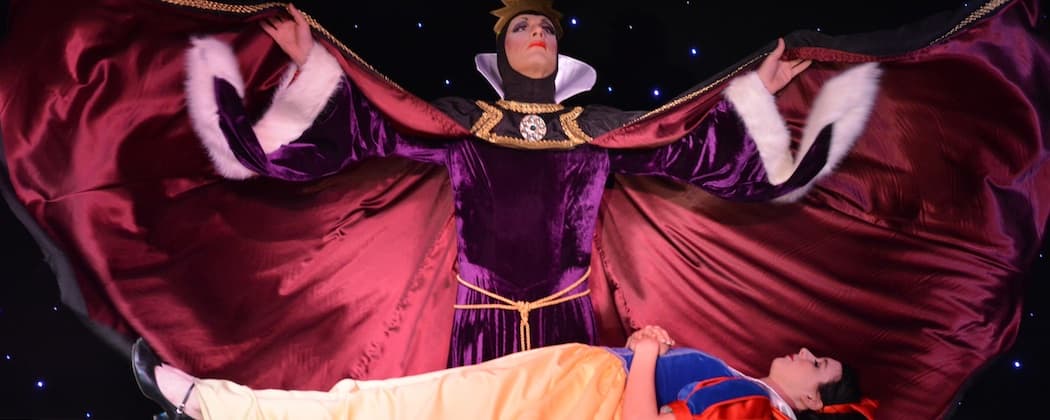 This article is more than 7 years old.
BOSTON – Walt Disney probably isn't spinning in his grave over Ryan Landry's latest spoof, "Snow White and the Seven Bottoms." Assuming Walt has been able to keep tracks on things since his death in 1966, this is pretty tame compared to Paul Krassner's Disneyland Memorial Orgy in a 1967 issue of The Realist and other satires that left little to the imagination about what those cartoon characters were really going on about with Ms. White.
"Tame" and "Ryan Landry" are not words often used in the same sentence and the truth is, you don't want to take the kids to Machine (through May 18), where the Gold Dust Orphans hold hilarious court bending genders, standing high culture and low on their heads and encouraging audiences to join in the revelry.
Hilarity certainly ensues as soon as the lights dim and Landry appears, dressed to the nines as, you should pardon the expression, the Queen, wanting to know who is the fairest of them all.
You don't need a Mirror to know which way the wind blows on this question, but if you want a Mirror to be a truth-teller, you can't do better than Olive Another, a mainstay of the Orphans. Another and Landry are a regular 21st Century Burns and Allen together. Or maybe more like Larry David and Susie Essman, complete with ad libs about scenery and props not always behaving the way they're supposed to.
It's far from a two-person show. This is as sharp an ensemble as the Shakespeareans over at Springstep in Medford romping through "As You Like It." With all the tomfoolery onstage it's easy to lose sight of what a tight group of professionals this is. And what a good songwriter Landry is, lyrically and musically.
Director James P. Byrne and choreographer Meredith Langton keep everyone deliriously on point, not that they seem to need much help. Paul V. Melendy and Jessica Barstis are pitch-perfect as Prince Charming and Snow White. Then there are the puppet Bottoms, including Cher, Liza and five other gay icons. And how can we leave out Scott Martino as the prince's aide or Qya Crystal as the Huntsman?
I still think that Landry is at his best when he's absorbing and taking on high culture — Tennessee Williams ("Pussy on the House") and Edward Albee ("Who's Afraid of the Virgin Mary"). It looked like he might be taking on the political world with Snow White's conservative leanings at the beginning of the show, though it's not really a theme that's developed.
But no one's complaining. The lust for skewering anyone who takes him or herself too seriously is its own statement. One that you would have to be a Sarah Palin or Michelle Bachmann not to be on board with.
So let Ryan be Ryan. And let the good times roll in "Snow White and the Seven Bottoms."