13 Concerts To Brighten Your Boston Summer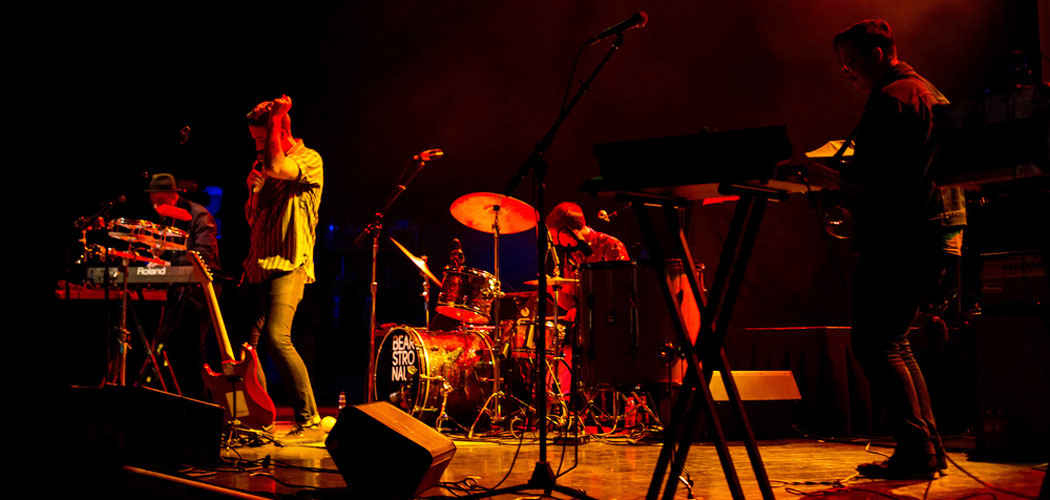 This article is more than 7 years old.
Boston can feel strangely empty in the summer, with the departure of college students along with the cold wind. But the city perks up a bit at night, as the air, and the people, start moving again. The following is a list—by no means complete—of 13 great concerts to catch in the Boston area this summer. Post your own suggestions in the comments section.
Meshell Ndegeocello: June 7 at the Sinclair in Cambridge
Throughout her storied career, Meshell Ndegeocello has consistently and brilliantly inverted the borders separating hip-hop, jazz, R&B and reggae to produce complex, groovy music that is as infinite as it is immediate.
Gabriel Kahane: June 7 at Cafe 939 in Boston
The New York-based composer and singer-songwriter Gabriel Kahane decorates his meditative songs with lush harmonies and disrupts them with polyrhythmic bass lines and eccentric percussion, like a Bon Iver with a propensity for chaos.
Sharon Van Etten: June 11 at The Sinclair in Cambridge
Since her 2009 debut album "Because I Was In Love," Sharon Van Etten has quickly established herself as one of the great songwriters of her generation. Melancholy has rarely sounded as good as it does on her latest, "Are We There."
Jaggery: June 12 at Oberon in Cambridge
A local favorite, Jaggery makes spooky, occasionally sinister music that skims the edges of jazz, chamber music and rock, anchored by frontwoman Mali Sastri's piercing, virtuosic vocals. The Boston-area band will be recording a live album for a hometown crowd on June 12.
Ed Schrader's Music Beat: June 12 at Church in Boston
Baltimore weirdos Ed Schrader and Devlin Rice bring absurdist humor and existential fury to pithy rock numbers, veering from abrasive punk tumult to brainy minimalism.
Homeboy Sandman: June 13 at The Middle East Upstairs in Cambridge
Queens native Homeboy Sandman has a brisk, deadpan flow and favors mellow-yet-idiosyncratic beats. He is clever but earnest, and unapologetically political.
Jolie Holland: June 25 at Brighton Music Hall in Allston
Jolie Holland smacks back expectations around the tired term "Americana," making it gloriously, messily new.
Marissa Nadler with Faces on Film:  June 26 at the Sinclair in Cambridge
Local singer-songwriter Marissa Nadler might write sparse, quiet folk songs, but she does so with unusual intensity and seductiveness. Boston-based Faces on Film open with their deliciously depressive rock n' roll.
La Santa Cecilia: July 8 at Brighton Music Hall in Allston
The Los Angles-based Mexican-American band won a Grammy for their 2014 album "Someday New," a clever, imaginative meld of Latin and American music.
Haas Kowert Tice: July 31 at Club Passim in Cambridge
Fiddler Brittany Haas (of Boston roots supergroup Crooked Still), bassist Paul Kowert (of chambergrass phenomenon Punch Brothers) and guitarist Jordan Tice are three of the most talented and innovative string players working today. They will be celebrating the release of their debut album, "You Got This."
!!! with Bearstronaut: August 1 at Great Scott in Allston
Californian band !!! (sometimes styled "Chk Chk Chk") make peculiar, catchy dance-punk. Local electro-pop band Bearstronaut (pictured at top performing at the House of Blues in 2013 in a photo by Rachel Tine) opens.
Mad Decent Block Party: August 10 at Blue Hills Bank Pavilion in Boston
L.A. DJ/producer Diplo showcases hip-hop and electronic artists from his Mad Decent label, with headliners Chance the Rapper, Flosstradamus, DJ Snake, Lunice, Walshy Fire and Wave Racer.
Joanna Gruesome: August 27 at the Sinclair in Cambridge
Welsh punk-ish outfit Joanna Gruesome, fronted by the formidable Alanna McArdle, careen between dreamy falsetto-pop and dissonant disorder.
Amelia Mason is a writer, musician, and bartender living in Somerville. She is a regular contributor to The ARTery. You can follow her on Twitter @shmabelia and Tumblr.
This article was originally published on June 03, 2014.