You Think You're So Smart? Get A Load Of The Huntington's 'Smart People'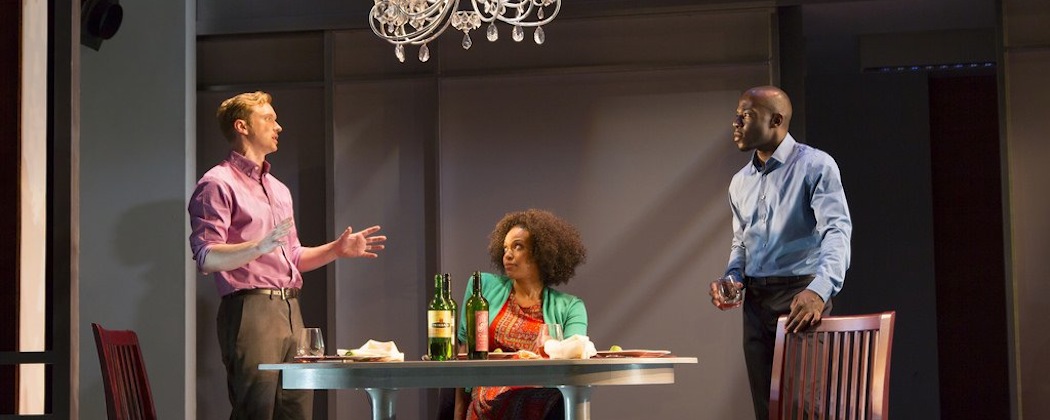 This article is more than 7 years old.
BOSTON — It's December, 2008, the eve of post-racial America.
And, yes, I say that facetiously. When it comes to race in this country, bumper stickers need not apply. When it comes to America, the discussion of race is inescapable and will be for some time.
Even among the intelligentsia. Especially among them? That's part of the take-away from Lydia Diamond's sly "Smart People," in an excellent production at the Huntington Theatre Company's Calderwood Pavilion stage (through July 6).
Diamond is no stranger to the Huntington, where she was a Playwriting Fellow and where "Stick Fly" was produced in 2010. And she's certainly no stranger to Boston, where she taught at Boston University and where she found early champions in Company One, among others. (She has since moved to Chicago.)
Whether she's writing about family dysfunction in "Stick Fly" or social dysfunction in America, she brings a breezy touch to the table, so much so that dysfunction seems too strong a word. There's a respect for her characters and a sense of humor about their interactions that keep everything in good spirits. And everybody in good spirits, including the audience.
Speaking of bringing things to the table, the play starts out like your typical contemporary dinner-party play, the kind where civilization gives way to the discontents. The four characters are all connected to The University, otherwise known as Harvard, as well as each other,
The setup is a bit of a tease, though, because the action quickly shifts to the year before when most of the characters meet cute. Brian (Roderick Hill) is a neuropsychiatrist who thinks he has discovered a biological predisposition toward racism among white people. Jackson (McKinley Belcher III) is a black surgical intern who has an "attitude problem" at work; Ginny (Eunice Wong) is Brian's lover and a tenured Chinese-Japanese-American psychologist studying matters of identity among Asian-American women; and Valerie (Miranda Craigwell) is an African-American actress studying with the American Repertory Theater, but who cleans houses to make ends meet.
It all sounds a little forced on paper, doesn't it, but Diamond and director Peter DuBois' great achievement here is to make this stereotypical range of 02138 characters and situations seem like they're speaking the common currency of the nation as a whole, particularly by play's end. Diamond and DuBois turn out to be very smart people themselves.
Here they all are talking about it:
Diamond's witty writing makes "Smart People" seem like it could be a running HBO series like "Girls" or "Curb Your Enthusiasm," with situations providing the comedy — Valerie cutting herself onstage and the doctor thinking she's a victim of domestic abuse.
The difference between episodic comedy and theatrical comedy is there's an expectation that the onstage humor will lead to some grand summing up of the way we live now. Even if, as in "Smart People," the summing up is a combination of question mark and exclamation point. I won't give it away, but let's say that it's just the right note, and the perfect image, to go out on.
In between the prologue and epilogue is some very impressive acting , along with excellent stagecraft. The Huntington not only deserves credit for bringing local playwrights to the forefront of the Boston scene, but local actors as well. Craigwell has been an up and coming actress for the last few years locally, and she struts her stuff beautifully as Valerie. The timing of all four actors is impeccable. It doesn't hurt that they're all pretty sexy, too.
Alexander Dodge's elegant sliding panels and two tiers divided into four panels give the two acts a sense of real mobility. If the characters are often stuck in place, the production never is. The two men and Ginny can be unlikably self-righteous, but given where Diamond is going here perhaps it comes with the territory. People often think their grasp on race is just right, but even the neuropsychiatrist has to be told by Valerie that it's never that simple. Despite his liberalism you sense that Brian would almost prefer Obama lose the election rather than his research be proven wrong.
Or was he proved wrong? In the end, reasonable people can disagree. So can "Smart People" as morning dawns in pre-post-racial America.
More
"Smart People" on Radio Boston
Diversity Onstage: Boston Theater Looks More Like Boston