Fire-Ravaged Lowell Building To Remain Standing For Now, Judge Rules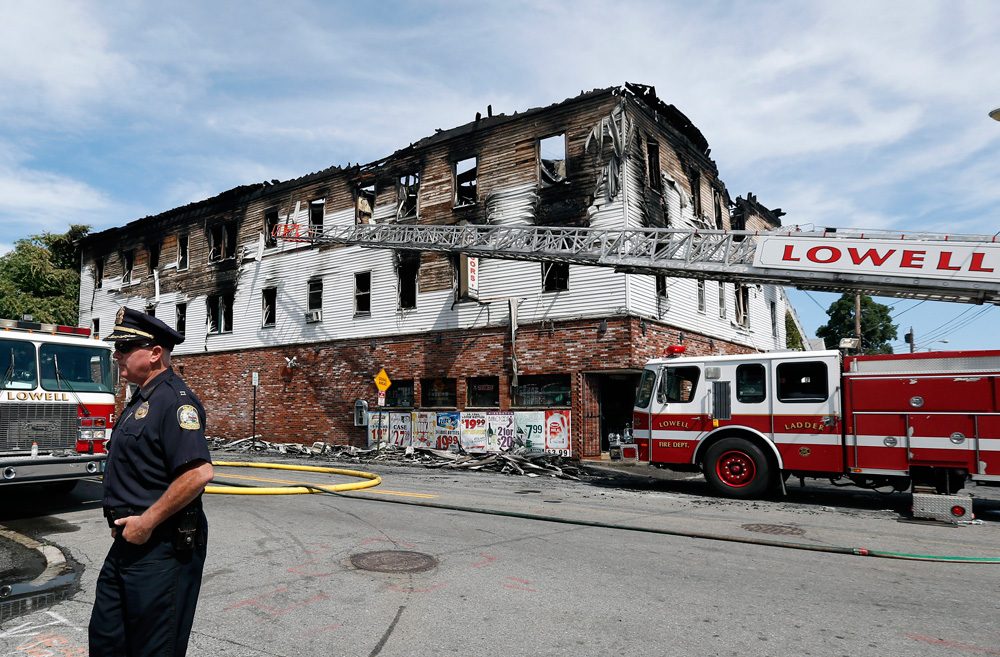 This article is more than 7 years old.
The charred shell of a Lowell apartment building that burned down last week, killing seven tenants, will remain standing for about another week, so investigators hired by the families of victims can continue combing through the rubble.
Middlesex Superior Court Judge Dennis Curran on Thursday refused to lift a temporary restraining order that would have allowed for the immediate demolition of the building.
"Seven people are dead, and we don't want any more such tragedies. We need to find out what happened," Curran said, according to The Sun of Lowell.
The state investigation determined that the three-alarm blaze July 10 was an accident caused by an electrical failure that began in a concealed space between floors.
The city and the building's owner want the building torn down, citing public safety and health concerns as well as the costs of securing it.
Donald Grady Jr. and Sheryl Bourbeau, representing victims' families, told the judge that teams of expert fire investigators are looking at the wiring, smoke detectors, fans and more.
Grady told the judge the investigation should be complete by Wednesday so demolition can start next Thursday.
The fire killed Torn Sak; his girlfriend, Ellen Vuong; three of their five children, Sayuri, 7, Anthony, 12, and Ryan, 9; as well as Tina Christakos and Robert Downs, who lived in a separate apartment. Sixty other tenants escaped.
More than $30,000 has been raised for the survivors, who lost everything. A fund set up at the Jeanne D'Arc Credit Union has raised more than $25,000, while the Cambodian Mutual Assistance Association has raised about $6,000. That doesn't include smaller amounts raised by other charities as well as the tons of clothing and food that has been collected.
Related:
This article was originally published on July 18, 2014.