Liverpool Football Club Teaches Fundamentals, Fun Of Game To Perkins Students
05:51
Play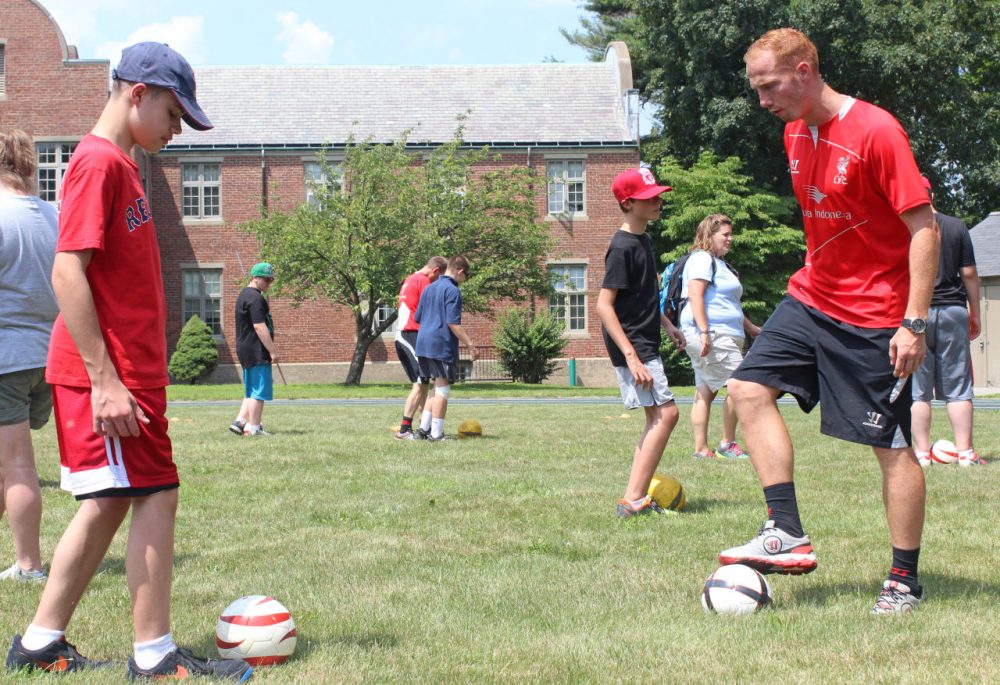 On a Watertown field notable for the excellent way it held the heat Tuesday afternoon, Forbes Duff faced a challenge. He and his mates associated with the service arm of the Liverpool Football Club were at the Perkins School for the Blind to teach soccer to some of the students ahead of the Liverpool vs. AS Roma game at Fenway Wednesday night.
Duff, however, was not happy with the heat, saying it was the biggest obstacle to his teaching.
"Basically what we're doing here at Perkins School is trying to give the students the opportunity to play soccer that they've not done before," Duff said. "We've brought along special footballs that have bells inside. So although they're blind or visually impaired, the bells in the ball rattle, so they can hear it."
The heat notwithstanding, once the drills began the Perkins students did seem to be enjoying themselves. One particular 13-year-old named Daniel got a good bit of encouragement from his personal Liverpool coach, David McParland.
"We've brought along special footballs that have bells inside. So although they're blind or visually impaired, the bells in the ball rattle, so they can hear it."

Forbes Duff
"Keep it going, excellent stuff," McParland shouted. "Back towards me, my mate. What a player, what a player!"
Most of the coaches had been players at lower levels, but just in case any of the Perkins students were serious fans of the game, Liverpool had sent along a couple of legends.
One of them was Ian Rush, who played in 660 games for Liverpool and scored 346 goals over 16 years. When he introduced himself, Rush recited those numbers with evident satisfaction. He was joined by Robbie Fowler, who seemed almost bashful when he introduced himself.
"Hello, everyone. My name's Robbie Fowler. I wasn't too bad myself, but I think we're here today to try and enjoy ourselves and to get some footballing skills for all of you, so as long as you have a good time, we'll have a good time," he said.
For the record, Fowler played for Liverpool from 1992 through 2001, and then again from 2006 until 2008. His nickname at Anfield, Liverpool's home, was "God." But Tuesday, like his mates, he was all about service.
"When football clubs go on preseason tours, more or less it's always about the first team. But I think at Liverpool we're different," Fowler said. "We always like to leave a little bit of a legacy instead of coming in and going out without leaving anything. We go around to local charities and schools like this, putting smiles on kids' faces."
Among the Perkins students smiling during Tuesday's visit from Liverpool's lads was 16-year-old Shae William Kelly, who characterized himself as partially-sighted.
"Yeah, I can only see a little bit out of one of my eyes, but I think that's good enough," he said.
It was certainly good enough for Shae to learn some soccer fundamentals.
"They taught us to like dribble the ball, and they taught us how to move with it," he said. "[We] did some fundamental drills that were kind of like games that were fun. We had to move the ball forward, and then we had to aim at these soccer balls that were on cones, and if we knocked them down, we got a point."
Besides learning some basic skills, the Perkins students also got an increased sense of the shape of soccer. Tracey Polimeno, who teaches physical education at Perkins, feels that what the Liverpool staff offers complements her work and will serve her students well, whether or not they ever play the game again.
"Many of the students have siblings who participate in soccer and basketball and other sports, and they get taken to the games to watch, and they have no idea what's going on. So I try to give them that knowledge so that they can actively participate and be an active spectator at the game," she said.
The learning on the part of the Perkins players was evident, but as Fowler said as a welcome breeze swept over the field during a water break, the learning wasn't limited to the students.
"People here are not as fortunate as we are. We take sight for granted. You don't realize how lucky you are until you come here, and I think what the job the foundation does in putting smiles on the faces is superb," he said. "And I think as ambassadors and coaches, it's refreshing for us as well to see this."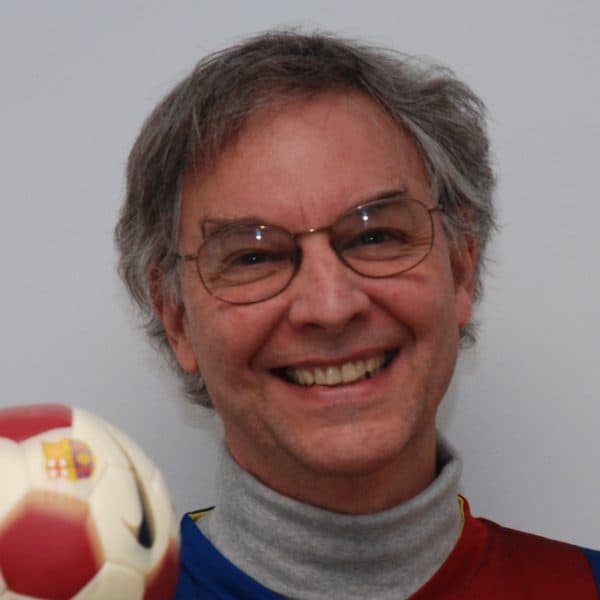 Bill Littlefield Host, Only A Game
Bill Littlefield was the host of Only A Game from 1993 until 2018.