Shakespeare On The Common's Madcap 'Twelfth Night'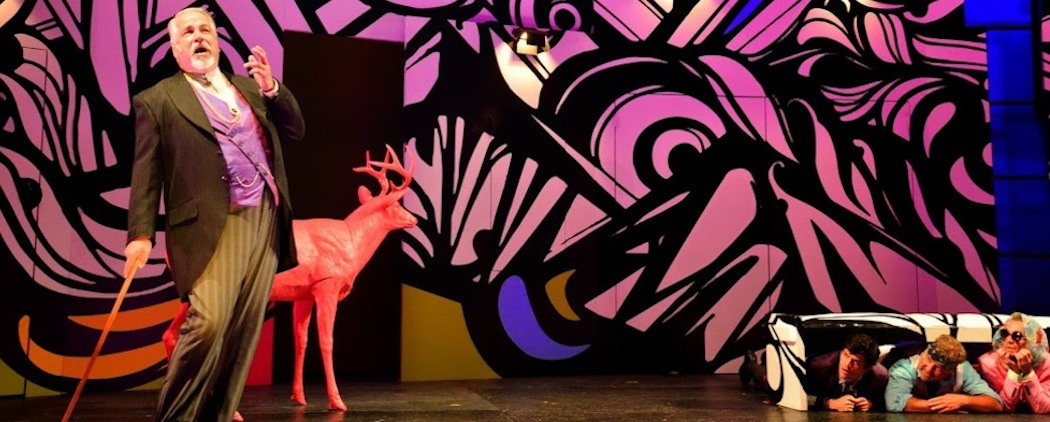 This article is more than 7 years old.
This year's free Shakespeare on Boston Common may not quite be the "Twelfth Night" you're used to — a broad farce with no real moral center in which the most interesting character is the Puritanical Malvolio and you kind of root for Viola and Olivia to go off together.
Whether all this was intended or not by Commonwealth Shakespeare Company artistic director Steven Maler, it hews fairly closely to Harold Bloom's interpretation of the play in "Shakespeare: The Invention of the Human."
My takeaway, though, isn't grounded in any grand analysis of the play or production, but in the reaction to the three best actors onstage — Fred Sullivan Jr. as Malvolio, Marianna Bassham as Viola and Kerry O'Malley as Olivia.
First the story. Viola and Sebastian are twins washed up in a shipwreck on Illyria, both thinking the other is dead. Viola disguises herself as a man (Cesario), enters the service of Duke Orsino who enlists her to woo the high-toned Olivia. Olivia falls in love with Cesario, instead. Meanwhile, Olivia's uncle, Sir Toby Belch, wants Olivia to marry his drinking buddy, Andrew Aguecheek, and the two also conspire with Olivia's fool and maid to do dirt to Malvolio, Olivia's steward, by convincing him that Olivia is in love with him.
Without having seen it, you could almost write the script, though it wouldn't be the comedic masterpiece of Shakespeare's. But for all the zaniness of mixed identities and the poetry of foolish behavior, it's a script that needs help. Why are people falling in love with each other even before the drop of a hat? Whose side is Shakespeare on? Whose side should the audience be on?
Those are the frustrating questions in Maler's broadly enjoyable production (through Aug. 10), in which — aside from the three actors above — each of the talented cast seems to have license to go as over the top as he or she wants. And even that trio can get a bit over-giddy. That's at least partly intentional. On a heavily-miked stage that stretches to Tremont Street, broadness is always likely to win out over subtlety. It's interesting, though, that the best moments here are the quieter ones from Sullivan, Bassham and O'Malley.
Sullivan's Malvolio is fascinating. He's priggish and effete, to be sure, but a seemingly effective chief of staff for Olivia. He's by far more sinned against than sinning, particularly since the plotters against him are so unlikable — particularly Robert Pemberton's ultra-loutish Sir Toby and Conner Christiansen's mincing Andrew Aguecheek (think a very thin Eric Stonestreet on "Modern Family" with a modified mohawk). And then there's Remo Airaldi's Feste — as funny here as he was for decades with the American Repertory Theater.
Bloom makes the case, though, that Feste is really the moral center of "Twelfth Night" — "benign" and "the only sane character in a wild play." Here he's as over the top and boorish as the rest of the anti-Malvolians and so the play's moral center or Shakespearean voice gets lost.
Each of these actors is enjoyably comedic in his own right, though Robert Pemberton could be put to better use as Sir Toby. But perhaps it is the waywardness of Feste that throws things off here. I can remember a Shakespeare & Company production in which Jonathan Epstein stole the show as a subdued Feste. This one might have been a more satisfying production with the dignified Sullivan as Feste and the madcap Airaldi as Malvolio.
Sullivan goes over the top, too, as a Malvolio who thinks Olivia is in love with him. It's a great crowd-pleasing turn and to judge from Wednesday's opening night it's a crowd-pleasing production. Maler keeps a pleasantly light atmosphere brewing with Cristina Tedesco's arty set borrowing from graffiti, psychedelia and expressionism, complete with "Laugh-In" panels.
The two female leads are excellent. Both Bassham and O'Malley are relaxed enough in their Shakespearean abilities that they can bring extra charisma, charm and sexiness to their roles. Robert Najarian has no such charge as Orsino, which is why there's more chemistry between Viola and Olivia than between anyone else. Sebastian (Nile Hawver) is more acted upon than acting.
Actually, among the leading-men candidates Woody Gaul shines the brightest as Antonio, the sea captain enamored of Sebastian. It's a brief role, but he seems thoroughly at home with Elizabethan dialogue.
At any rate, this is a family-friendly "Twelfth Night," a good way to introduce one's children to Shakespeare. There is fun to be had on the Common, if not a fully satisfying celebration of "Twelfth Night."