At Bar And Bench, Boston Remembers Robin Williams
Play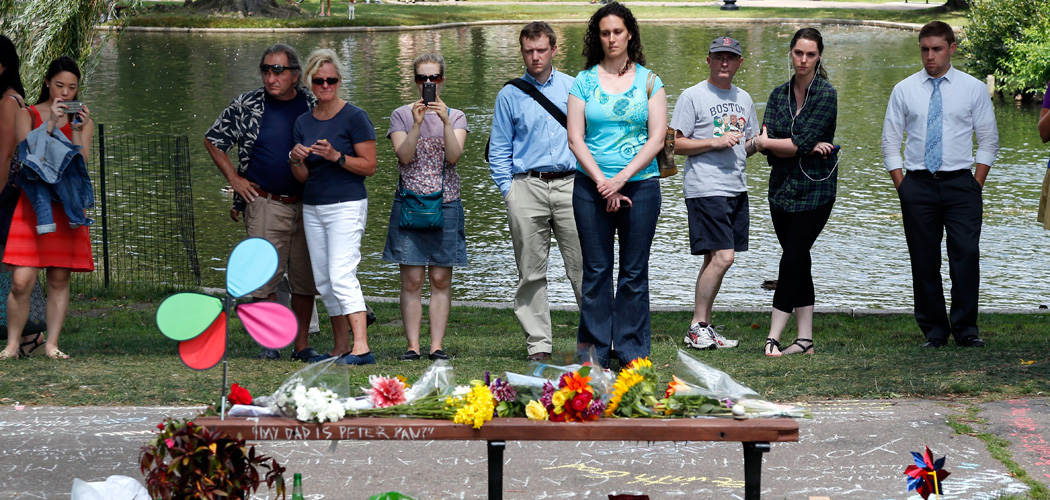 This article is more than 8 years old.
Many Bostonians feel a special connection to Robin Williams, who won an Academy Award for his role in the 1997 film "Good Will Hunting," which was shot around the city.
The actor and comedian, 63, died of an apparent suicide Monday.
And on Tuesday, the Public Garden bench made famous in "Good Will Hunting" became a makeshift memorial to Williams, and visitors also stopped by L Street Tavern in South Boston, another prominent location.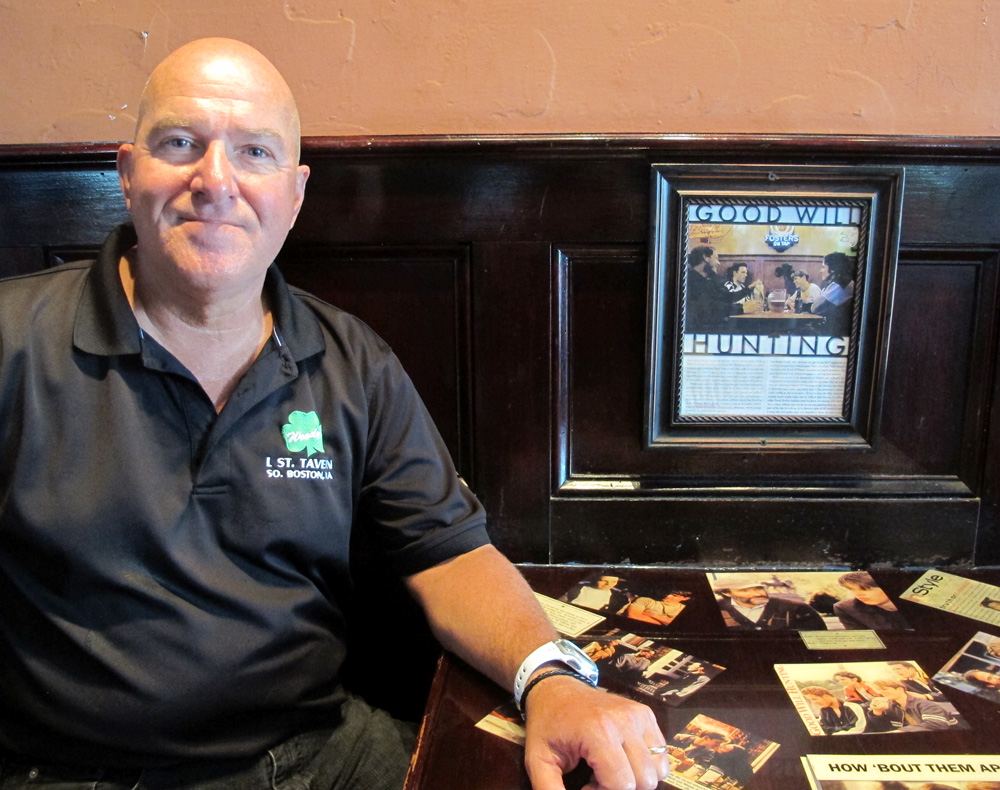 Tavern manager Ron Rumble said fans have been sending all kinds of tributes since news of Williams' death, but one in particular stands out.
"Someone just left us a can of corn," he said.
Williams dropped the corn comparison when he accepted his Oscar for "Good Will Hunting."
"I want to thank the cast and crew, especially people of South Boston," he said in his acceptance speech. "You're a can of corn, you're the best."
Visibly saddened, Rumble talked about Williams at a now-famous table that was in the film. He's lived in Southie his whole life, and remembered when the film was in production. With a poster from the movie looming behind his head, Rumble called the 18-year-old movie a classic.
"It's left an impression on this town," he said. "Robin Williams left an impression on this town. An amazing guy. A funny, happy, jovial person that's not on this earth anymore, and it's the strangest thing, you know?"
After hearing about Williams' death, tourists Frank Kragel and his wife Kelly, of Richmond, Virginia, detoured to the tavern on their way out of town. The couple grew up with the actor's films.
"'Dead Poets Society' when I was coming of age. He was hilarious in 'The Birdcage.' 'Good Will Hunting,' of course," Frank Kragel said. "His standup comedy tour was raunchy and excellent as an adult. So this was a really nice way to come back and have a drink and toast his memory."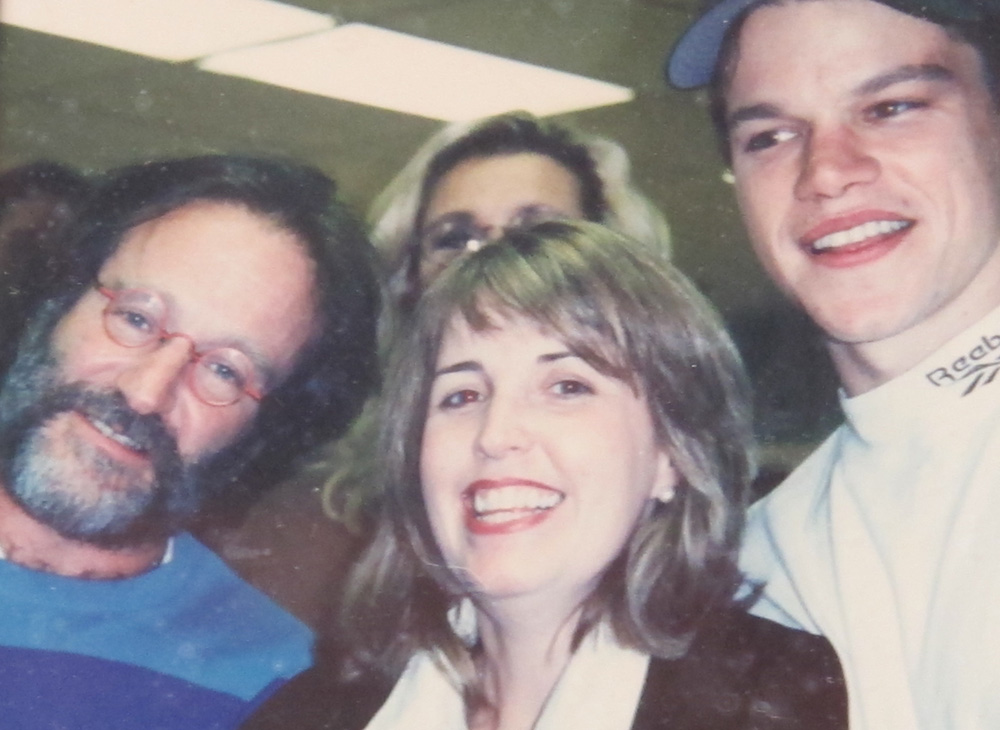 "When you were alone with Robin he was a very reserved, sweet, kind of quiet guy," Boston-area location manager Charlie Harrington said. He worked closely with Williams on three films: "Dead Poets Society," "Toys" and "Good Will Hunting."
Harrington remembered coming out of the tavern during preproduction prep one night after word had gotten out that Williams was in town.
"And when we went out to get into the car, there was 100 people or more outside, and he posed for pictures with everybody," Harrington said. "Everybody felt like they knew him because he was so approachable on the screen and his live performances.
"It's just really sad," he said of his passing.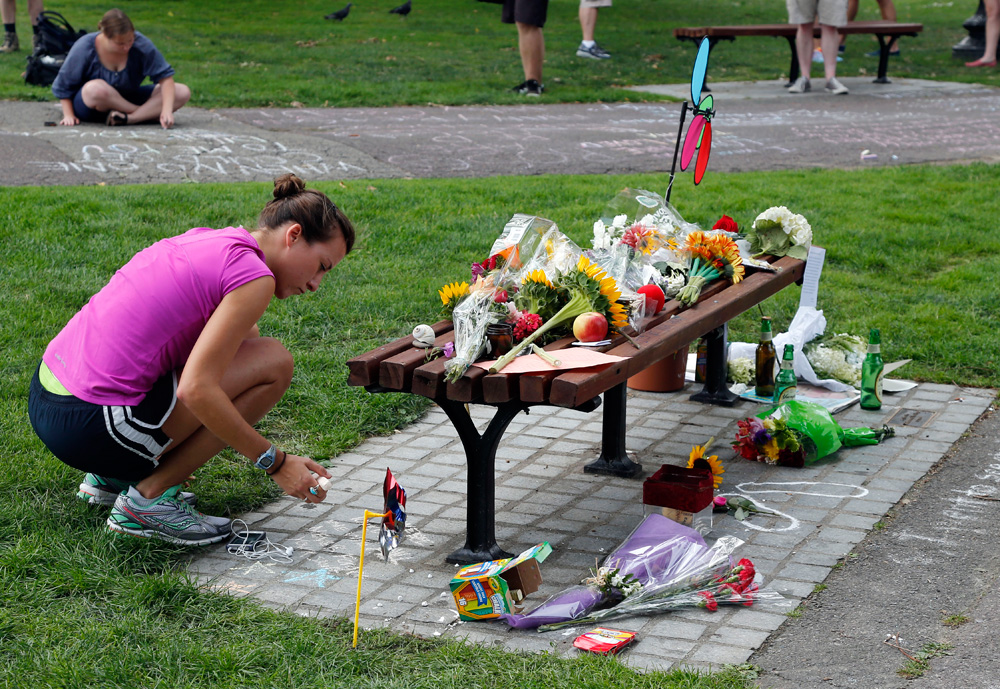 Mariagrazia La Fauci called it heartbreaking. She's a guide with the On Location film tour company. The L Street Tavern is on La Fauci's route, along with another famous spot from the movie.
"You get to the scene at the park bench in 'Good Will Hunting,' we ask two of our guests to sit on the bench and read the scene," she said, "and it's going to have a totally different flavor now."
Since Williams' death, hundreds of people have stopped at the Public Garden bench to leave flowers, take pictures and write words of remembrance in chalk on the surrounding pavement, like "R.I.P. Funny Man" and "Carpe Diem," a line from "Dead Poets Society."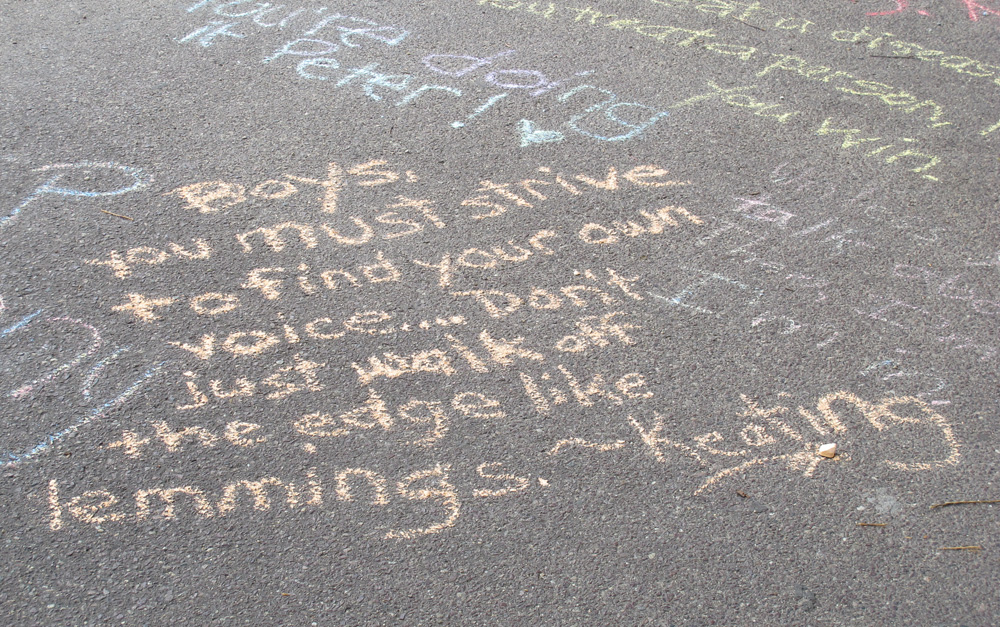 Somerville resident and comedian Rachel Vandersteur wrote the words, "It's not your fault," that Williams uttered in "Good Will Hunting."
"It seems silly," she said. "He wasn't from here, he didn't live here, but this is a spot where he was and this is as close as I'll ever be to him, so it was important for me to come and pay my respects in that way."
Vandersteur said Williams' death is hitting her community hard.
"Because he was such an inspiration to so many of us, and so many of us struggle with depression," she said. "And I think unfortunately the two go hand in hand a lot of the time."
She was thinking of Chris Farley and John Belushi, too, and hopes Williams' death will inspire others suffering from depression to get help.
This story was updated with Morning Edition feature content.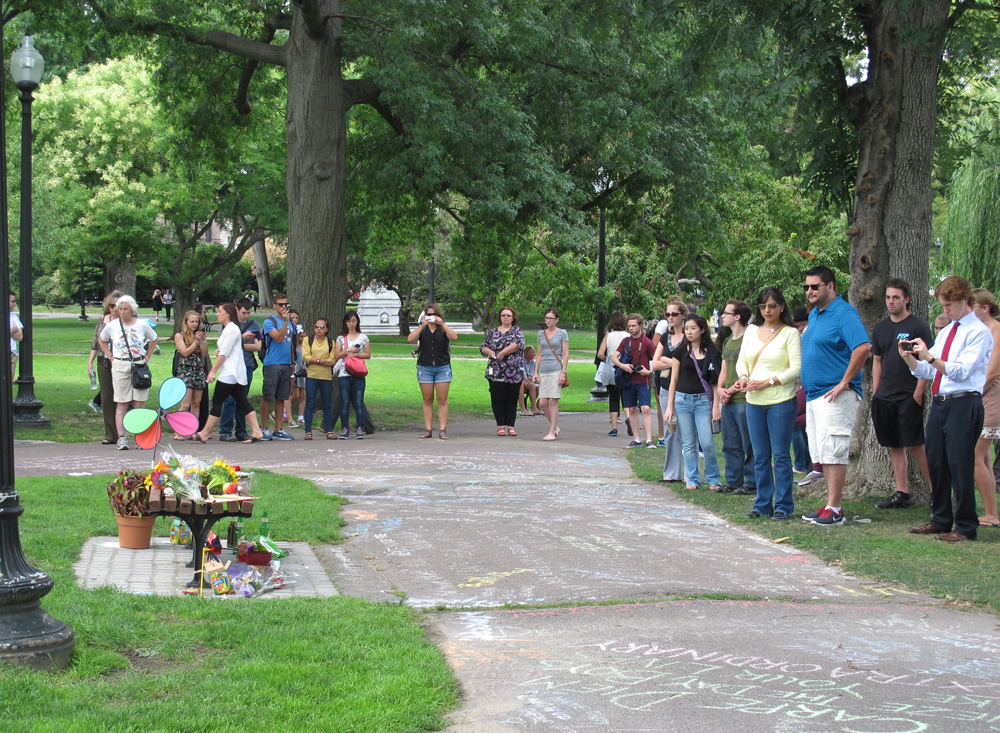 More On Robin Williams' Death: