Longy And El Sistema — Giving Classical Music A Chance To Thrive For Another Generation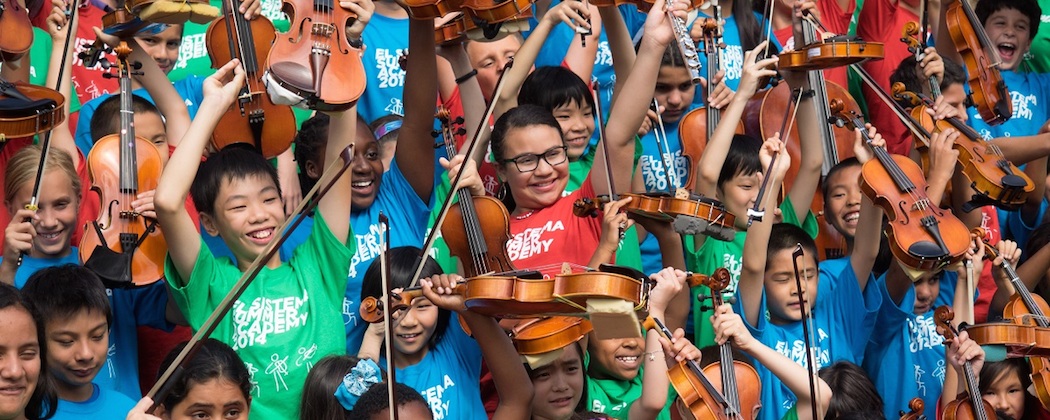 This article is more than 7 years old.
Will classical music exist for another generation? If Karen Zorn has anything to do with it, it will thrive.
"We don't think of musicians as just performing artists," Zorn, the president of Longy School of Music of Bard College, says. "We see them as agents of change as well. I know it's not the usual position for a conservatory. But we have a social imperative, and we're preparing musicians to make a difference."
That difference comes most directly with Longy's determined embrace of the renowned El Sistema approach. The broad-based musical and social movement, now decades-old in the country where it originated, Venezuela, and sweeping into other musical education systems, has revitalized music training by democratizing it. In Venezuela, that meant a publicly funded initiative that has been steered to success largely through the efforts of José Antonio Abreu, who began a program of buying instruments and providing training in some of the poorest sections of his country.
Abreu has maneuvered El Sistema, officially called Fundación Musical Simón Bolívar, through multiple governments and has seen it take on world-wide prominence. Its most distinguished and flamboyant product, the conductor Gustavo Dudamel, now leads the Los Angeles Philharmonic and guests throughout the world. The Orquesta Sinfónica Simón Bolívar is just one of many touring ensembles created from the vast network of young and superbly trained Venezuelan musicians.
And, of much more importance to Zorn and to educators everywhere, the El Sistema approach— which is not a teaching method, like Orff, Suzuki or Kodaly, but a movement linking music to social involvement—has taken root internationally. More than 50 different El Sistema programs have sprung up across the United States. El Sistema has taken root in Scotland, Canada and Portugal, and initiatives are beginning in Vienna. The programs have multiple links to the communities: sometimes in charter schools, sometimes in urban settings, sometimes in rural districts.
Somebody has to teach these students. New England Conservatory created an Abreu Fellows program in 2007 and trained 50 musicians that are now working in the field. But Zorn has bigger plans, and a deeper commitment.
Zorn took over as Longy president in 2007 and oversaw the controversial merger with Bard College in 2012. That meant a host of changes for the Cambridge campus, the most public one being the termination of Longy's preparatory division, which angered scores of local parents and ended the conservatory's relationship with the many high-profile musicians who had served as adjunct faculty.
"It was a mission-based change. We needed the space to expand," Zorn says succinctly about the prep-school closing.
At the time of the merger, Bard's president Leon Botstein said, "music can no longer be taught as self-referential exercise." The changes were designed not to end Longy's relationship with aspiring young musicians, but to course-correct it.
At Longy, that means a two-part approach. "All of our students do community service," Zorn says. "That's one commitment we make. And they don't just do it on their own. We teach them, we mentor them. It doesn't have to be about El Sistema, but it's about helping to create better human beings."
That frequently means working with El Sistema–based programs in the greater Boston area and beyond, with students from the Conservatory Lab Charter School in Dorchester, El Sistema Somerville, Community Music Works in Providence, or the Kids4Harmony program in the Berkshires. This Longy initiative, called Side by Side, also includes a summer camp in Cambridge—a two-week training for the best of the local El Sistema musicians that culminates in performances outdoors in Harvard Square and indoors on Longy's Pickman Hall stage.
But Longy's involvement also extends farther afield, with a graduate studies based in Los Angeles that is closely affiliated with Dudamel's Los Angeles Philharmonic. The Master of Arts in Teaching program creates El Sistema "experts," musicians trained not only in the approach, but certified as general music educators and steeped in an entrepreneurial tradition. The goal: to send these musician-educators into the world, able to facilitate grassroots El Sistema programs in a variety of settings: individual public schools, charter schools, even in entire school districts.
The effort grew in part out of Longy's merger with Bard. "Bard had started a charter school in the Central Valley," Zorn says. "They had infrastructure, and contacts. I built the relationship with the LA Phil, and we created our master's program on site."
"I think it's a wave, and it's eventually going to take over," she says of El Sistema. "I see it as the Peace Corps for music. But to do it, we're going to have to stand the music ed degree on its head. Usually, you start with theory and method, and then you get into the classroom. I think they should start teaching right away, and learn by doing and reflecting. The students and their needs are all different, and our musicians are going to have to evolve their ideas based on the students that are right in front of them."
But Longy has no intention of facilitating its own El Sistema programs in local cities or districts.
"We did an assessment of that, and even though we did help to start a site in California, we're not in that business," Zorn says. "These places need musicians who are trained to teach."
In that light, one initiative, still in the formation stage, includes Longy students serving as consultants to the Elkhart, Indiana school district.
"This is a very depressed area," Zorn says, "with unemployment somewhere near 30 percent. The whole county-wide public school system has decided to look at El Sistema. There's a non-profit in place to help them. We are sending a couple of our graduates there, to serve as consultants at first, and eventually to serve as leaders. It's going to grow, and we can provide musicians that are trained.
"Musically, El Sistema is adaptable. It's different everywhere it's introduced. You tend to think of El Sistema as being youth orchestras, but there are bands and choirs, rock-based and jazz-based ensembles. We helped to start a mariachi program, because that was the music that was relevant."
In other words, no one size fits all. El Sistema is not some pedagogy that aspiring must adhere to or else—it's an idea that anyone can make music, and if they do, it helps them in unanticipated ways.
"The idea is to make music first, and then let the nomenclature follow," Zorn says. "If you want to use the sports metaphor, you wouldn't hand someone a rule book if you wanted them to learn to love baseball. You would play first.
"So they play. Stick them in the ensemble as soon as possible, even if they can only play on the downbeat. All of our conservatory students are learning to write arrangements, so that their students can make music on different levels. Learn a quarter note, play on the downbeat, and go from there.
"It's kind of scaffolded, learning with peers and building on what they know. It's layers of older and younger students sharing the same stands, a whole set of teachers at work. Once they have mastered something they are expected to pass it on to others."
And just as the method has to be flexible for its students, it has to be flexible for those who will teach it. Going forward, that's the challenge, and the opportunity, for Longy.
"I don't assume that all of our musicians are ready to go into the world and teach," Zorn says. "The kids in El Sistema programs are dealing with a whole set of issues, and we're not creating professional social workers. But we think musicians have a lot to say. So we ask that question: What do you have to say? And how might that look after you leave school? If you're an agent of change, you change the paradigm."
Keith Powers, former music critic at the Boston Herald, now freelances for a number of newspapers and magazines. Follow him on Twitter @PowersKeith.