'Sweeney Todd' At The Lyric: The Demon Barber Strikes Again
This article is more than 8 years old.
To some extent, you can measure the rise of Boston's midsize theaters by how well they have translated the musicals of Stephen Sondheim into a chamber setting. When Spiro Veloudos became artistic director of the Lyric Stage Company of Boston in 1998, one of his first productions was a spectacular version of "Assassins," a musical that others shied away from because of the controversial subject matter of presidential assassinations. It also signaled that Veloudos was taking the Lyric in new, more contemporary direction.
The New Repertory Theatre under Rick Lombardo hit its stride in 2003 with a masterful "Sweeney Todd: The Demon Barber of Fleet Street." That production was a turning point in Lombardo's and the New Rep's success.
Coincidentally, the two theaters are trading this year — the Lyric beginning its season with "Sweeney Todd" (through Oct. 11) and the New Rep following with "Assassins" (Oct. 6-26 with previews beginning Oct. 4).
If this seems like running in place, who wouldn't want to do a Sondheim musical if you're doing contemporary theater? No other living musical writer comes close to him except Jeanine Tesori when she's partnering with a Tony Kushner or Lisa Kron.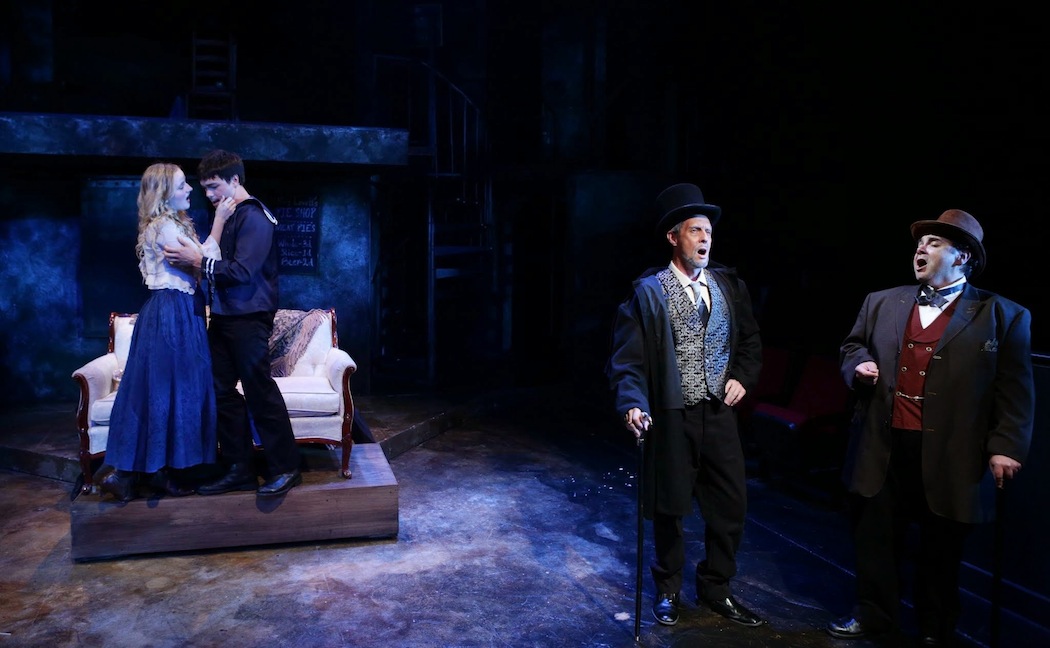 And hand it to Veloudos. He's been working his way through the Sondheim oeuvre at the Lyric with one distinguished production after another and "Sweeney" is another feather in his cap, imaginatively staged and beautifully sung. Music director Jonathan Goldberg continues his fine collaborations with Veloudos.
I have to admit to a bit of Sweeney fatigue myself. Since that wonderful New Rep production I've seen the John Doyle version with musicians playing their instruments, the road company extension of it, Julianne Boyd's Barrington Stage version, the New York Philharmonic concert performance with George Hearn, Patti LuPone and Audra McDonald and Tim Burton's movie with Johnny Depp and Helena Bonham Carter.
So how did the musical musings and machinations of a serial killer become the "Midsummer Night's Dream" of Sondheim's output? There's the terrific score, of course. But I was really struck at the Lyric production, probably more so than in the higher-priced spreads, what a masterful balance Sondheim and book writer Hugh Wheeler strike between black comedy and tragedy, grand guignol and 19th century romanticism like "Les Miz" (the staging, not the execrable music).
How did the musical musings of a serial killer become the 'Midsummer Night's Dream' of Stephen Sondheim's output?
There's certainly more genuine emotion in this production than in most Sweeneys. One can really taste Todd's rage, Mrs. Lovett's lust, even the judge's misery over his age-inappropriate longings. Recapping the story, Sweeney (nee Benjamin Barker) comes home and is told that his wife committed suicide after Judge Turpin had his way with her and then absconded with Barker's daughter. Barker/Sweeney, a barber, hides out with Mrs. Lovett and, after the judge eludes his grasp he goes on a killing spree in his barber shop; the victims becoming the ingredients for Mrs. Lovett's meat pies.
Yum.
Actually, it is delicious. Sondheim is as playful as he is dark and his lyric-writing was as sharp as ever in 1979. And talk about lyrics that don't grow old. Here's Mrs. Lovett offering him a choice of various professions — to eat.
Well, then, if you're British and loyal,
You might enjoy royal
Marine.
Anyway, it's clean.
Though, of course, it tastes of wherever it's been.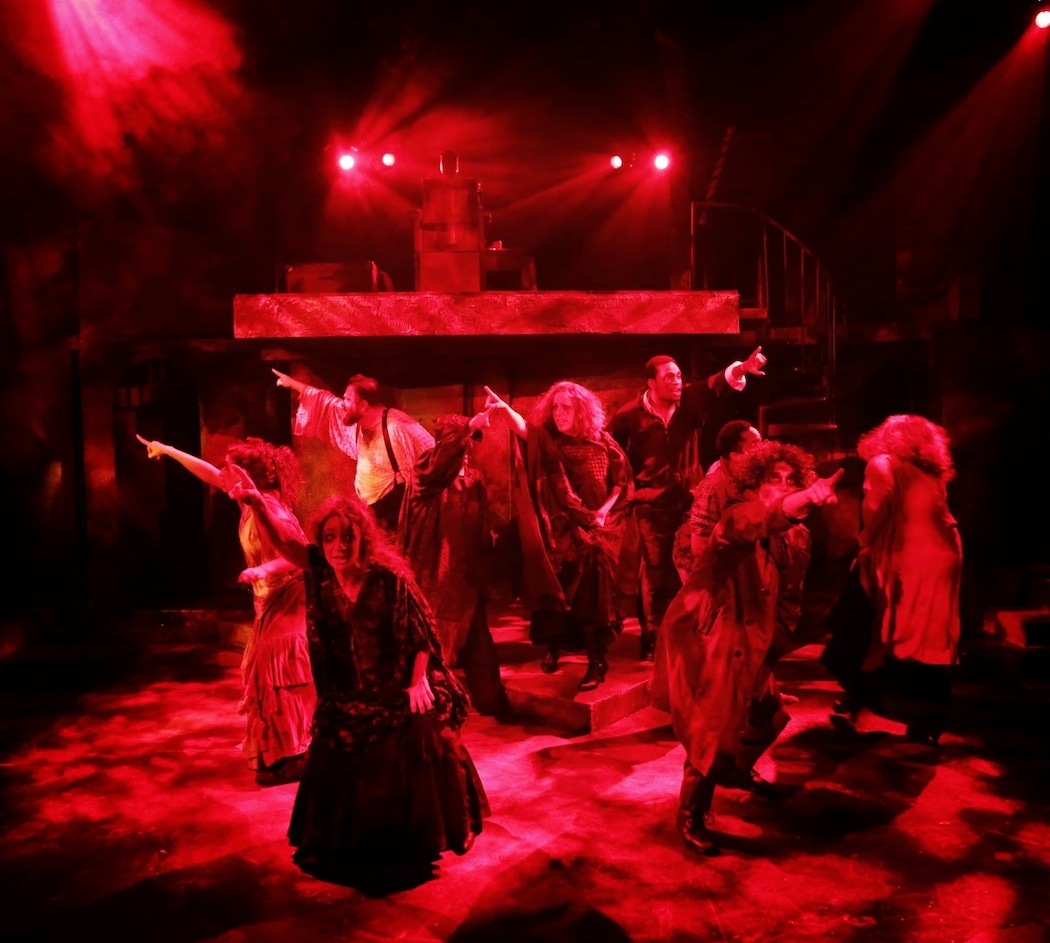 Veloudos decided to play down the grand guignol elements — no bizarro makeup even if Christopher Chew as Sweeney does look a bit like Wolverine's older brother. He and Amelia Broome as Mrs. Lovett are a fetching couple on Janie E. Howland's relatively naturalistic two-tier set — not a unique way to go about staging Sweeney, anymore, but the naturalism pays dividends here. When Chew sings "I'm full of joy" at the end of his rant about his plan to exact revenge on the world for the dirty dealings he's had you can almost feel a chill go up the audience's collective spine. I wouldn't go as far as to say you root for Chew and Broome. But sorta kinda.
Meghan LaFlam (an operatic Johanna) and Remo Airaldi (what a Beadle!) are also excellent singer-actors and the ensemble singing is superb. The downside in the production is that aside from those mentioned, most of the rest of the cast don't act nearly as well as they sing.
But while some of the over-emoting takes you out of the moment here and there, once they begin to sing, London becomes a very comfortable place to get a shave and a haircut. Just don't let Sweeney's razor go beneath your chin. If you want to make it to "Assassins" in October.
Sweeney Through The Ages
The Lyric Stage Company Of Boston Production