Growing Older (And Wiser) With New Repertory Theatre's Singers In Captivating 'Closer Than Ever'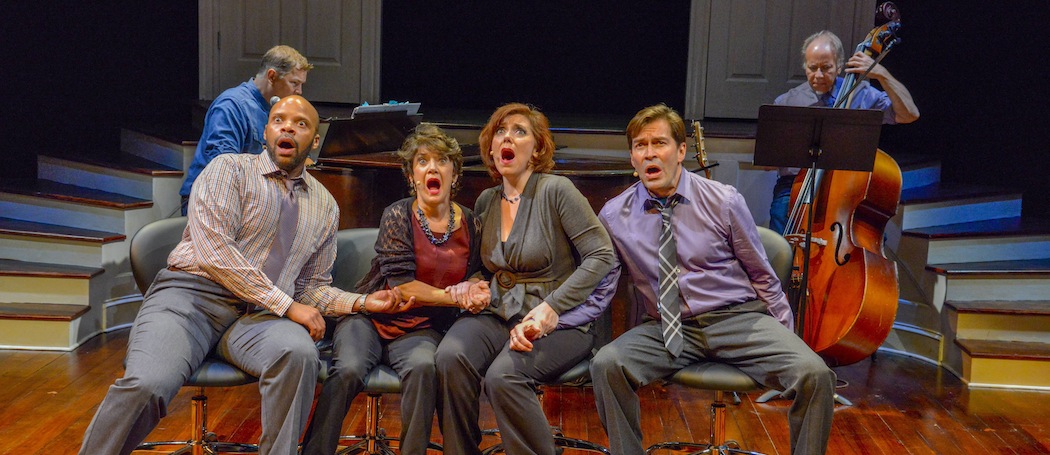 This article is more than 7 years old.
Ah, the joys of relationships for people of a certain age. Divorce, a return to dating, working out to keep gravity at bay, the prospect of spending the final years alone.
If this doesn't sound like the stuff of musicals then you've probably never seen one by Stephen Sondheim (other than "Sweeney Todd"). And you've probably never heard the four singers of the New Repertory Theatre's "Closer than Ever," a quartet who can sing the proverbial phonebook. (Do they still make phonebooks?)
Sondheim didn't write "Closer than Ever." David Shire and Richard Maltby Jr's did, and their 1989 work is more song cycle than musical. (They've called it "a bookless book musical.") It's a collection of songs dealing with love in middle age, 40-60 or thereabouts. Though perhaps it's stretching things to call that middle-aged. In "Maude," when the 56-year-old Walter protested that he was only middle-aged, Bea Arthur shot him one of those looks and asked, "Walter, how many people do you know who are 112?"
As newer generations of young lovers might say, "Whatever."
I don't know how younger folks would react to "Closer than Ever" but this, er, middle-aged critic was totally charmed. The ground that's covered is Sondheim-esque in that the cycle doesn't shy away from the paradoxes of passion and love, it revels in them. Maltby and Shire are alternatively more earnest and playful than Sondheim, whose steely gaze on romance is more concentrated and unrelenting.
They're also not as good. Shire's tunes aren't as memorable and Maltby's lyrics are clever, but less poetic than Sondheim's. The lack of memorable tunes is not altogether a bad thing. I still have the worst possible earworm from "Sweeney Todd" at the Lyric Stage Company of Boston from a couple of weeks ago — "Pirelli's Miracle Elixir." Try getting to sleep with that silly song buzzing around your head.
Here's a good example of the Shire-Maltby style from Bristol Riverside Theatre's production, the opening number, "Doors":
I used to think that the mark of a musical was whether you wanted to listen to the soundtrack or by how many of the songs you wanted on your iPod. The New Rep's production of "Closer than Ever" has me rethinking that equation.
Those considerations don't enter into the picture at all in the captivating "Closer than Ever." It is such a heartfelt, honest look at life, and if the endings aren't always happy for the four singers, they make such a joyful presentation of the issues that the mood of the two hours is always affirmative.
I've long thought that Leigh Barrett is the best musical-theater singer in Boston and here she proves to be an excellent director as well (with help from assistant director and choreographer Ryan Began). It helps when all four performers are fine actors to boot — they relate to each other as if they can't get enough of each other's company (even when the characters have had too much of each other's company). Each knows how to sell a song physically as well as vocally, particularly the always-delightful Kathy St. George.
She has the most amusing songs, "Miss Byrd" and "Back on Base," two coy, sexually charged numbers ("When his fingers touch my strings …"). As the menfolk, David Foley and Brian Richard Robinson give as well as they get, both as singers and actors. This is a company of equals, including the fine pianist Jim Rice (who also has an excellent voice on his one song) and bassist John Styklunas.
The four characters are each coming to terms with lives that haven't turned out the way they expected. The songs are mostly mid-tempo toe-tappers, often comical, or solo rueful ballads, and Shire is constantly driving Maltby's smart lyricism home deftly. That they're not particularly memorable doesn't detract from the overall wit of the composer and lyricist.
Scenic designer Jon Savage not only provides warmly appointed sets, but collaborates on photo backdrops that help the mood of the show — a train schedule in back of Foley, who can't fit everything in at home where his "teenage son is sleeping with the sitter."
Romantic relationships aren't the only bill of fare. Foley delivers perhaps the most touching number in the show, "Fathers of Fathers," about parents of Boomers devolving into second childhood.
Happy talk, this isn't, so when the cycle ends with the supposed couples being "Closer than Ever," it feels forced, unearned. But with everything else so emotionally resonant, they can have their group hug. Everyone involved in the New Repertory production certainly earns it.
More