The Big Unveiling: Edgar Allan Poe Set To Emerge 'From A Coffin' Near Boston Common
It's been a long journey, but a statue honoring seminal horror writer Edgar Allan Poe's roots in Boston is about to be unveiled near Boston Common.
The big reveal, which will be attended by poet Robert Pinksy, is set for Sunday at 2 p.m. It comes just two days before the 165th anniversary of Poe's death. The creepy, Victorian writer was born in Boston in 1809.
Created by Stefanie Rocknak, a life-sized statue of a determined-looking Poe striding across Boston Common went into the ground more than a week ago. But nobody can see it because it's been encased in a wooden, "coffin-like" box.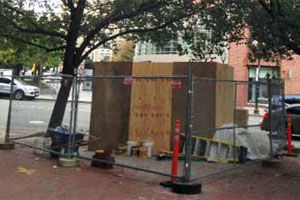 "So the first thing that they did was open up the square, remove the bricks, create a hole that's about the size of a large coffin," said Boston College professor Paul Lewis, who is chairman of the Poe Foundation. "Poe is therefore emerging from a coffin-like structure and it makes perfect sense."
Lewis calls Poe one of the most recognizable figures in cultural history.
"And what I hope is that people who know something about Poe — even school kids who are just starting to read, say, 'The Tell-Tale Heart,' which was first published here in Boston, will be thrilled by it," Lewis added. "And [that] it is going to become a delightful center of literary tourism."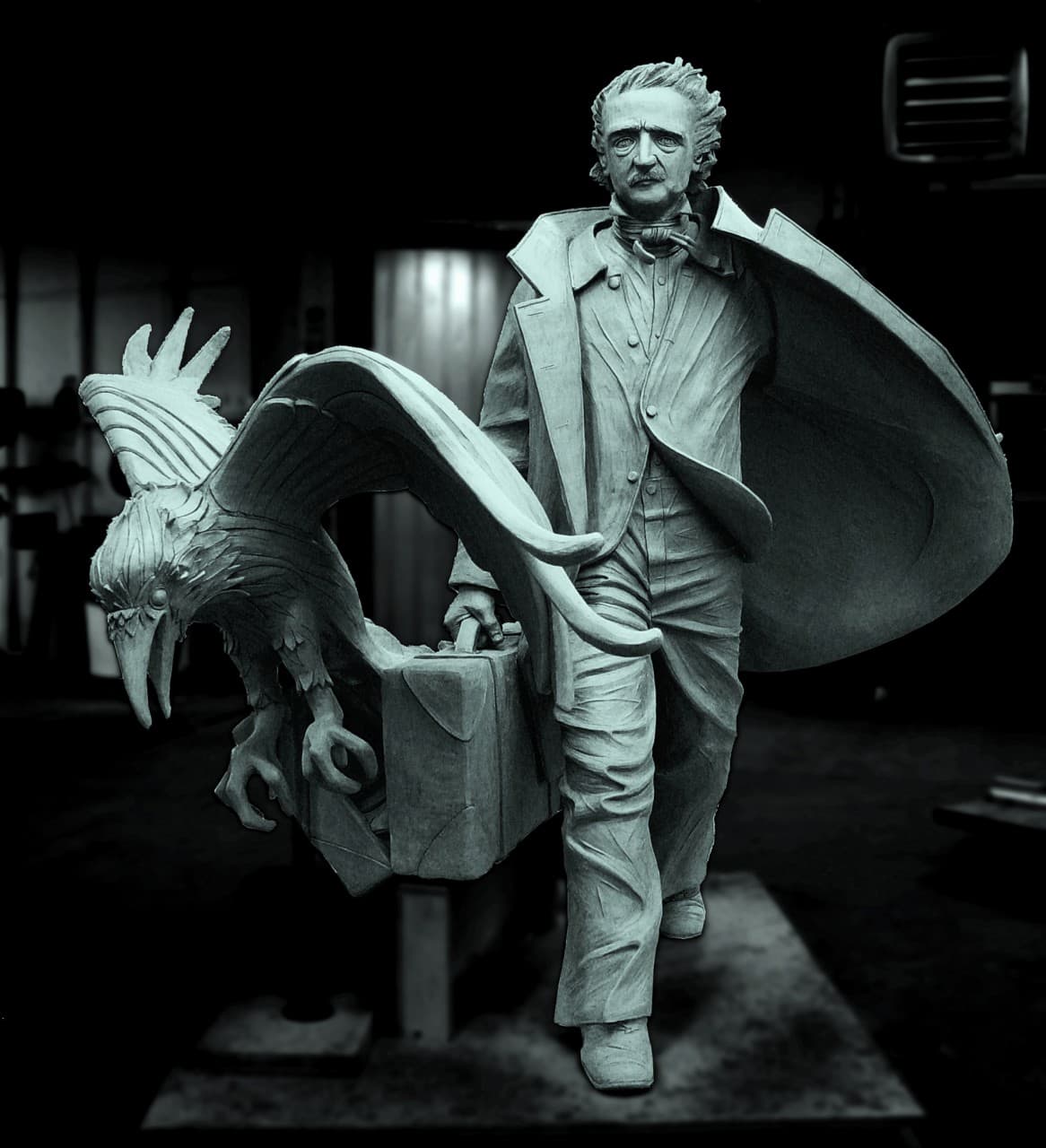 Lewis and many others have been on a five-year crusade to get this monument funded, approved and installed.
The complex statue was cast in 20 bronze pieces. Now installed by Shawmut Design and Construction, Poe stands 5 feet 8 inches tall.
Despite his new prominent position in downtown Boston, fact is, Poe spent a relatively short time in Boston. And as a literary critic, he managed to insult a slew of local 19th century writers, including Henry Wadsworth Longfellow.
Poe is buried in Baltimore, a city that also lays claim to the spooky master.
Editor's Note: Due to an editing error, this post was published using draft copy, as opposed to the final reporter copy. We regret the error.
Update on Monday, Oct. 6: Here are two of Andrea's photos from the unveiling:
Former Poet Laureate Robert Pinsky reading at the Poe statue dedication in Boston. http://t.co/lJoOGuvbPB pic.twitter.com/YUeJ5OLniH— Andrea Shea (@asheaarts) October 5, 2014

Here he is. Introducing Stefanie Rocknak's statue, "Poe Returning to Boston." pic.twitter.com/dcVRslXZ2d— Andrea Shea (@asheaarts) October 5, 2014

Earlier Coverage:
This article was originally published on October 04, 2014.