Here's How The Mass. Governor's Race Unfolded Election Night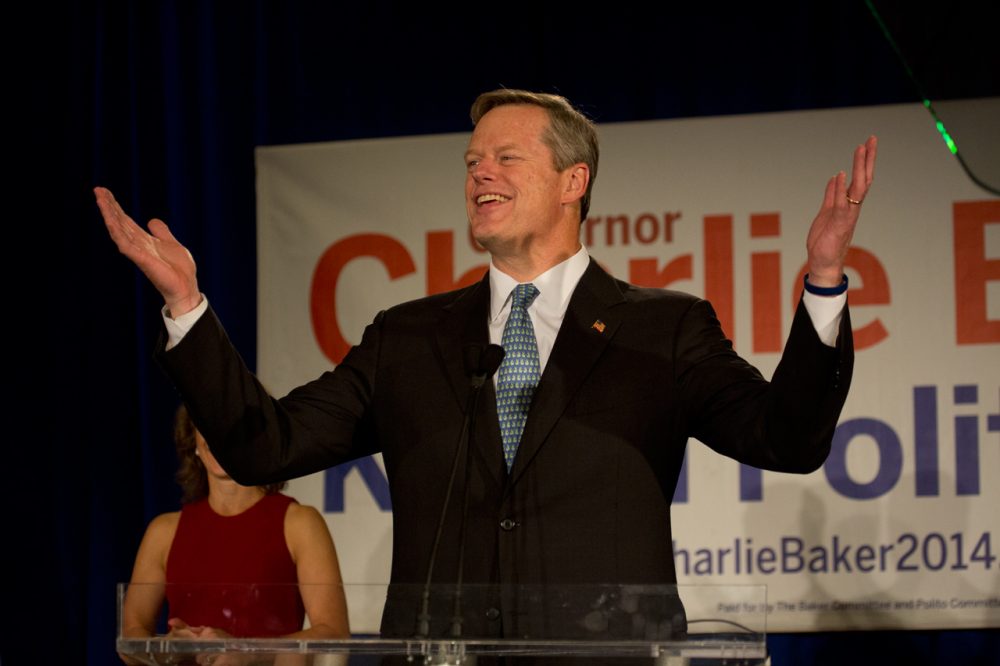 This article is more than 8 years old.
It was a suspenseful nail-biting Massachusetts gubernatorial race Tuesday as the vote tally coasted back and forth between Republican Charlie Baker and Democrat Martha Coakley. In the end, election night turned into early morning with Baker declared the winner, but no concession speech from Coakley.
Here's how things unfolded:
8:00 p.m. Tuesday - Polls closed across Massachusetts and all was pretty calm at the Baker and Coakley election night parties, where supporters gathered to await the results. At both camps, supporters were taking in the festivities and optimistic about the election.
The crowd is filling in now at @marthacoakley election HQ at Fairmont Copley Plaza hotel. #mapoli pic.twitter.com/8FAtLokxRI— Zeninjor Enwemeka (@Zeninjor) November 5, 2014

The waiting game continues at the Baker election night party, but supporters seem energized ... pic.twitter.com/4OQLpTDV4D— Asma Khalid (@asmamk) November 5, 2014

8:15 p.m. Tuesday - Election results started coming in and Baker was leading in the first hour after polls closed.

Early results show the race for Mass. Governor and US Senator from N.H. are very close. http://t.co/jTTgiT2Btu pic.twitter.com/rGAzqVDGmz— 7News Boston (@7News) November 5, 2014

With 7% precincts reporting, results in the Mass. governor race so far: http://t.co/amQqbZH3hL pic.twitter.com/Fl4w1qevMD— The Boston Globe (@BostonGlobe) November 5, 2014

9:00 p.m. Tuesday - Baker's lead narrowed as election results continued to come in the second hour after polls closed.

Coakley still within almost tie distance on the town by town comparison. Better than O'Brien 02 or Coakley 2010.— Steve Koczela (@skoczela) November 5, 2014

10:00 p.m. Tuesday - Things really heated up after 10 p.m. and the race became even tighter as Coakley moved ahead.

Even tighter in #magov: With 62% in, Coakley is +0.5 over Baker: http://t.co/EdQVZEyDrR #mapoli— WBUR (@WBUR) November 5, 2014

Big screen at Baker party shows the #magov race tied and it quiets the crowds ... #mapoli— Asma Khalid (@asmamk) November 5, 2014

The Mass. Governor's race is close with 64.4% of precincts reporting. #mapoli pic.twitter.com/drKhSkskN9— Zeninjor Enwemeka (@Zeninjor) November 5, 2014

.@RepKClark stokes crowd at @marthacoakley event. "The numbers are close but positive." @magov @WBUR pic.twitter.com/C6fibeffjs— Joe Spurr (@joespurr) November 5, 2014

Excited crowd at the TV at Coakley party as latest MA  Gov results flash on crawl pic.twitter.com/zn4BjUBX8G— Eric Moskowitz (@GlobeMoskowitz) November 5, 2014

Coakley leads Baker by 7,000 votes with 71.5% of the vote in. #mapoli— Garrett Quinn (@GarrettQuinn) November 5, 2014

Lots of cheers again at @marthacoakley HQ as latest Mass. gubernatorial race results flash on screen. #mapoli pic.twitter.com/PTn1wCFOx7— Zeninjor Enwemeka (@Zeninjor) November 5, 2014

"Martha! Martha! Martha!" - crowd reacts to latest numbers showing Coakley with a slim lead #magov #mapoli @WBUR pic.twitter.com/ChHyWdKWhE— Joe Spurr (@joespurr) November 5, 2014

With 75% of precincts reporting, Coakley is up by 100 VOTES over Baker: http://t.co/EdQVZEyDrR #mapoli #magov— WBUR (@WBUR) November 5, 2014

11 p.m. Tuesday - Three hours after the polls closed, there was no clear winner yet. But there was anxiety and tension at both camps as the results shifted back and forth between Coakley and Baker. But after 11 p.m., Baker began surging ahead.

With 79% in, Baker jumps back ahead by 7,000 votes: http://t.co/EdQVZEyDrR #magov— WBUR (@WBUR) November 5, 2014

At @marthacoakley campaign, silence #magov #mapoli— Frederic Thys (@fredthys) November 5, 2014

Baker now ahead with 21,948 votes over Coakley. #mapoli #magov14— Garrett Quinn (@GarrettQuinn) November 5, 2014

This MA governor's race is going back and forth like an NBA final, but there's no buzzer, so it'll be awhile. #mapoli pic.twitter.com/ozdRGsmDhU— Zeninjor Enwemeka (@Zeninjor) November 5, 2014

Tense atmosphere at @marthacoakley party. With 90% precincts reporting, about 5,000 votes behind @WBUR @magov pic.twitter.com/5cun2NHbfE— Joe Spurr (@joespurr) November 5, 2014

11:51 p.m. Tuesday - Fox News was the first news outlet to call the race for Baker.

.@FoxNews projecting @CharlieForGov wins race for Mass. governor #magov #mapoli #fox25 pic.twitter.com/Dfqp0TE6Xl— FOX 25 News Boston (@fox25news) November 5, 2014

12:00 a.m. Wednesday - As midnight approached, tensions rose. There was even talk about the possibility of a recount given the margin of votes between the candidates.

Approaching midnite, neither @marthacoakley nor @CharlieForGov ready to make a move yet. no calls, no declarations #wcvb #mapoli #magov— Janet Wu (@WuWCVB) November 5, 2014

The word "recount" is being used quite a bit @marthacoakley HQ, according to @LiamWCVB #wcvb #LongNight pic.twitter.com/UVJxUkOtAn— russnelligan (@russnelligan) November 5, 2014

If this holds, I'll be shocked if there is no recount or challenge. #mapoli— Garrett Quinn (@GarrettQuinn) November 5, 2014

12:07 a.m. Wednesday - ABC News projected Baker was the winner.

WOW --> @ABC projects that Baker will win the Massachusetts Governor race.— Ben Bell (@BenjaminBell) November 5, 2014

.@CharlieForGov campaign not ready to accept victory projections over @marthacoakley http://t.co/bb8IB3nmaH pic.twitter.com/cTmN3Z8gVf— WCVB-TV Boston (@WCVB) November 5, 2014

Lotta votes just came in. With 94% in, Baker up 1% - 20,000 votes: http://t.co/Vvj7iJNBFp #magov— Ben Swasey (@benswasey) November 5, 2014

12:15 a.m. Wednesday - Members of the Coakley campaign went around the room informing people that there would be no more speeches. As the information circulated, people began to leave, though several lingered for a while.

We're done for the night. No more speeches tonight, says @marthacoakley campaign #wcvb— John Atwater (@AtwaterWCVB) November 5, 2014

Some people are leaving the @marthacoakley event. But majority are not. #wbzelection pic.twitter.com/RQKrfcmxyW— Kate Merrill WBZ (@KateMerrill) November 5, 2014

Baker now leads Coakley by more than 27,000 votes, but looks like Coakley camp has called it a night without a concession speech #mapoli— Asma Khalid (@asmamk) November 5, 2014

12:40 a.m. Wednesday - Coakley HQ officially and abruptly drew to a close with an announcement over the sound system telling people the event was over and to get home safely.

Announcement at Coakley HQ: "Ladies and gentlemen tonight's program has concluded, please enjoy your evening and drive home safe." #mapoli— Zeninjor Enwemeka (@Zeninjor) November 5, 2014

Music has been cut. They'd just been playing "tell me something good."— Joe Spurr (@joespurr) November 5, 2014

12:55 a.m. Wednesday - The Associated Press calls the race for Baker. And by 1 a.m. just about every major news outlet had done the same.

The @AP has called it: Republican Charlie Baker wins governor's race in Massachusetts. #mapoli #magov— WBUR (@WBUR) November 5, 2014

BREAKING : Charlie Baker elected Massachusetts governor, reclaims top political office for Republicans.#7News pic.twitter.com/WySQhx6ZHG— 7News Boston (@7News) November 5, 2014

NBC News projects Charlie Baker (R) wins Massachusetts Governor http://t.co/1PFHxPixN0 pic.twitter.com/syWKOpFpSf— NBC News (@NBCNews) November 5, 2014

1 a.m. Wednesday - Though the Coakley campaign was done for the night, a few people continued to linger well past 1 a.m.

Stragglers left at Coakley HQ. Screen's lit up, not showing news that AP called it for Baker. Press lingering #mapoli pic.twitter.com/18sCYac4EM— Lauren Dezenski (@LaurenDezenski) November 5, 2014

It's a wrap @marthacoakley hdqts. Supporters disappointed she didn't address the crowd even if contesting the #s. pic.twitter.com/bcmoLXwTA5— Kimberly Bookman (@KimberlyBookman) November 5, 2014

1:21 a.m. Wednesday - Charlie Baker took the stage for a semi-victory speech. He told supporters he had talked to Coakley and she said she wanted to wait until the morning for the final election results.

Baker: We'll wait and see what happens in the morning. Crowd laughs. Baker: I mean that. #mapoli— Asma Khalid (@asmamk) November 5, 2014

1:30 a.m. Wednesday - Back at Coakley HQ, cleanup crews began dismantling the stage and mostly only media remained in the room. Coakley had already returned to her home in Medford.

The stage for @marthacoakley is being broken down at Fairmont Copley Plaza. #mapoli pic.twitter.com/WjYFL12AxV— Zeninjor Enwemeka (@Zeninjor) November 5, 2014

Coakley HQ just a gathering place for media and hotel workers now. #mapoli pic.twitter.com/VzkWegfNJM— Chris Cassidy (@ChrisCassidy_BH) November 5, 2014

The @marthacoakley speech we never got. #mapoli #magov @WBUR pic.twitter.com/XFwOhPCbHB— Joe Spurr (@joespurr) November 5, 2014

Martha Coakley returns to Medford home, will wait until morning for final results #wbzelection http://t.co/bohCW1QCkX pic.twitter.com/zoOfLwJBrh— WBZ Boston News (@cbsboston) November 5, 2014

6:35 a.m. Wednesday - With 99.3 percent of precincts reporting early Wednesday morning, it was more than clear nothing had changed with the election results overnight.

See how your town voted in 13 key Mass. races with our interactive map: http://t.co/3K8OjJL3Uy pic.twitter.com/vpo3ZGqkEA— WBUR (@WBUR) November 5, 2014

8:15 a.m. Wednesday - After a rollercoaster of an election night/day, Coakley conceded the race Wednesday morning. According to her campaign, Coakley called Baker at 8:15 a.m. to congratulate him on his victory.

Coakley's concession follows a nail-biting night for election watchers: http://t.co/rJIfLp3ZMQ #magov #mapoli pic.twitter.com/LWih1hMLxV— WBUR (@WBUR) November 5, 2014

11:00 a.m. Wednesday - Coakley addressed supporters at her Somerville campaign headquarters.

Update: @marthacoakley Concedes Governor's Race To @CharlieForGov http://t.co/w1SlOq7pbj pic.twitter.com/KmgDBVbniz— WBZ Boston News (@cbsboston) November 5, 2014

12:30 p.m. Wednesday - Baker gave his victory speech at the Seaport Hotel (less than 11 hours after leaving it on Election night). The governor-elect will become the state's first Republican leader since Mitt Romney left office in 2007.

Governor-Elect Baker congratulates Coakley and Kerrigan for running an "aggressive and hard-fought" race #mapoli pic.twitter.com/TeDpXwOUWd— Asma Khalid (@asmamk) November 5, 2014