3 Months After Student Walkout, Madison Park Administrators See Progress
04:16
Play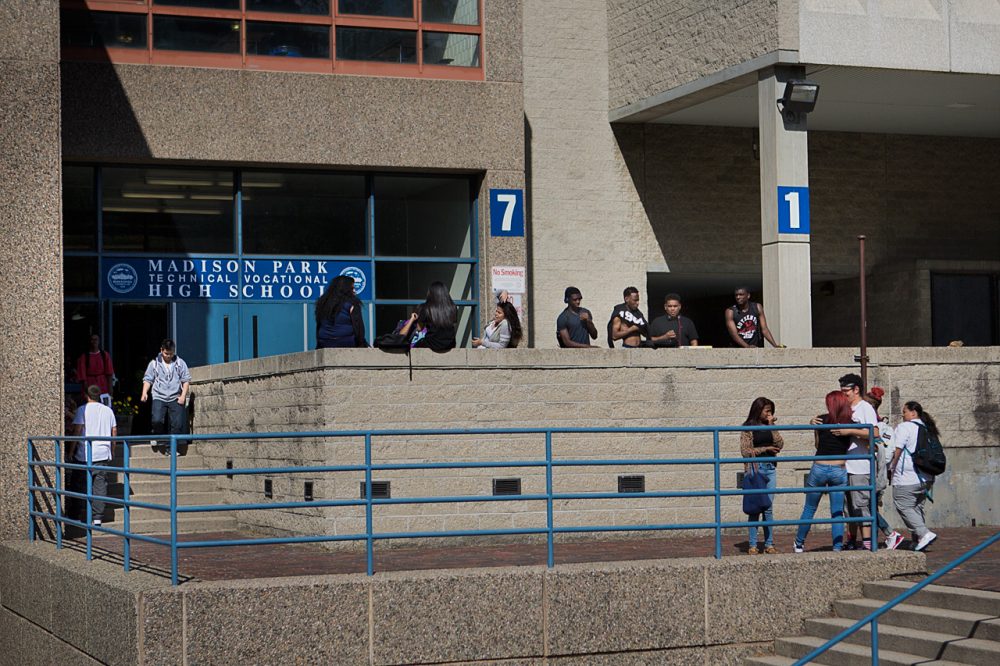 This article is more than 5 years old.
Twelve weeks after students at Boston's only vocational high school found themselves without classes to attend, school administrators believe they've successfully addressed the series of missteps that outraged parents and community leaders.
According to administrators, teacher vacancies at Madison Park High School have all been filled and students are immersed in 19 different trades programs. However, bringing new leadership and direction to the vocational school remains a work in progress.
Headmaster Resigns
On a recent school day, Vincent Fanuele, who's in his 13th year teaching carpentry at Madison Park, reviewed safety techniques on extension ladders with high school juniors.
This was a big change from the first week of school at Madison Park, when scheduling confusion led to a student walkout.
It took two weeks to sort out the scheduling issues and, by that point, the headmaster, Diane Ross Gary — who had failed to fill all teaching vacancies, in part because she'd only received authority to hire teachers weeks before the start of school — had resigned. Gary had not completed the required certification process for principals.
Retired school administrator Al Holland stepped in for her on a temporary basis.
"We've got the school operating as a normal career technical high school," he said. "I think there is a lot of work that has to be done in terms of making sure that the academic and the career tech sides come together."
'The Students Want To Achieve'
But, months after its rocky school-year start, there are some successes already on display at Madison Park High School. In a partnership with YouthBuild Boston and the carpenters union, Madison Park seniors are building a house in Roxbury, from the foundation up.
Fanuele said it's a first for Madison Park's carpentry program.
"It's a dream come true for us. For 12 years that's been our goal," Fanuele said. "So even though there has been the ups and downs, there has been progress toward that authentic work piece. It's been unbelievable."
Students who participate in the build will also be eligible to enter the carpenters union.
"When they start out in the carpenters union, their whole package for the half of the year is about $22 an hour," Fanuele said. "As they progress, after four years, their whole package is $68 an hour. It's a great deal. And right now, Boston is booming in construction."
To keep progress at the school moving forward, Holland said school officials are now addressing its leadership.
"With good leadership, I think the problems that currently besiege Madison will go away," he said. "The students want to achieve."
Seeking 2 Leaders
To make sure that happens, the Boston Public Schools Department is actually looking for two leaders. In addition to a headmaster, Holland explained, Madison Park will also get an executive director to focus on the school's training mission.
School officials say they expect to name the executive director in the next month or so.
In addition to hiring a headmaster, Holland said the executive director will have to immediately address the school budget.
"Most career technical high schools have a budget of maybe a range from $18,000 to $15,000 per student," he said. "When you calculate Madison's budget it's probably under normal career technical high school's programs."
That's because, in spite of the higher costs associated with vocational education, the Boston Public Schools system has been using the same budgeting formula it uses for all other schools.
The school department is addressing that by adding nearly $3 million to the Madison Park budget this year, and a spokesman said John McDonough, the interim superintendent of schools, is committed to an additional increase in the next school year.
Correction: Due to an editing error, an earlier version of this digital report made it seem that Diane Ross Gary's inability to hire teachers was linked to her not completing the required certification process. They were separate issues. We regret the error.
This article was originally published on December 01, 2014.
This segment aired on December 30, 2014.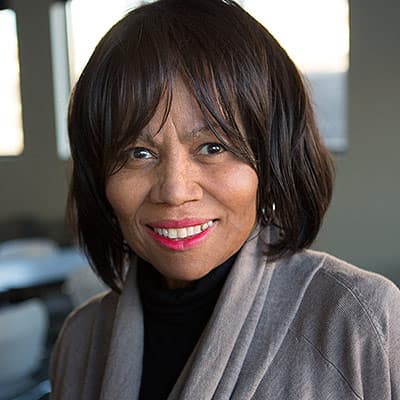 Delores Handy Reporter
Delores Handy was formerly a host and reporter at WBUR.