Ryan Landry Spices Up The Eggnog In 'Jesus Christ, It's Christmas!'
Jesus Christ, It's Christmas! Must be time for another gaudy, bawdy seasonal entertainment from Ryan Landry and the Gold Dust Orphans — this time "Jesus Christ, It's Christmas!," built on the 1947 film "The Bishop's Wife." Unless you count the intrusions of Liberace and Liza Minnelli, the new show (at Machine through Dec. 21) cleaves to the basic story and moral of the original — except that eminent parodist and theologian Landry has decided Dudley, the debonair angel played by Cary Grant in the movie, was a square-old-times copout. Heaven surely wanted to send Jesus himself to set a nuptial fire under the clergyman of the title, yanking his head out of cathedral dreams by poaching on his pretty wife. So the rollicking Orphans have stepped in, recasting the film's celestial emissary as the Son of God himself. Yes, despite it's being Nativity time, Landry's Jesus is no babe in a manger but a hunk in a loincloth who, instead of morphing water into wine, has turned his own torso into a six-pack. Hallelujah!
Landry's Yuletide entertainments tend to ebb and flow, but this one splashes right along, with production numbers featuring not only devils and angels but cavorting sheep, steeds, and a barrage of inventive costumes from the busy sewing machine of Scott Martino. Certainly these were all made in advance since, once the curtain goes up, Martino is sunk in the cups of a housemaid so drunk she couldn't get the hair of a camel through the eye of a needle. And the stumbling, slurring maid is not the only one conspiring to turn the bishop's book-lined residence into a Gold Dust Orphanage. There are also a pregnant secretary pilfered from "Mame" and a child who's no cute Karolyn Grimes (who played the kid in both "The Bishop's Wife" and "It's a Wonderful Life") but an overgrown Liza with not only a Z but a muffin top and an eye patch. Amid this madness, the bishop and his wife are played (relatively) straight and very well by Paul V. Melendy and Darcie Champagne.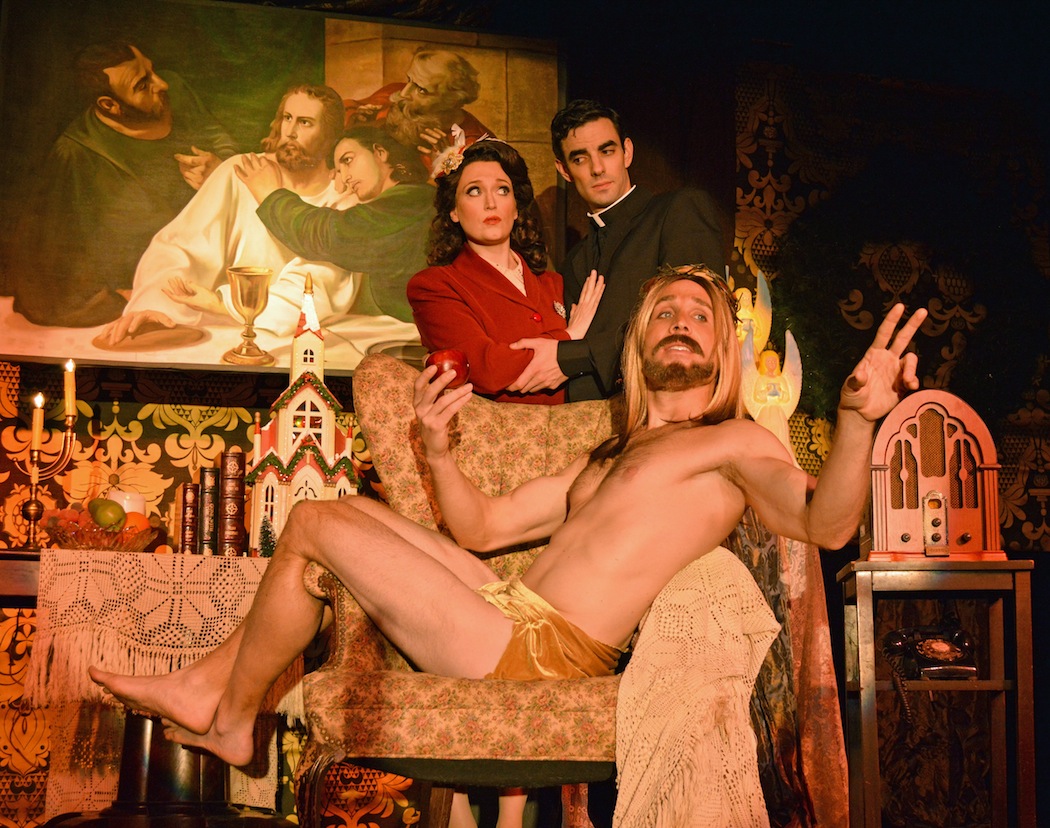 In perhaps the show's most apt appropriation, Champagne's Julia, when tempted by a savior more seductive than Satan, gets to belt a mean "I Don't Know How to Love Him" from "Jesus Christ Superstar." Ultimately, the charming performer not only taps into the prim 1940s milieu and Christ's libido but also taps up a storm. As for Casey Preston's Jesus (who enters by rolling a rock away from his tomb), he is one hot slice of Bible cake, with long blond hair and a beatific grin, whether offering the bishop "guidance" or trying to run off to heaven with his wife.
Which reminds me that, yes, Virginia, there is a plot. Liberace (a restaurant owner) and Liza (the aforementioned unfortunate child) are more or less dropped into it like the host of swaying angels, both human and not, who sing backup on "I Don't Know How to Love Him." Whitney Houston has a less tentative claim on the territory, since she starred in a 1996 remake of the movie called "The Preacher's Wife." Here Houston (a histrionic Qya Marie) and her one-woman security force of an assistant, Miss Tinsel (Landry in garish holiday hues and shooting visual daggers), are bullying the bishop with the promise of a large donation to his planned cathedral but only if it features a chapel in the shape of Bobby Brown's head (and yes, there is an architectural model complete with manneqin's noggin).
On the way toward the bishop's inevitably turning his back on Mammon and toward his marriage, we get clever takes on both the holiday and the Broadway songbooks. The homely kid, miraculously transformed into Lott's barking Minnelli, pulls all the stops out of "Have Yourself a Merry Little Christmas," and Melendy's bishop raps to "Carol of the Bells." But the real miracle on Boylston Street is that "Jesus Christ, It's Christmas!" puts a big red bow on blasphemy without really damaging the ecumenical sentiments and family values of the original film's old Hollywood heart.
Previous Reviews of Ryan Landry and the Gold Dust Orphans: