Cambridge Choir School Charting High With Christmas CD
07:08
Play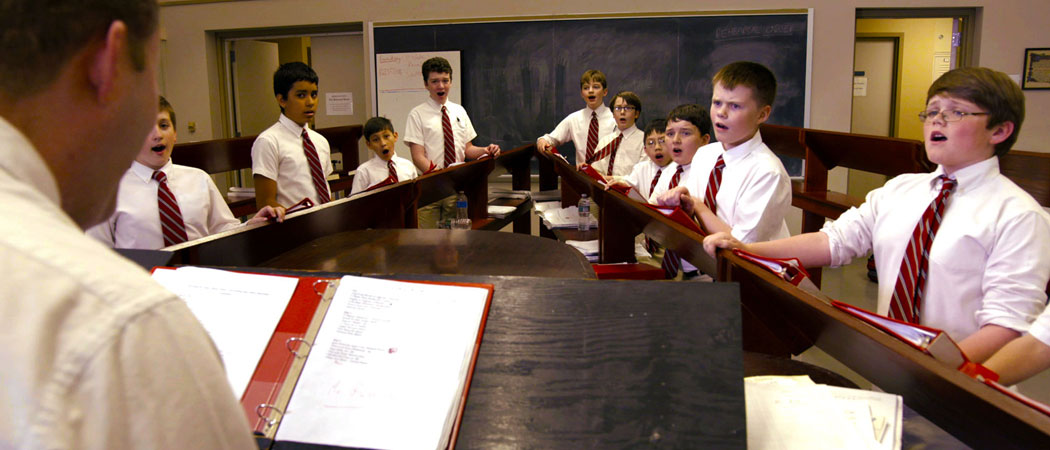 This article is more than 6 years old.
Most of us don't often get to hear the singing voices of young boy sopranos. There are only a handful of boys choir schools in the U.S. — most of them tied to a church, one secular.
There is only one Catholic boys choir school in the country — St. Paul's Choir School in Cambridge. And the school is celebrating the release of its first CD, called "Christmas In Harvard Square."
The CD is near the top of the classical Billboard chart -- a thrill for the school's director of music, John Robinson.
He arranged the music for several of the tracks, mixing some rare traditional holiday music with more familiar songs.
"So that was a fascinating challenge to be able to come up with new material there for hymns which are so famous and which everybody knows so well," Robinson said.
The CD features 19 songs. Three are widely known Christmas carols. The rest include contemporary works by British composers, German carols translated to English and centuries-old Latin hymns.
A new composition by Robinson on the CD is "I Sing Of A Maiden."
"[It] is a medieval text from the 15th century which has been set by a number of composers before," Robinson explained. "What I did with that was to create a kind of refrain of 'Ave Maria' which comes out throughout the whole piece. And the effect of that is to create a very meditative kind of mood, which then contrasts with the way that the boys' line just sort of goes higher throughout the whole piece until the end, so that it creates a kind of an arch-like structure."
About 40 boys in grades four through eight attend St. Paul's Choir School. They have two rehearsals every day and sing at daily Mass. The school also has a reputation for rigorous academics which include Latin, piano and classical music. Most of the boys were not familiar with this type of music before coming to the school.
"We realize that in most cultures, boys of this age are not going to have had very much exposure to classical signing, especially to liturgical classical singing," Robinson said. "So we're really looking for boys who seem lively and intelligent and who are going to be able to learn all of that really from day one when they arrive."
Eleven-year-old Colin Lapus is in his third year at St. Paul's. His family moved here from the D.C. area so he could attend the school.
"It's a very unique experience to sing in the choir, given that it's the only [Catholic one] in the country and not a lot of boys get to do it," Colin said.
Like many of the other boys, he sings solos during Masses and concerts. But he's now performing a solo that a different boy did on the recording. That's because of an inevitable challenge with the voices of boys this age: They change.
"We had boys who just made this fantastic Christmas recording ... and then the very next month their voices were down in their boots and they couldn't do anything," Robinson explained. "So, you know, it's certainly a part of life here."
Robinson said when the boys' voices mature, they're in different choirs at the school — just not the marquee one known for its high soprano singing.
"[We] accommodate, and reassure, and sympathize," Robinson said.
Eleven-year-old Thomas Potts hasn't reached that point yet. His favorite song on the CD is "Jesus Christ the Apple Tree."
"Because it's very pure, because it's the boys and the boys only, no organ, no nothing," Thomas said.
Making a CD has thrown a bit of show business into the students' usually quiet but demanding schedules. They recently went on a press tour to New York City.
"It was just a great experience. It was fun going to those places," Thomas said. "And, you know, we had to be kind of serious, but still..."
Thomas is serious about music. He plans to pursue a musical career after all of this singing.
Meanwhile, Robinson hopes the CD will help spread the word of boys choirs and this type of education, which is common in his native England.
"Really, we're looking to try and inspire other people to start founding choir schools. I mean, part of the reason I came to America is that it seems like a blue touch paper waiting to be lit. Chorally, it seems like it's going to explode once people get this sense of how it can be done."