4 Things To Know About Space Savers In Boston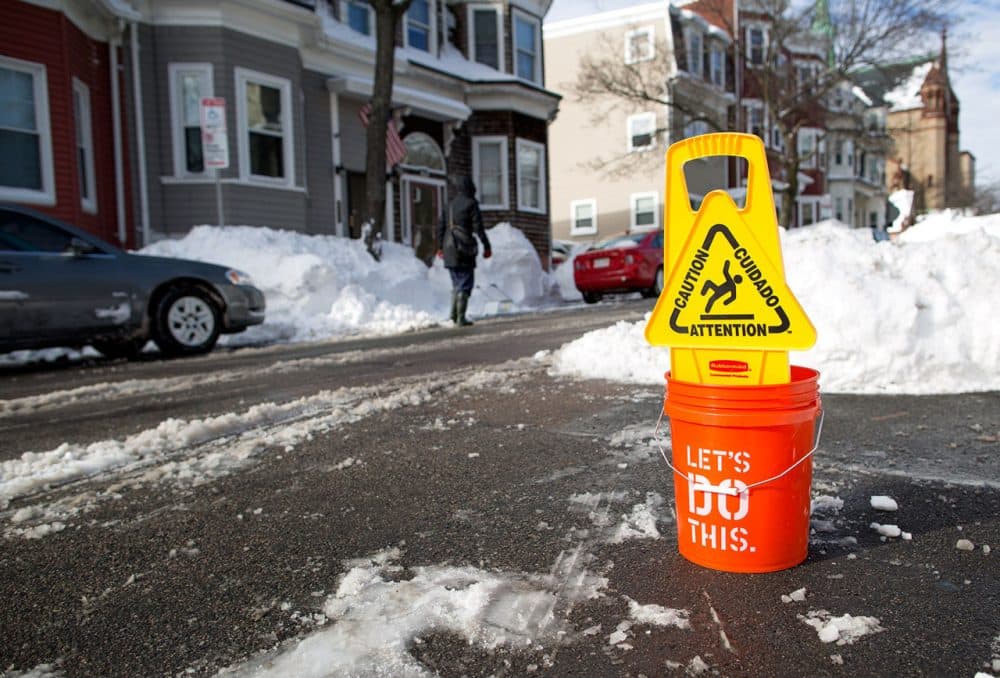 This article is more than 6 years old.
After any major snowstorm, when it comes time to dig out from the snow, there is often another battle taking place on Boston's streets — the war over parking spaces.
Enter: space savers.
It's a city tradition, in which people use anything from household furniture to peculiar objects and signs to claim a parking spot they've shoveled out. The longstanding practice has its own rules — formal and informal. Here's what you need to know about space savers in Boston:
1. The City Has A Policy
Following Tuesday's massive blizzard, Boston's parking ban was lifted at 5 p.m. Wednesday. So from then you have 48 hours to use space savers, according to the city's parking regulations. It's a policy that was implemented by Mayor Menino.
At a Tuesday press conference, Mayor Marty Walsh made it clear that he believes if you shovel out a parking space, it's yours to keep for a little while.

Mayor Walsh says if you spend 10 hours shoveling out your parking space, its yours for a couple days. #blizzardof2015

— WBUR (@WBUR) January 27, 2015

But, if you live in the South End, you may not be able to get away with the practice...

2. Space Savers Aren't Welcomed Everywhere In Boston

Earlier this month, the South End became the first neighborhood in the city to formally ban the practice, The Boston Globe reported.
Last winter, the South End Forum — whose member organizations voted unanimously for the ban — launched its own pilot program to rid the streets of space savers. When there were no complaints, according to [Stephen Fox, who cochairs the South End Forum], they took the idea to the city, which agreed to the neighborhood-wide ban.
The ban is part of a pilot program implemented this winter, according to the mayor's office.
"Our primary focus right now is on snow removal and opening up access on our streets, and then we can assist on space savers," Walsh spokeswoman Melina Schuler said in an email. "We are asking South End neighbors to be mindful of the new policy there, and remind their neighbors if necessary."
The ban on space savers isn't just limited to the South End. Just across the river in Cambridge, the practice is also banned. Cambridge police said they would confiscate any space savers used after Tuesday's storm.
@pbugbee Space savers are illegal in Cambridge. @CambridgeDPW will confiscate any space savers. — Cambridge Police (@CambridgePolice) January 26, 2015

3. There Have Been Fights Over Parking Spaces

Retaliation, fights, vandalism — if space savers are common where you live, then you probably already know how contentious things can get when someone removes one to take another person's parking spot. There was the South Boston man who allegedly used a nail gun to shoot out the tires of a car parked in his space. Then there was the guy who allegedly assaulted a 66-year-old man and broke his jaw after a dispute over a parking space. (2/17 Update: The snow has not stopped, and neither has the vandalism over removed space savers.)

There are no hard-and-fast rules on space saver etiquette, though common courtesy would likely avoid these issues. Here, from Caught In Southie, is a fun take on some of the unofficial rules of space savers to help you avoid such conflicts this winter.

And if you do have an issue with your space saver or parking spot, Schuler said you can call the mayor's hotline at 617-635-4500.

4. Space Savers Can Get Pretty Creative

One rule that's clear is that you can pretty much use whatever object you can find as a space saver. Lawn chairs and cones are pretty popular and oftentimes are accompanied by a funny or snarky sign. Here is a good roundup of quirky space savers.

And here's a look at how people are saving parking spots around town after Tuesday's storm:

A blue crate and some wood save a parking space in I Street in South Boston. (Robin Lubbock/WBUR)

Cones can make a good space saver. These two mark a space on I Street in South Boston. (Robin Lubbock/WBUR)

A green plastic chair guards a parking space on Linden Street in Boston. (Robin Lubbock/WBUR)

Eddie McLaughlin surveys the space he's cleared for his car on I Street in South Boston. He says space saving in South Boston is "a tradition." (Robin Lubbock/WBUR)

Rashawn King clears the snow away from around his car on Rutland Street in the South End. He won't be marking the space with a saver. "It's illegal. I just have to find another parking space," he says. (Robin Lubbock/WBUR)

Beach chairs don't only have to come out in the summer. This blue beach chair marks a parking space on I Street in South Boston. (Robin Lubbock/WBUR)

Luis and Angleica Irizarry dig out their car on Rutland Street. They say people need to save their parking spaces and should respect parking spaces cleared by others. (Robin Lubbock/WBUR)

This milk crate saves a parking space on West Concord Street in the South End. (Robin Lubbock/WBUR)

Melissa Anello, left, and Ali Bogdan dig out Bogdan's car on I Street in South Boston. If you dig yourself out a space, says Anello, "you have the right to save it for a while." Space saving seems to be less of a concern for Bogdan, who says she won't be moving her car for a while. (Robin Lubbock/WBUR)

A white plastic laundry bin guards this space at the entrance to Concord Square in the South End. (Robin Lubbock/WBUR)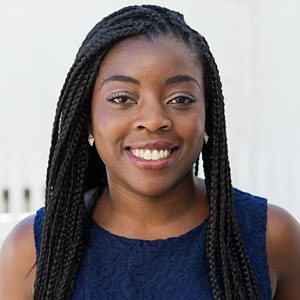 Zeninjor Enwemeka Senior Business Reporter
Zeninjor Enwemeka is a senior business reporter who covers business, tech and culture as part of WBUR's Bostonomix team, which focuses on the innovation economy.