The Boston Calling Music Festival Just Keeps Getting Awesomer, But…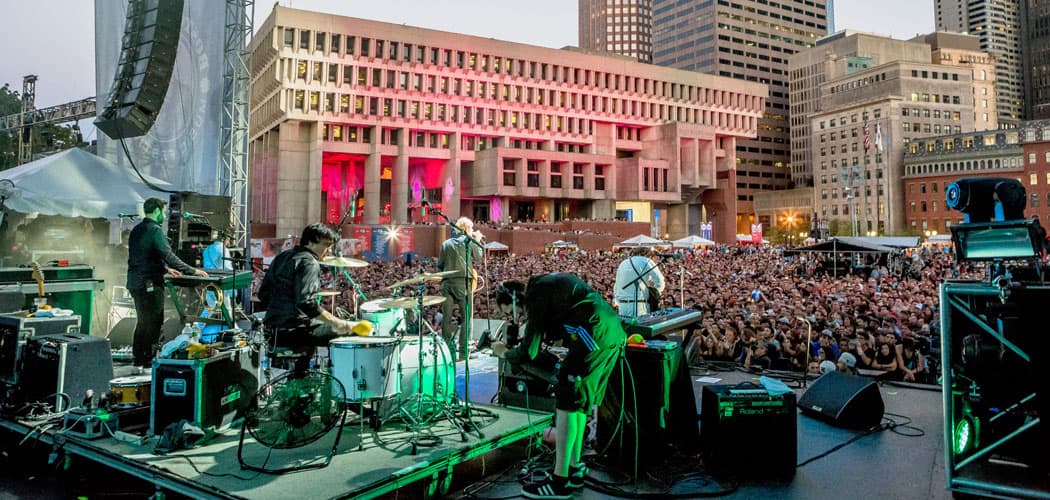 This article is more than 6 years old.
Last spring, I wrote a fraught essay attempting to articulate my anxieties and frustrations around the still-nascent Boston Calling Music Festival (now in its third year). I worried that its potential to bring a diverse collection of forward-thinking pop, rock and hip-hop acts to Boston was undermined by a tendency towards safe, blandly canny choices. I criticized it for its white-guy homogeny. I also made a number of suggestions for future lineups, including the ever-evolving Beck and avant-garde indie pop queen St. Vincent.
Since both Beck and St. Vincent are on the preliminary May 22-24 lineup, it is tempting to just claim victory and leave it at that. And indeed, the headliners are notably strong: Along with Beck, we have the reunited alt-rock legends the Pixies and hipster southern rockers My Morning Jacket. It's disappointing not to see a hip-hop act among the headliners, like we had for the past two Septembers, but at its heart Boston Calling is an indie rock festival with pop leanings. Judged by that narrower rubric, the May festival does an excellent job of finding headliners with real legacies—in some cases still vital and developing—whose music has pointed the way for indie rock in the past and functions as a kind of compass still.
But the best thing about the May Boston Calling lineup can be observed on its website, where this year's critically anointed underground hip-hop duo Run the Jewels are positioned next to the wise, understated country singer Jason Isbell. The contrast is vertiginous but exciting, a welcome reminder of the strange, glorious potential of popular music. The other best thing on the lineup is Krill, a Boston-based garage-punk outfit prone to odd time signatures and twisty, dynamic compositions. It's nice to see a nod to the city's vibrant basement rock scene, however it may contrast with the festival's otherwise commercial polish. (I still don't know how to feel about Tenacious D. Is Jack Black's goofy comedy rock band an endearingly whimsical choice, or should I be annoyed that such a stupid band is taking up a whole festival slot?)
That said, Boston Calling still seems to suffer from a strange disconnect between headliners and the lineup curated to support them. The names in big letters are all mid-career artists whose core audience is mostly out of college and even middle-aged. The supporting acts, on the other hand, seem like a hodge-podge attempt to entice the Youth and stay abreast of the ever-advancing tide of hipness. From a marketing standpoint, the choices are savvy. The festival has rightly recognized the influence of Swedes in American pop (read: Robyn, Max Martin, Icona Pop), and have consequently rounded up three artists with Scandinavian roots: the perpetually-anthemic pop-rock band Grizfolk, the melancholically atmospheric electro-pop singer MØ, and the confessional, Top 40-oriented Tove Lo. There is also a smattering of tasteful folk-rock, in the form of The Lone Bellow and Vance Joy, eager to fill the void left by Mumford & Sons.
Taken as a whole, the supporting lineup feels a little tame, a little less inclined to look for future avant-weirdos like St. Vincent and a little too content to book the latest acts to elbow their way into the pop charts. Not that there's anything wrong with music that's light and catchy and fun; it doesn't have to be all Serious Music for the Ages. But the Boston Calling curators sometimes seem to have trouble distinguishing between superlative pop music and stuff that's dressed up in all the correct of-the-moment signifiers but is, when you get right down to it, not really doing much. (Or maybe they just don't care.)
As is my wont, and in the proud tradition of critics-never-satisfied-by-anything, I will follow this litany of disclaimers with a positive recommendation. The Memorial Day weekend Boston Calling Music Festival is definitely worth attending. Here are 10 reasons:
Beck
My Morning Jacket
TV on the Radio
St. Vincent
Run the Jewels
Sharon Van Etten
Jason Isbell
Krill
Chet Faker
Pixies
This article was originally published on February 03, 2015.