'Shadows In The Night': Dylan Does Sinatra. Really?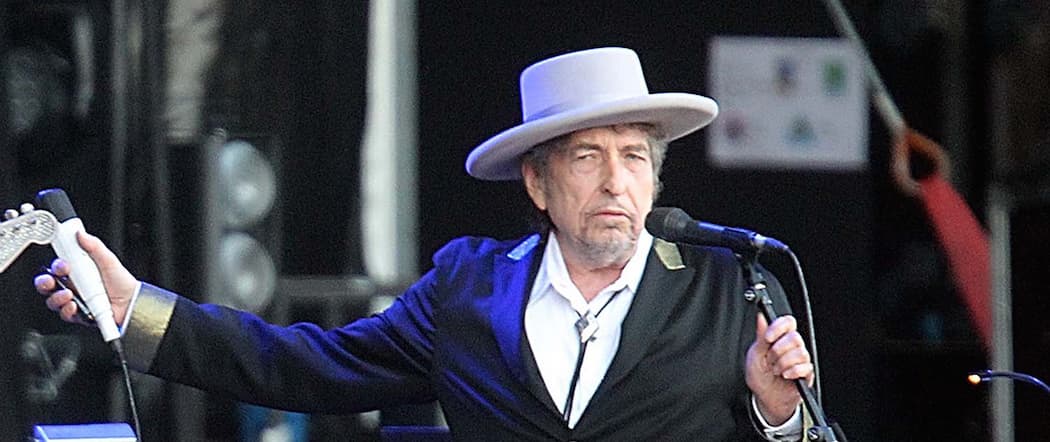 This article is more than 6 years old.
"Shadows in the Night" could just as easily be titled "Dylan Does Sinatra," as it's a collection of tunes from the Frank Sinatra songbook, some well known ("Autumn Leaves," "Some Enchanted Evening") and some obscure. Dylan's fondness for Sinatra, and for the so-called "Great American Songbook," is hardly a big secret. He's performed some of these tunes in concert over the years, as well as numbers by Hoagy Carmichael, Irving Berlin and other Tin Pan Alley songwriters.
The respect Sinatra and Dylan held for each other is a matter of record; when Dylan participated in the "Sinatra: 80 Years My Way" TV special in 1995, he was the only performer to sing one of his own tunes at the request of the Chairman of the Board himself. Sinatra asked for "Restless Farewell" and gave Bob a standing ovation when he was done. A few years later, the notoriously reclusive Dylan attended Sinatra's funeral.
At this point in his career, can we really begrudge Dylan anything? If he wants to release an album of Christmas songs, as he did a few years back, more power to him (although he can't force us to listen to it). If he wants to tackle the so-called Great American Songbook, fine.
"Shadows in the Night" has its compelling moments. The arrangements on the 10 selections are understated and minimalist, mostly played by members of his road band, primarily bowed bass and steel guitar, with some horns added for color and dynamics. This isn't one of those string-laden orchestral efforts a la Linda Ronstadt or Rod Stewart. It's got more of an intimate, "glass-of-bourbon-in-a-dark-bar" feel to it, just this side of noir.
While Dylan's voice on recent albums and in concert has been a shredded mess of unintended glottal stops, it turns out that when he sings softly, he can croon like a bird, though more like a crow than a songbird. When the songs deal with aging and loss, there is an undeniable poignancy. And Dylan has a way of transforming a love song, such as the album's highlight, "Stay with Me," into a prayer or a psalm. (Incidentally, a good number of these tunes were written by immigrant-era Jewish songwriters.) Dylan has always boasted the easygoing phrasing of a jazz singer, and here his natural swing gets put to great use.
Still, the question remains: Why? We can understand why Dylan himself wanted to record these songs. His motives are sincere; this isn't a crass attempt to cash in on the trend of late-career rockers recording albums of "standards." Dylan does it his way, and for the most part, he makes these songs his own by using them as vehicles through which to tell his own story.
Still, there is an unresolved tension buried in the entire project. These songs, and Frank Sinatra, represent the very culture rock music set out to overthrow. This was square stuff — our parents or grandparents' music — songs that, at least on the surface, represented the status quo, although Dylan does a decent job of uncovering their subversive elements. Dylan has always denied membership in the 1960s counterculture, but he can't deny that, along with Chuck Berry, John Lennon and Paul McCartney, he is probably the individual most responsible for having rendered Sinatra and his ilk culturally irrelevant.
In other words, Dylan killed off this music the first time around. Maybe "Shadows in the Night" is his amends. But after listening to it a few times, I put my Dylan library on random play. "One of Us Must Know (Sooner or Later)," "Ramona," "Gates of Eden" and "Dear Landlord" never sounded so urgent, vital and explosive. In contrast to those songs, or anything from that period of Dylan's oeuvre, "Shadows in the Night" smells like writer's block. But maybe that makes me the nostalgic, sentimental fool.
Seth Rogovoy is the author of "Bob Dylan: Prophet Mystic Poet" (Scribner, 2009) and a regular contributor to The ARTery.
More on Bob Dylan
Seth Rogovoy Contributor, The ARTery
Seth Rogovoy was a contributor to WBUR's The ARTery.