'They've Always Had Open Arms': Second, Third Chances Are Key To Lowell Youth Program's Success
06:39
Play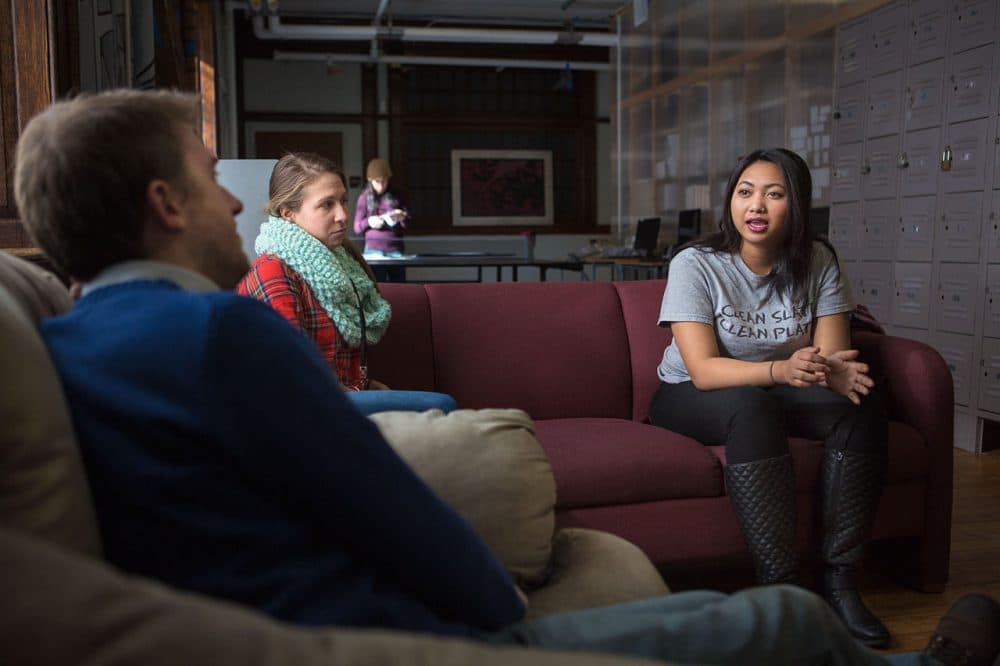 This article is more than 7 years old.
An FBI estimate suggests street gangs are responsible for as much as 90 percent of the violent crime in Massachusetts.
And in the city of Lowell, human service workers say there are more than two dozen active gangs.
But a program here is having success with young people who are either involved or close to being involved in gang activity. Young people like 23-year-old Matt Pomerleau.
"I didn't really have any place to go, no home to live, nothing like that," he says. "So they really helped me out, gave me a chance to make money."
"They" are UTEC, which stands for United Teen Equality Center. The program is part drop-in center, part school, part counseling and mentoring, part vocational training and social justice advocating, part cafe. But most of those involved with UTEC say what it really is is a family.

UTEC Executive Director Gregg Croteau seems to know almost all of the 150 young people working intensively in his program. He proudly shows us around the former church that's been converted to UTEC's 20,000-square-foot headquarters.
Our first stop is the "courtyard" — an angular space with high ceilings and windows looking into the UTEC cafe. On one side is the brick wall of the church, onto which UTEC had to build an addition in order to expand. Stained glass windows from the church hang as decorations. Young people make much of the artwork and furniture — a graffiti-decorated coffee table, chairs made from recycled cardboard. Trendy music plays from speakers throughout the center.
"It was very intentional. The building for us is kind of a reflection of how we see the young people," Croteau explains. "We really do believe that young people rise up to it — rise up to the environment -- and it reflects how we feel young people should be valued."

In UTEC's kitchen, we meet Shaun Johnston. The 20-year-old says five months ago, he was roaming the streets of Lowell — no job, no high school diploma, hanging around with gang members — when a street worker intervened.
UTEC's four street workers represent the first level of the program. They go into the courts, jails, hospitals and streets looking for disengaged 16- to 24-year-olds like Johnston.
"They pulled me aside and were like, 'You know, I see you out here every single day. You're doing the same thing. You're not going anywhere, and we just want to see you do better,' " Johnston reflects. "And, like, them actually taking an interest in me wanting to do better helped me want to do better for myself."
Johnston is now paid to work in UTEC's cafe, which is open to the public four days a week. Along with a catering business, it's one of UTEC's three enterprises designed to teach job and social skills.

About 80 percent of the young people in UTEC have recent criminal involvement, and about 90 percent have not finished high school.
Twenty-year-old Ginny Chhuon, who works in UTEC'S kitchen, says street workers reached out to her when they realized she was struggling as an uneducated single mother.
"I think I probably would be homeless if I didn't find this place," Chhuon says. "I respect them so much, like, it's crazy. It's crazy. They're my family. I mean, they took care of me. And the least I can do is bring that back to them, respect them, and show them I can do it, show them I can be successful."

When young people enter the program, they are each assigned a transitional coach who follows them — even if they leave UTEC — for three years. Their coaches help connect them with GED classes, tutoring and counseling right at UTEC, and offer whatever other support and guidance the young people need.
All of the young people at UTEC start by working in the program's mattress recycling center in an old mill building in Lawrence.
Around the warehouse are 10-foot-high piles of mattresses waiting to be broken down. About 20 young people slice off the mattress covers and then compress the padding in a big machine. Among them is Pomerleau.
"I been here, say, like two or three years, and this is my third time coming back," Pomerlau says.

UTEC always lets its young people come back. When Pomerleau returned to UTEC this time, he quickly earned his GED at the center.
"They've always had open arms for me," he says. "I got in some trouble with the law, basically. And they have a case worker, and he can help me with my court cases and all that — get that situated out with community service and all that so I don't have to pay fines."
Pomerleau is about to become a father, and that's something else UTEC helps with. The program will soon have daycare and early childhood education on site. UTEC is helping lead a push for that kind of "two-generational" programming in Massachusetts — ways to get young parents and their children connected with social services together to try to break the cycle of poverty and crime. In fact, the young people at UTEC worked with state lawmakers on the legislation that's just been filed to provide that programming.
Geoff Foster, UTEC's director of community organizing, says their young clients are also taught about advocacy and civic engagement to foster optimism and self confidence.
"Learning how to engage somebody in a position of authority to get something that they want, it teaches them how to craft messaging, how to be patient, how to understand the audience," Foster says. "But ultimately, if they can advocate for themselves at the State House, they can advocate for themselves in a job down the line, as well, in a healthy way."

UTEC was founded almost 16 years ago by young people in Lowell looking for a safe haven from gang violence. With a $40,000 grant, they hired Croteau as their director. Now UTEC reaches out to about a thousand young people a year and has a $4 million budget funded by private foundations and donations, federal and state grants and revenue from its enterprises.
Croteau says the program has been able to grow because the staff has used data to show its approach works. Although the data suggest young people in the program are much less likely to wind up back in the criminal justice system, Croteau and his staff are still working to improve.
"We want to keep getting better and better about getting those outcomes stronger and stronger," he says. "So if our recidivism rate is 15 percent now compared with the state average of 65 percent, our goal is to drop that down to 10 percent. We can continue to make that case that this work is just a huge return on investment."
While seeing young people turn their lives around and helping society are part of what motivates Croteau, UTEC's mission of creating a caring, safe place for youth is a deeply personal one .
"I was adopted by an amazing mother and father," Croteau reflects. "An important piece of the work that we do is to make sure that our young people have that support. We've all kind of, at different points, felt as though we're the only one and felt like, you know, there was not someone there. And I think a big part of what we want to do is to make sure that our young people never feel that."
This segment aired on February 13, 2015.