Mayor Walsh Relaxes Enforcement Of Space Savers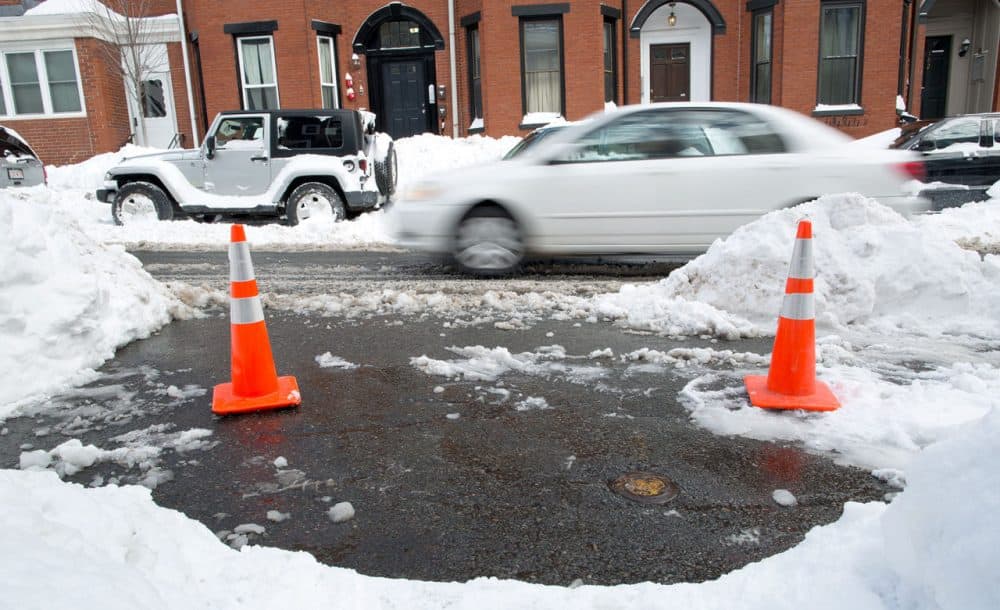 This article is more than 7 years old.
Amid record snowfall this winter, the Walsh administration is prioritizing snow removal over enforcing the 48-hour policy on space savers in Boston.
In a Boston Herald video taken Saturday, Walsh said his administration "changed the [space saver] policy":
We changed the policy because of the fact that, you know, the policy had always been under the previous administration 48 hours and then you remove your space saver and the intent behind that was that after 48 hours after the storm, historically, a lot of the snow has melted and people have been able to find parking. There's no parking out here in the city. There are snowbanks on streets that just haven't melted at all. So we relaxed the 48-hour period, just so people could still have a parking space.
But the mayor's office clarified Monday that it's the enforcement of the space saver policy that is being relaxed.
"Space savers are meant to be used on a short term basis, with 48 hours as a guideline, and Mayor Walsh urges residents to treat their neighbors with respect, and use good judgement around this," Walsh spokeswoman Melina Schuler said in an email. "Our primary focus right now is on snow removal and opening up access on our streets, and then we can assist on space savers."
So, the gist here is the city is not going to be spending time removing and policing space savers, so just be mindful of your neighbors. Traditionally, the policy is that you have 48 hours to use a space saver after a snowstorm, so use that as a guideline.
And if you live in the South End, remember that space savers are not allowed under a new pilot program.