Boston's Snowy Sidewalks Can Be A Big Challenge, Especially For The Disabled
04:08
Play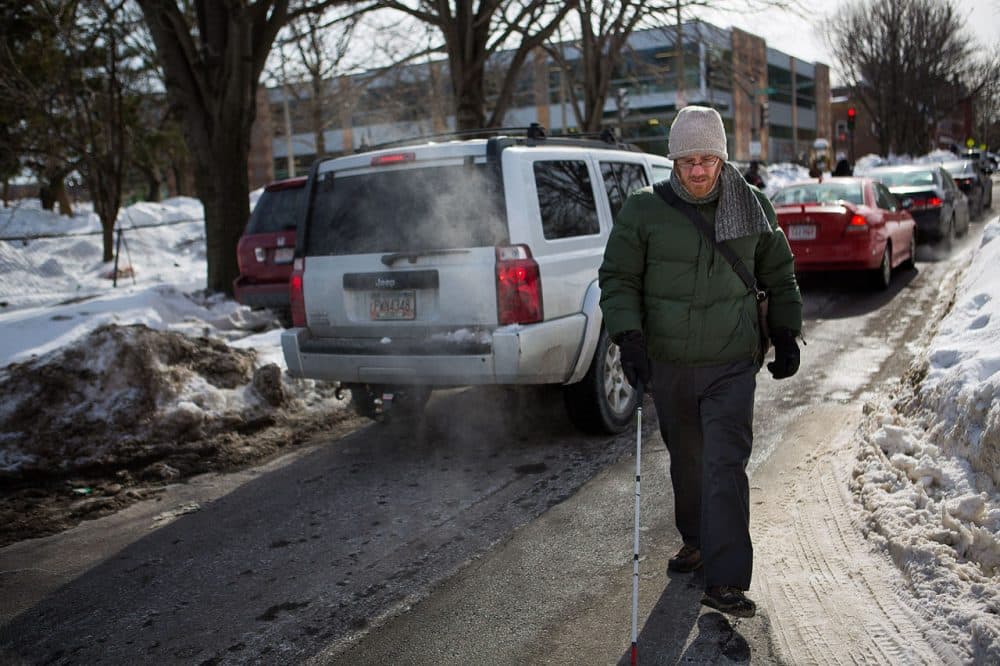 This article is more than 6 years old.
For the most part, walking Boston's sidewalks has been no easy task this winter, after a series of storms and freezing temps left behind large piles of snow and slippery surfaces.
But for people like Kyle Robidoux, that task is even more difficult.
"It literally makes or breaks my commute knowing that I don't have the threat to fall down or stumble into the street," he said.
Robidoux is legally blind and his limited vision makes properly cleared sidewalks crucial for him.
"My vision is very similar to looking through a toilet paper roll," he explained. "So I have very, very restricted tunnel vision."
Robidoux, 39, has retinitis pigmentosa, a degenerative eye disease. He was born with the disease, diagnosed at age 11, declared legally blind in his late teens, and has been gradually experiencing vision loss over the years.
"I'm preparing every year to lose a little bit more of my sight," said Robidoux, who works for the Massachusetts Association for the Blind and Visually Impaired in Brookline.
With glasses or contacts, the vision he does have is corrected to about 20-40 or 20-60, allowing him to be able to read computers screens and smartphones without assistive technology, Robidoux said. He just has to spend more time scanning the screen by moving his head. He also uses a larger font and an expanded mouse, which makes his cursor bigger.
Last week, after we wrote a series of stories about how Bostonians are coping with the historic winter, Robidoux reached out and invited us to walk the streets with him. So we joined him Tuesday to learn more about his experience.
It was a cold but clear day as Robidoux started his workday in South Boston, where he attended a meeting. The wide sidewalks along Congress Street and Atlantic Avenue heading toward South Station were almost pristine — with no snow or ice — making for an easy walk to the bus stop at the corner of Essex Street and Atlantic Avenue.
"That was as close to perfect as it could be for me," Robidoux said. "I have absolutely no stress about slipping on ice or having to climb over unshoveled curb cuts. ...I'm able to use my cane the way it should be used in terms of just having it rotating in front of me without having it bouncing off snowbanks."
After about a 15-minute ride on the Silver Line back to his neighborhood in Roxbury, the conditions were much more difficult to navigate.
Hopping off the bus at the corner of Lenox and Washington streets, Robidoux made his way through Ramsay Park. The sidewalk was covered in snow and ice, causing a loud crunching sound as he walked. Once at Shawmut Avenue, there were a couple of obstacles in the middle of the sidewalk — first a small pile of snow chunks, and then an overturned office chair — a space saver that appeared to have been thrown out.
Just a couple of blocks away on his own street — a small dead-end called Greenwich Court that's tucked behind a large housing complex — the sidewalk was icy and cleared to barely a foot wide. (Robidoux said he talks to his friends and neighbors about how a well-shoveled sidewalk helps him get around.)
Robidoux said most of the trouble he's had over the last few weeks has been along Melnea Cass Boulevard, which he walks in the mornings to take his daughter to school. It's also where he catches a bus to get to work.
"There have been many mornings when we've had to walk in Melnea Cass against traffic because the sidewalk and the [bike] path wasn't plowed and looking behind me and in front of me you could kind of see a trail of students, Orchard Gardens students, who are also forced into the street," Robidoux said.
On Tuesday, there was no sidewalk visible along Melnea Cass between Shawmut Avenue and Washington Street, but the bike path had been cleared.
It's worth noting that the MBTA has a program called The Ride, which is a rideshare service for people with disabilities. Robidoux doesn't use it. He said other transit options give him more flexibility and freedom to move around the city when he needs to and get to work early or stay late when necessary.
What Boston's Rules Are On Sidewalk Snow Removal
For many people frustrated by the sidewalks this winter, the problem boils down to two things: sidewalks not being cleared wide enough, and what they say is a lack of enforcement by the city.
Under a city ordinance, property owners are required to clear a 42-inch-wide path (or the full width of the sidewalk) within three hours after a snowstorm.
"A number of establishments and residents think they only have to put the width of a shovel, but the width of a shovel doesn't assist a person in a walker, crutches, a cane — it definitely doesn't help a person in a mobility device," said Jim White, chairman of the Access Advisory Committee to the MBTA, a consumer organization that works with the T to improve access and services for people with disabilities.
White said he uses a power wheelchair to get around.
"So, if you only clear the width of a shovel, which is maybe a foot or two feet, you might as well not do the sidewalk at all as far as a person in a mobility device, who can't use the sidewalk," he said.
White said he'd like to see stricter repercussions for people who disobey the snow removal ordinance. He suggested that if an establishment gets two or three tickets for snow removal violations, the city shuts them down over public safety concerns.
"I'm sure that once you told somebody they couldn't open their doors, you'd see the sidewalks cleared within minutes," he said.
The city says it has been addressing the issue of snow removal on sidewalks.
"The city is actively enforcing snow violations, issuing over 4,000 snow violations since the first major snow storm at the end of January," Bonnie McGilpin, a spokeswoman for Mayor Marty Walsh, said in an email.
McGilpin said residents should use the Citizens Connect app or call the mayor's hotline at 617-635-4500 to report sidewalks that haven't been cleared.
Back in Roxbury, Robidoux said he'd like to see more public awareness being raised about the impact of narrow or uncleared sidewalks, "similar to what they do with shoveling our fire hydrants."
He said he thinks the city has done a "commendable job" on snow removal, given the historic snowfalls this winter.
"That said, there's still tremendous challenges for folks like me and many others — folks who have limited vision or even able-bodied folks who I think are having a hard time this winter," he said.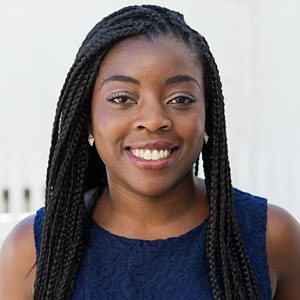 Zeninjor Enwemeka Senior Business Reporter
Zeninjor Enwemeka is a senior business reporter who covers business, tech and culture as part of WBUR's Bostonomix team, which focuses on the innovation economy.